In March 2017, while touring Germany with the UOGB, I collapsed in my hotel room from an attack of bacterial meningitis, which left me in a coma for five days and fighting for my life.
As I lay between life and death on my hospital bed, I wish I could tell you that I was visited by the Angel of Death, harangued by the Prophet Jeremiah, or even conversed with my Native American spirit guide, about the meaning of my life and this traumatic episode.
But no, nothing, nada…..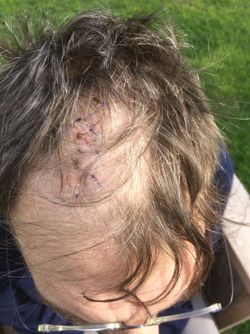 The hole in my head where they drilled in to release pressure
I awoke, got slowly better, left hospital, pretty much as I came in, none the wiser about what it all meant.....
So in view of this fug of meaninglessness, and grateful for the fact that I'm still alive, I've decided to come out of retirement to get back to work with the Airline Toilets Theatre Company (purely on a part time consultancy basis).
Here's a little film I made about my meningitis episode and its impact on my life.
Also since everybody and their friend seem to be soliciting money online to get funding; I'm doing the same and the ATTC now proudly has a page on Patreon where, going forward, sponsors can get a birds eye view of what its like in that crucible of creativity......
Support the ATTC and the blog