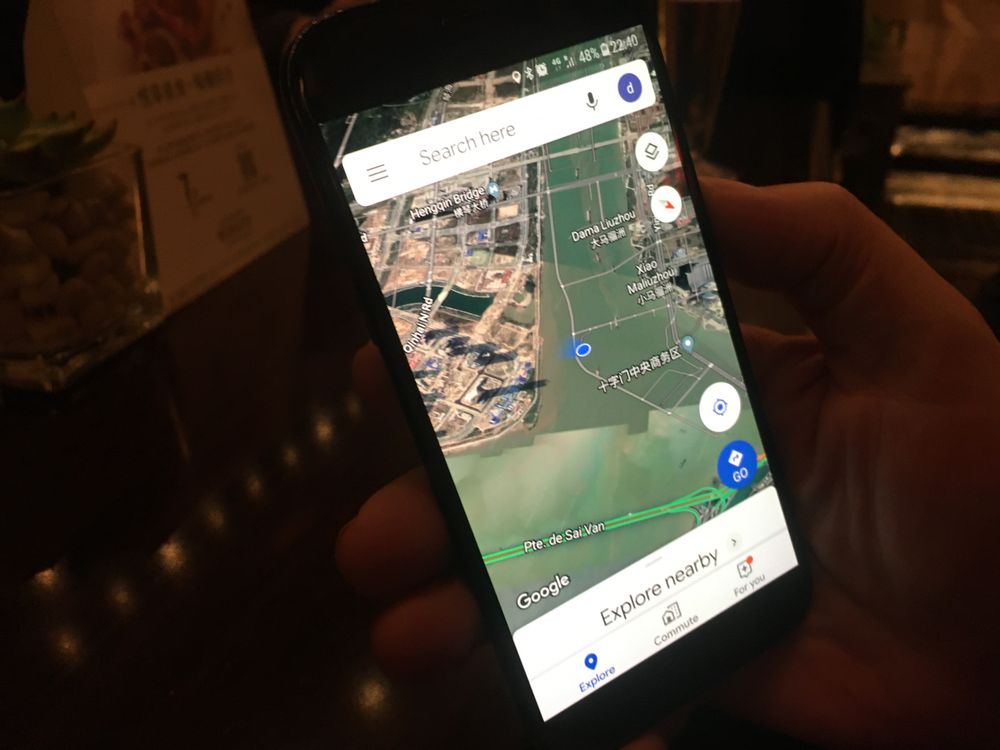 The photograph above is of Doug (our sound guys) phone, he googled our location in the hotel last night and found that we were in the water, Google don't always keep their maps up to date, and it turned out the hotel we are staying in (and the venue) have been built on reclaimed land.
'Thank You' in Mandarin is pronounced 'Shia Shia' - which I've memorised as two shits without the 'T" - I had a good sleep last night and feel OK jet lag wise. Leaving my room and walking to the lift to go down to breakfast this morning, the cleaning woman chased after me and begged me to let her clean my room - despite the 'do not disturb' sign hanging on the doorknob (most of us do this). I notice that they cleaned my room in Shenzen, despite hanging the sign on my door - I don't think its been searched or anything (I'm not that paranoid). On tour, your hotel room is sacrosanct as a temporary home (even for 24 hours) so having cleaners f**king around in it is unsettling - they probably just think we are weird westerners.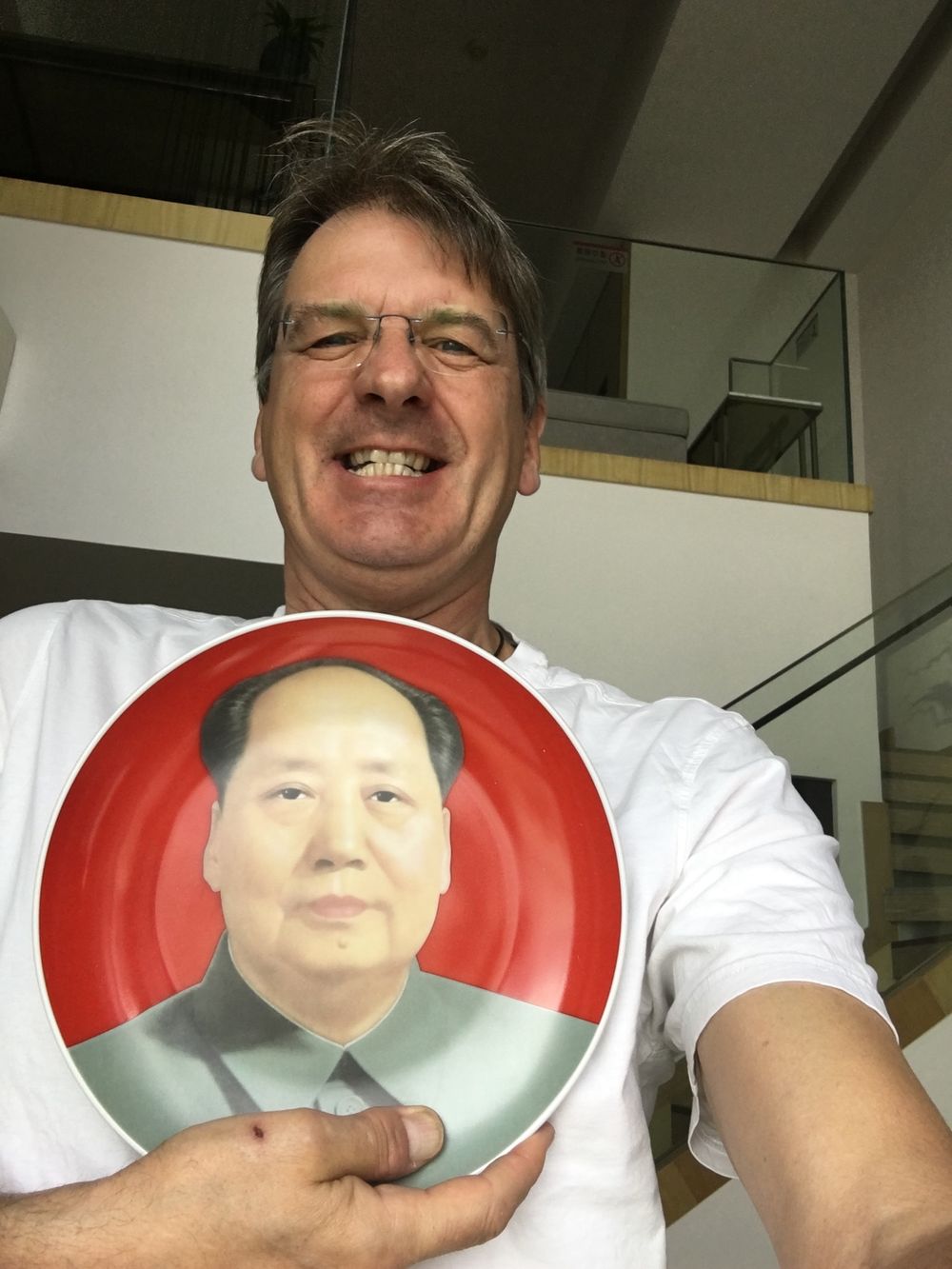 So maybe at the next hotel, I'll leave my plate that I bought at the ferry terminal on the table to frighten the life out of anyone that enters the room - it comes with a little display dais so that it can be set up to ominously watch whoever is in the room.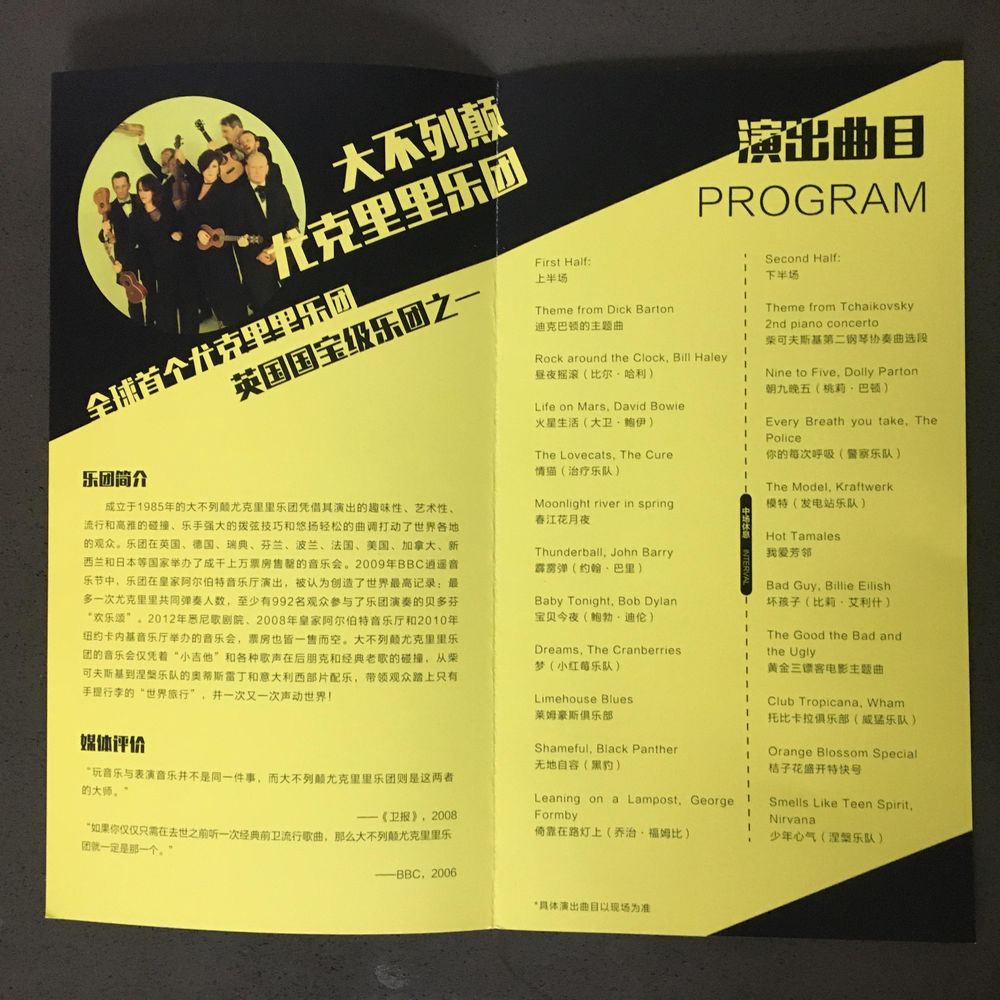 I saw Jodi in the lobby and she handed me a programme - it turns out, unlike Shenzen, 'Smells Like Teen Spirit' is not banned in Zhuhai so I'll sing it tonight (there goes my larynx).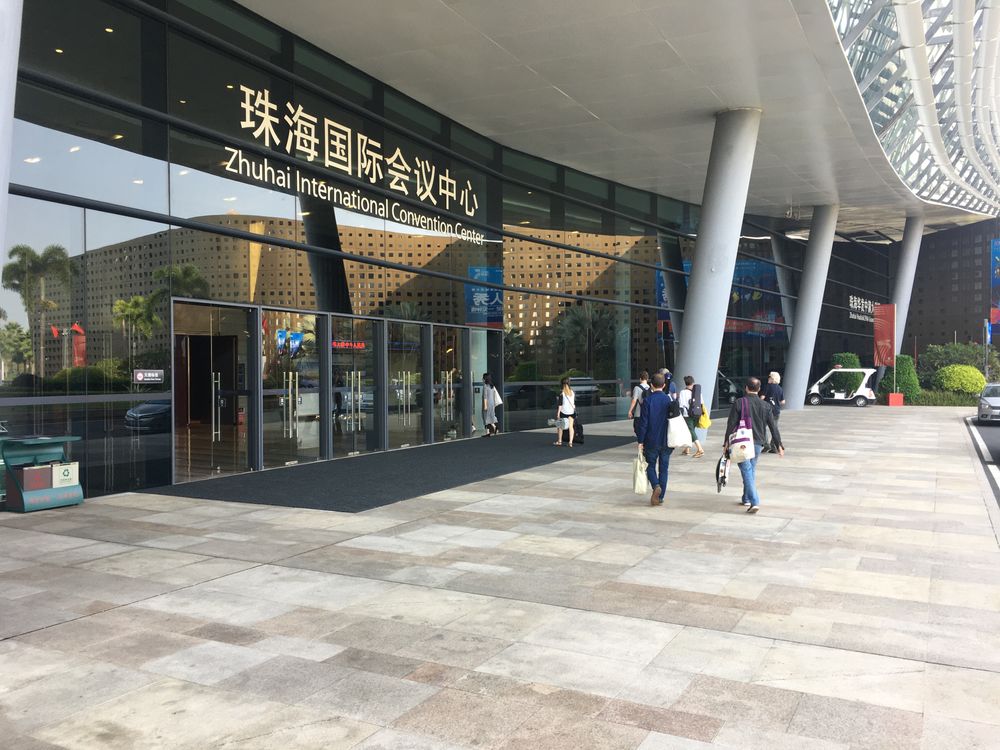 After a fairly relaxing morning, we wandered over to the venue in the early afternoon.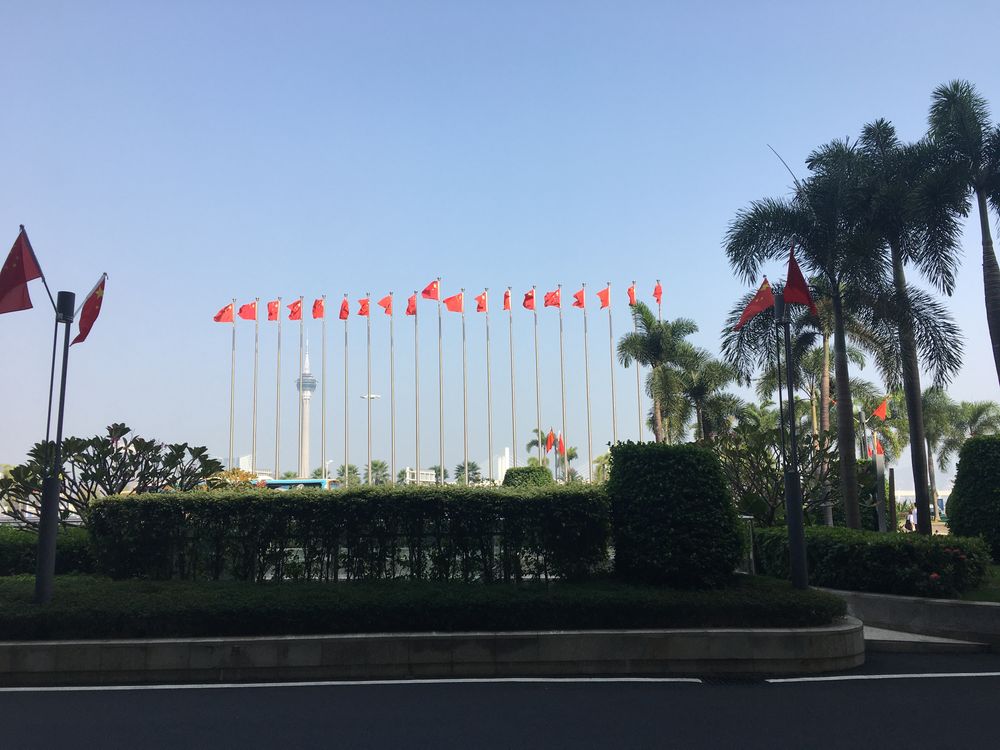 Party flags flying in front of the venue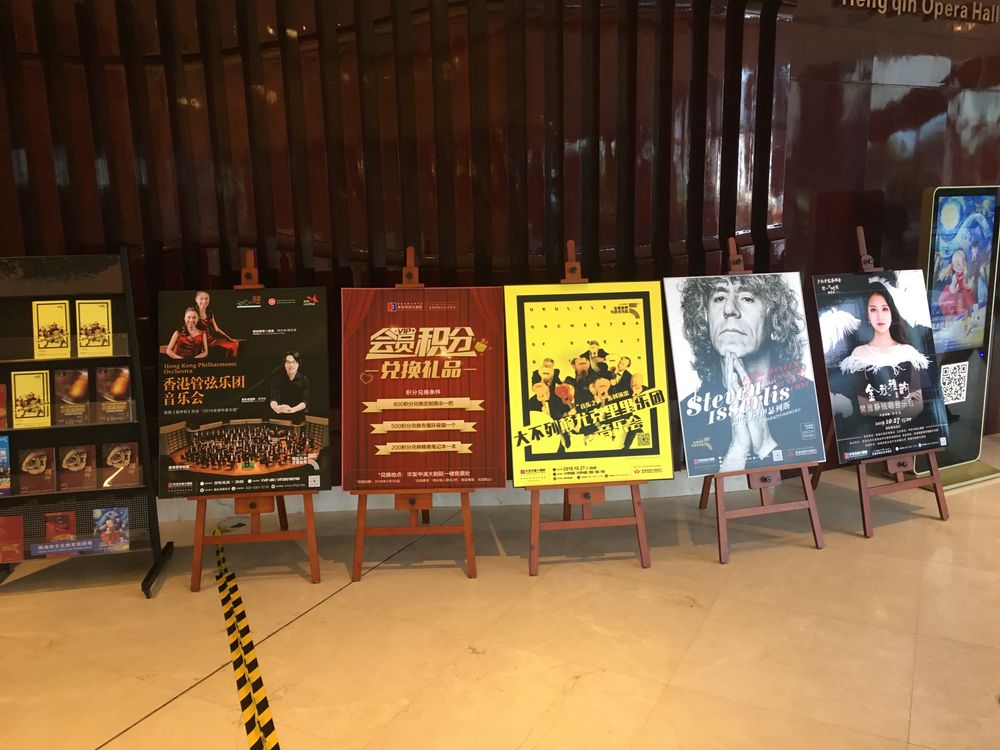 Some of the other acts on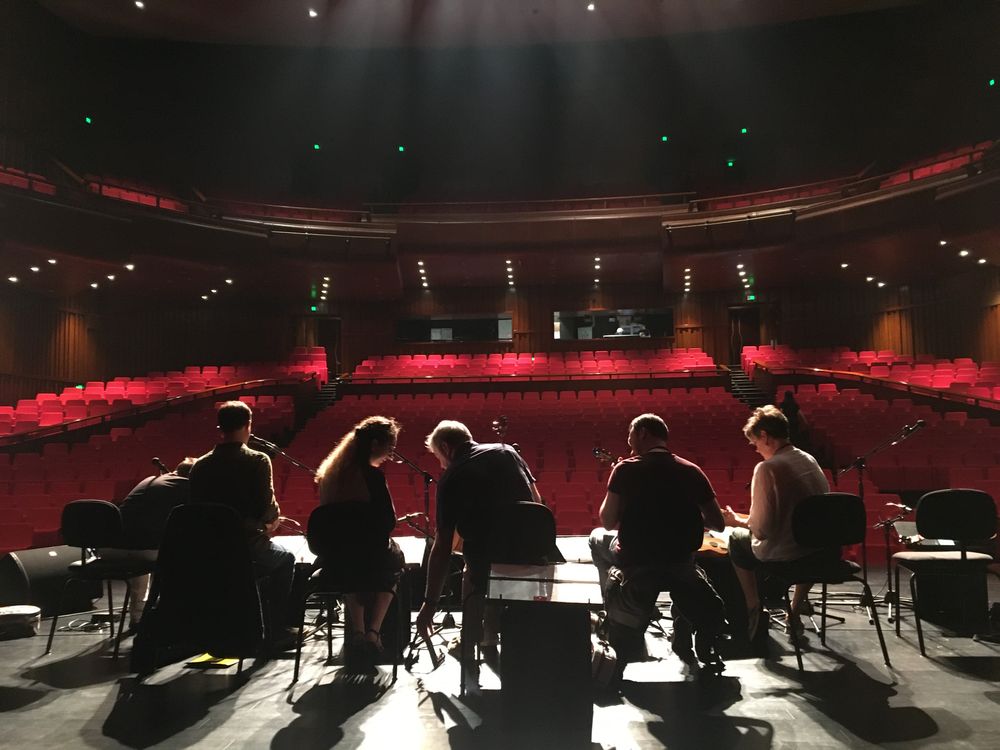 Soundchecking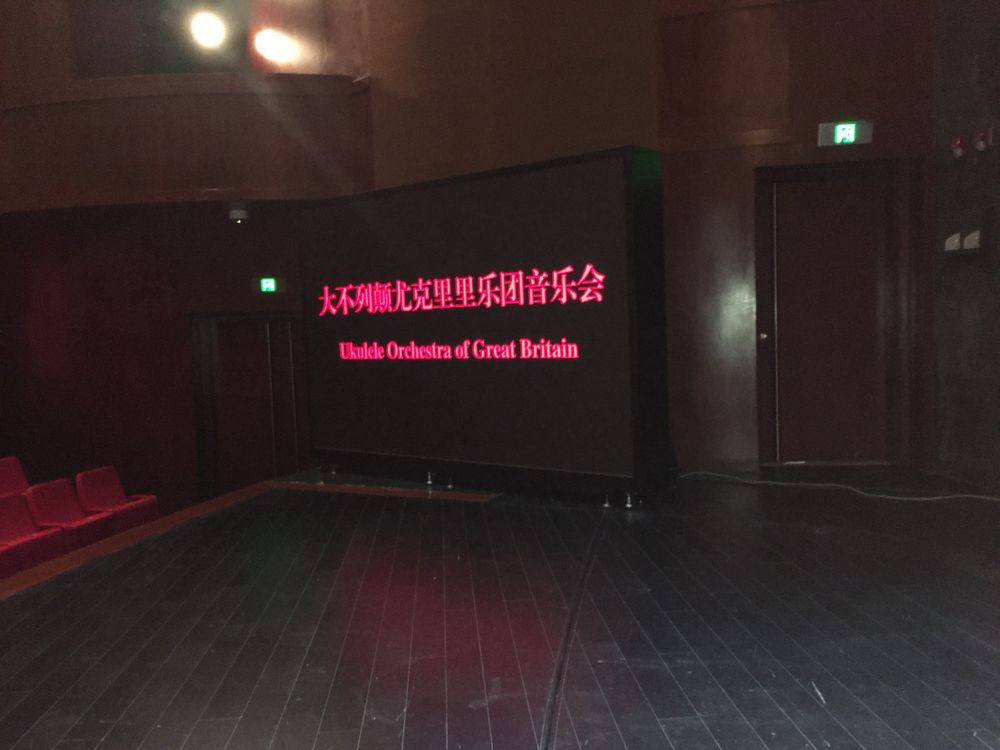 This is the screen at the side of the stage which flashes up each song as we sing it, in English and Mandarin, which I'm starting to get used to.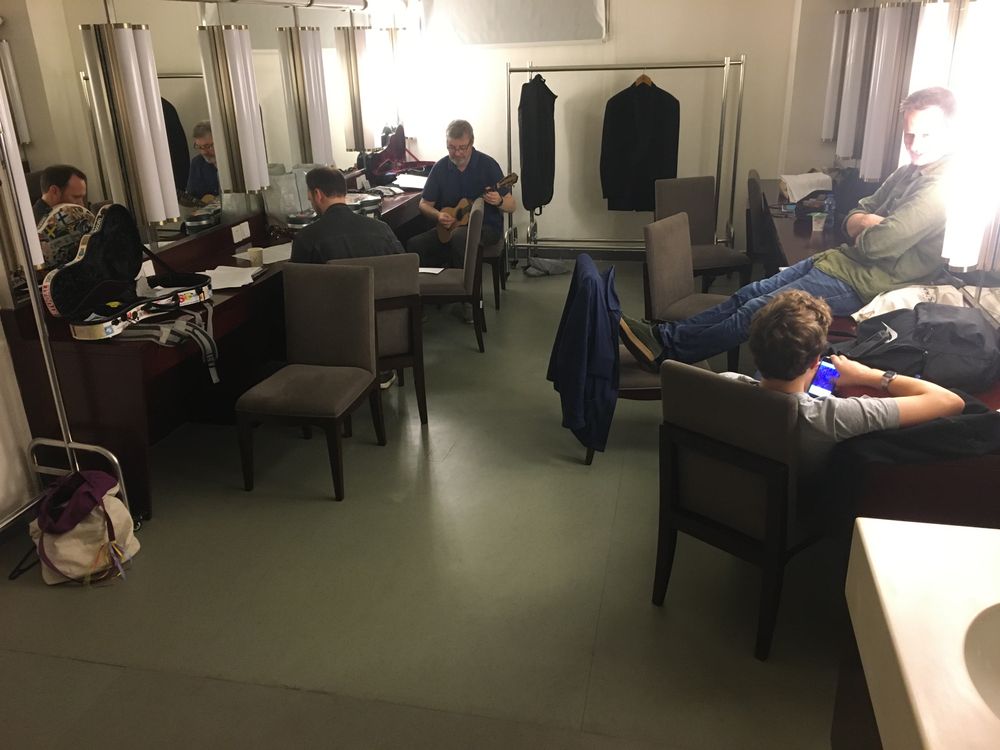 Dressing room scene - again, the theatre is modern and comfortable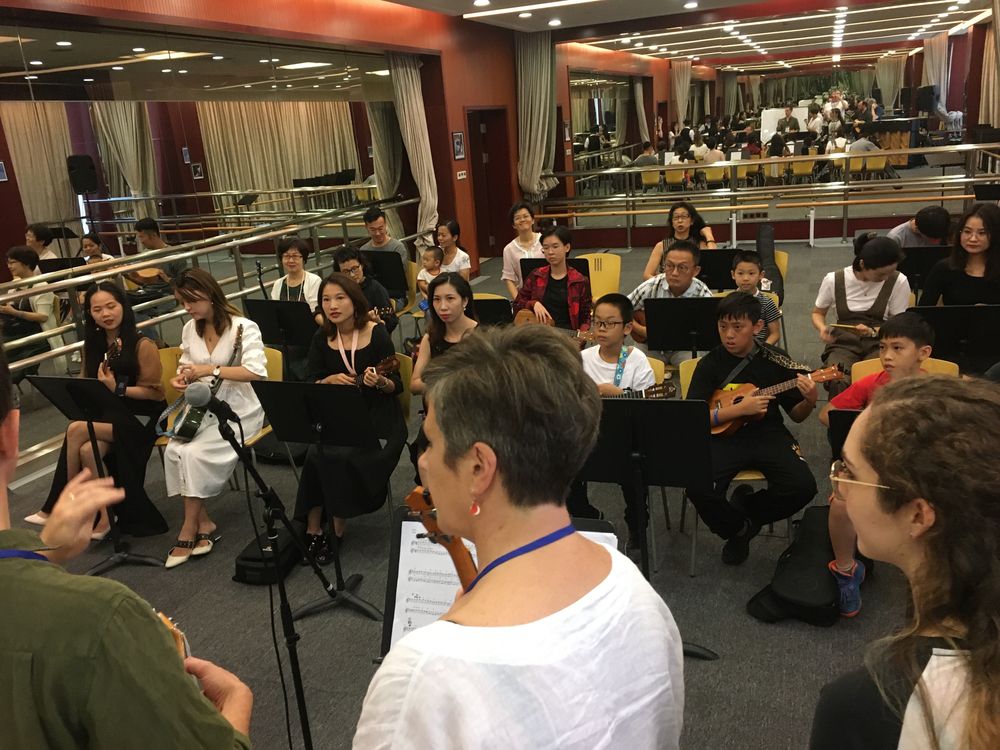 We had agreed to meet a bunch of local ukulele players, who were going to accompany us in the audience participation bit - playing Beethoven's Ode to Joy (like we did at the last gig). We had a little rehearsal and took a few photos.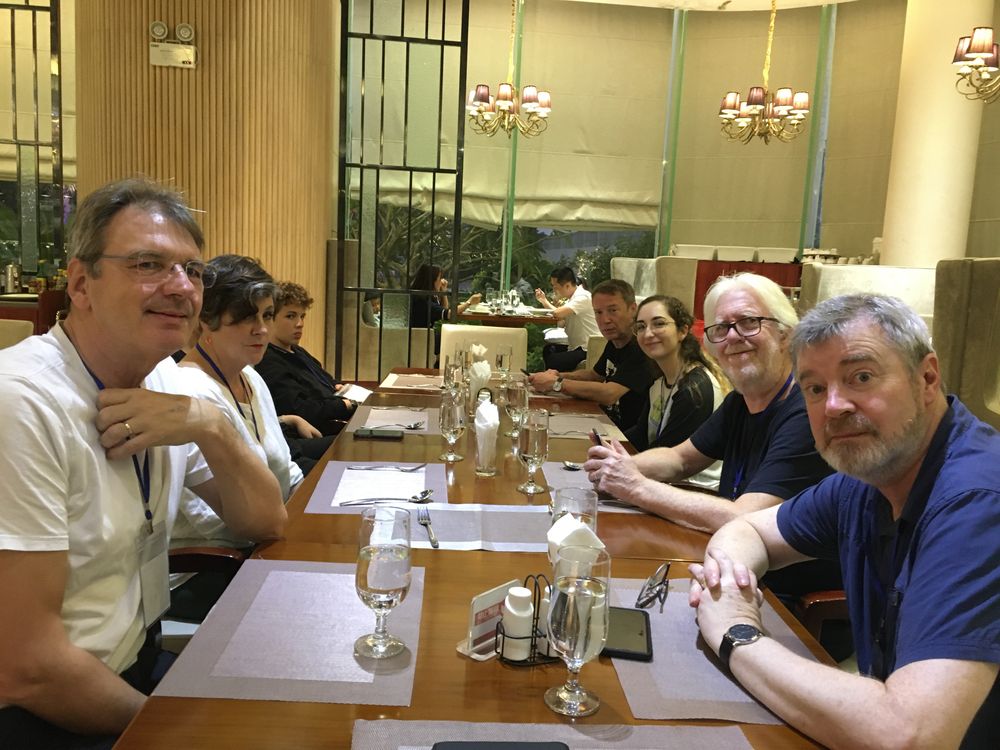 Here we are having our pre show dinner - Ben, the sole vegan in the band (but not the sole vegetarian) has been having a tough time here, meat and fish are in everything. The poor guy, having been to China before, knows the score and has brought a mega supply of dried noodle soups - how ironic is that? Tonight, he got smart - having downloaded Google translate (it seems that Google Maps and Translate work in China, but not the search engine itself) he typed into it "I don't eat meat, fish, diary or eggs" translated it and showed it to the waitress, who brought him rice and broccoli.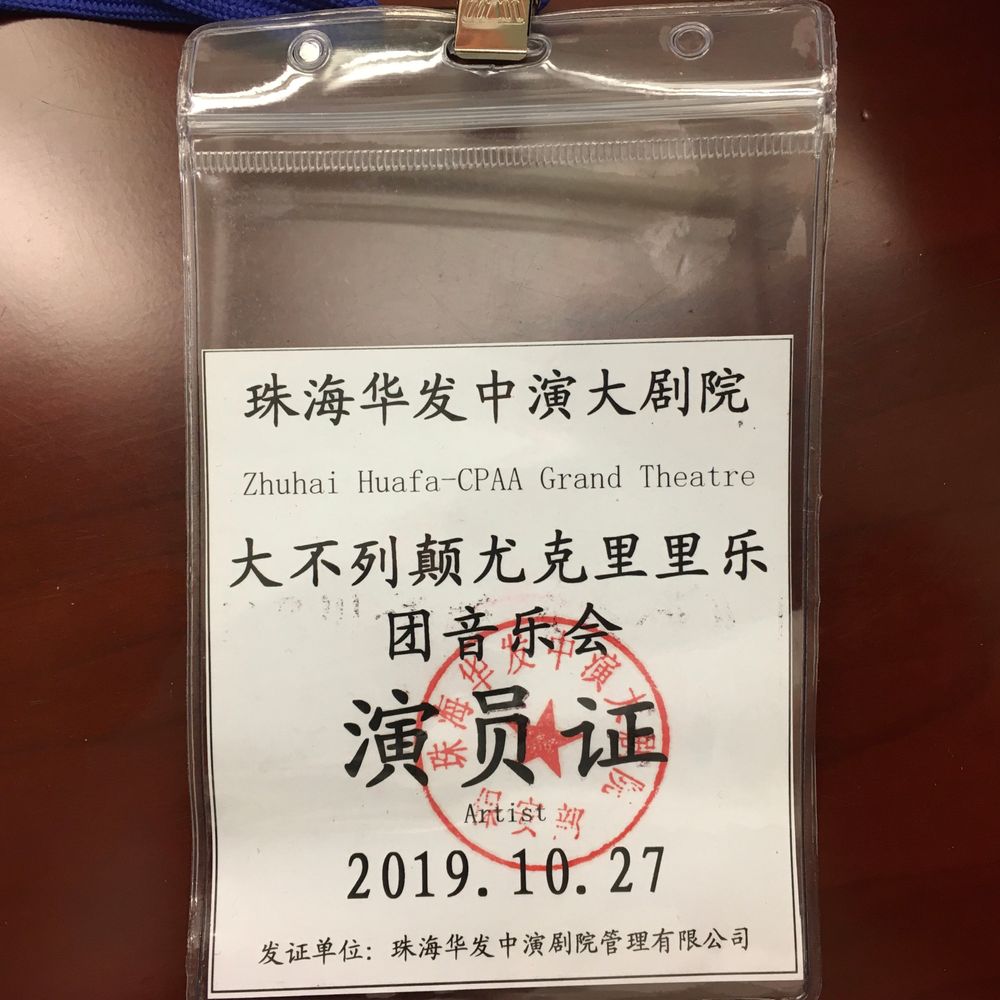 Security pass for the gig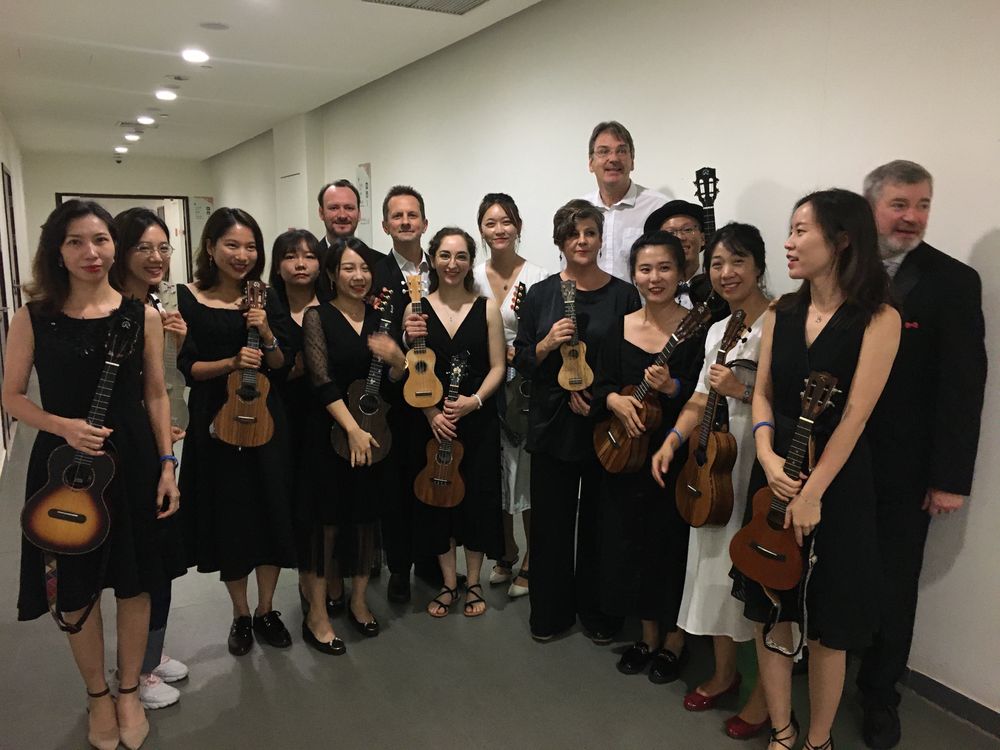 The show went over well, but there are still disconcerting bits - the audience spend a lot of time on their phones during the performance and do a fair bit of chatting during the numbers. One guy in the front row seemed to be half watching us and half looking at an animated film on his mobile. Jonty, who is here for the third time, said it was worse during the first tour, when audiences didn't really know how to behave as an audience. I kept noticing a red dot on various audience members and there was a guy whose job it was to walk around, with a laser pen and spotlight all the people who were looking at their phones. The gig itself went well and after it was over the local ukulele group came backstage to say hello and we took a ton of photos (with a lot of me on account of my height).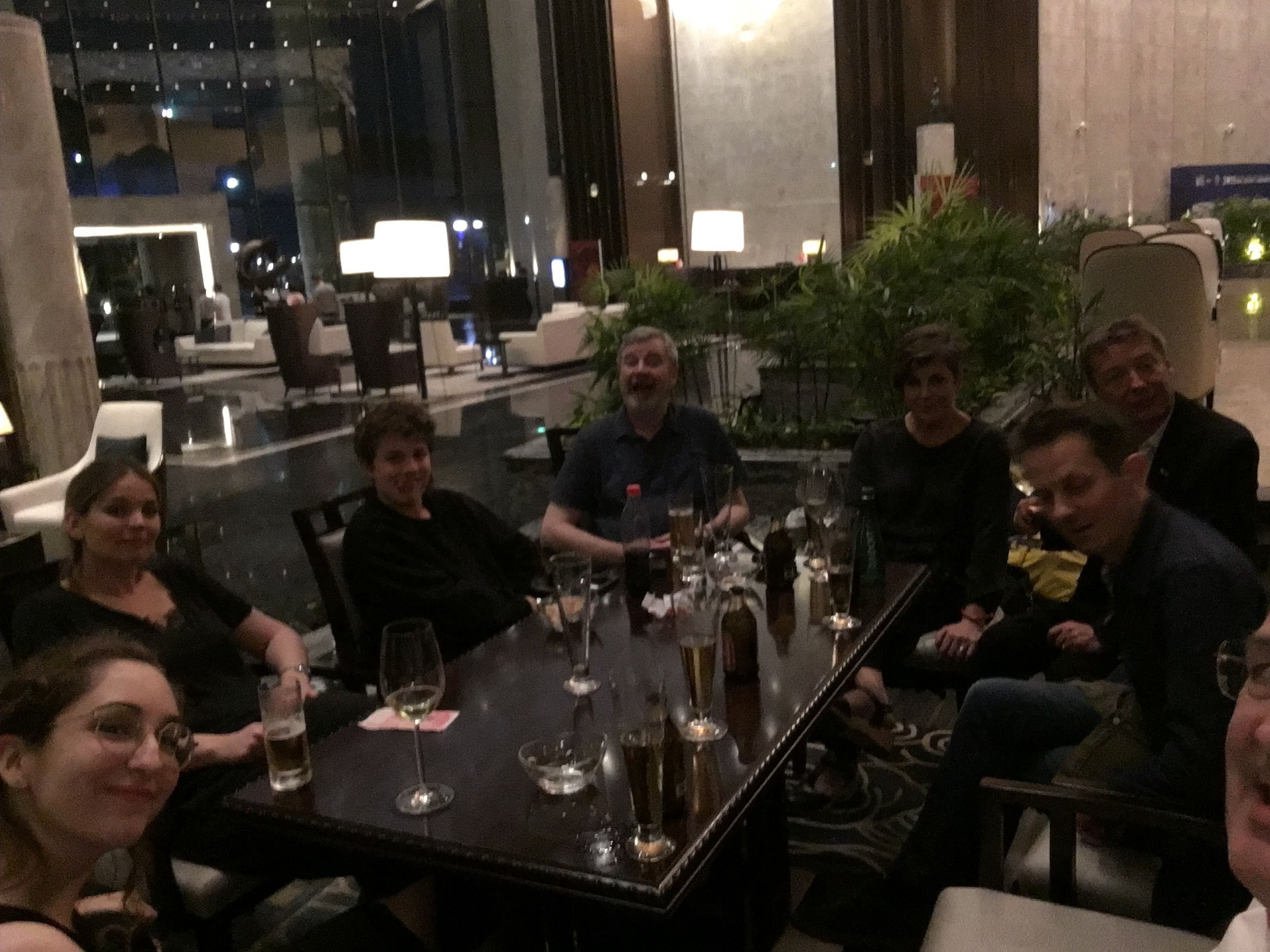 So after we were done, we flopped over to the bar in the cavernous Sheraton lobby (which was still open) for a last drink. We travel to Shanghai tomorrow Campers