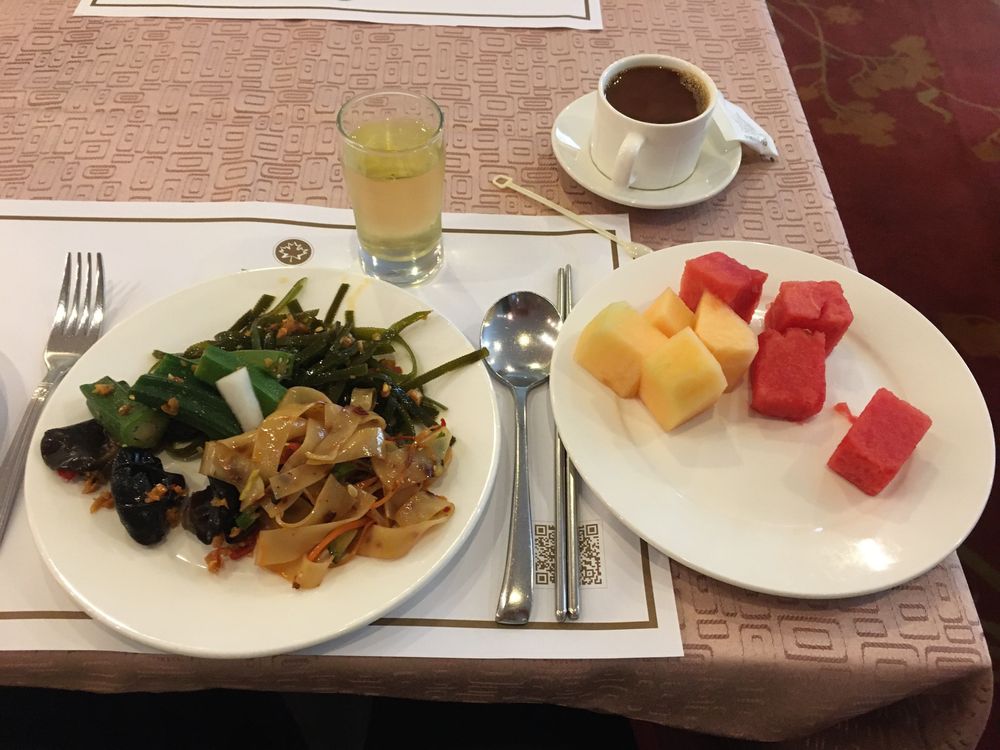 Well Campers, today was a day of travel, so there is not much to say - we were supposed to have had a workshop this evening but somehow that didn't happen. Luckily, I've been taking photos of my breakfasts for the last two days (sometime this blog needs 'padding' when not much happens). Here is the breakfast I had this morning, I did take a better breakfast photo the day before, with the chopsticks laid artfully across the plate, but then decided that this screamed sophisticated international traveller/wanker a bit too much and plumped for this one. I can use chopsticks, but I'm a bit slow with them and usually I end up using a fork.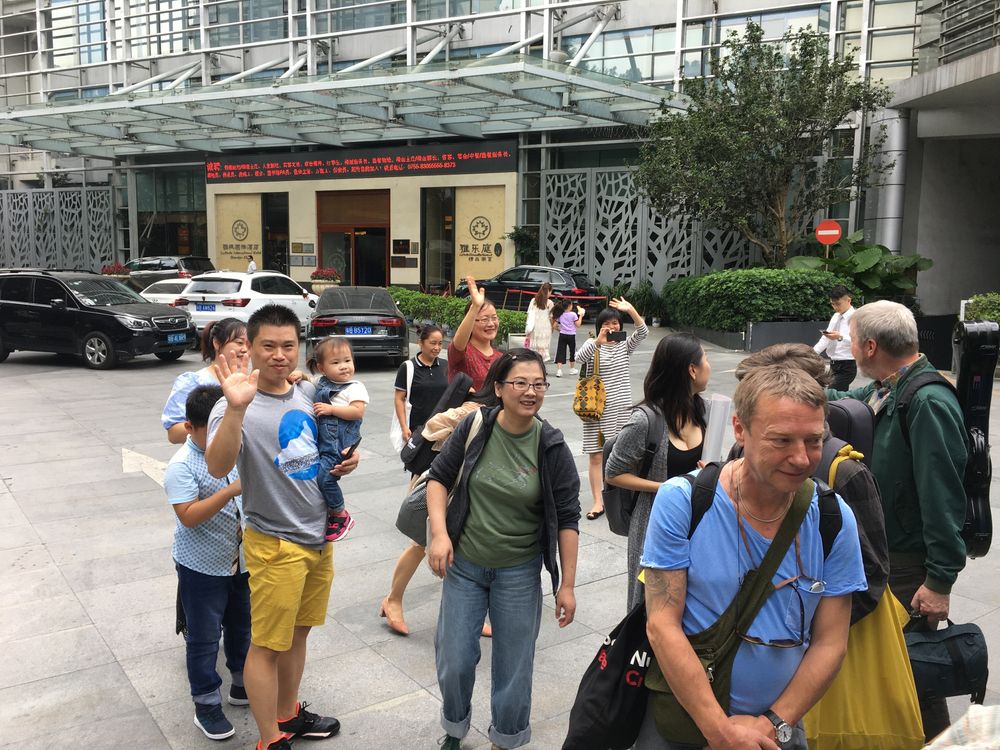 So we said goodbye to Ying and the crew in Shenzen, taking lots of photos with their families before we got on the bus - they'd been lovely and taken good care of us - we'll see Ying again In Shanghai. This perfectly illustrates the showbiz maxim that, when the tour is going well; you won't see the agent/promoter much - when its going badly, they'll be on the road with you - breathing down your neck and urging you get up at 5 in the morning to go and do promotional stuff.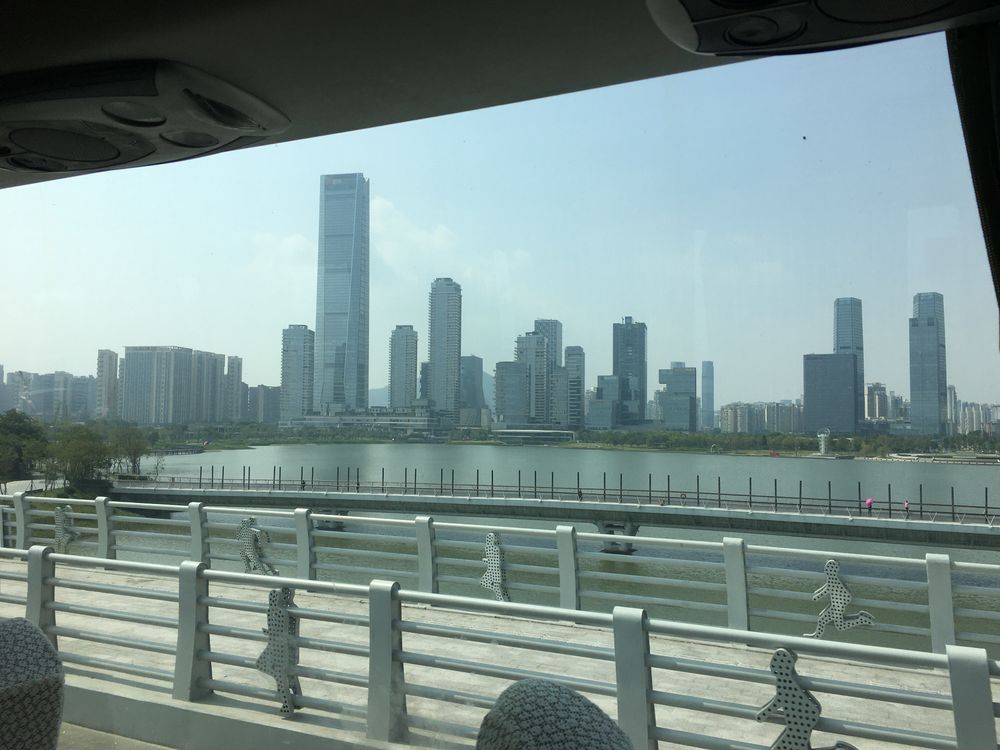 Leaving Shenzen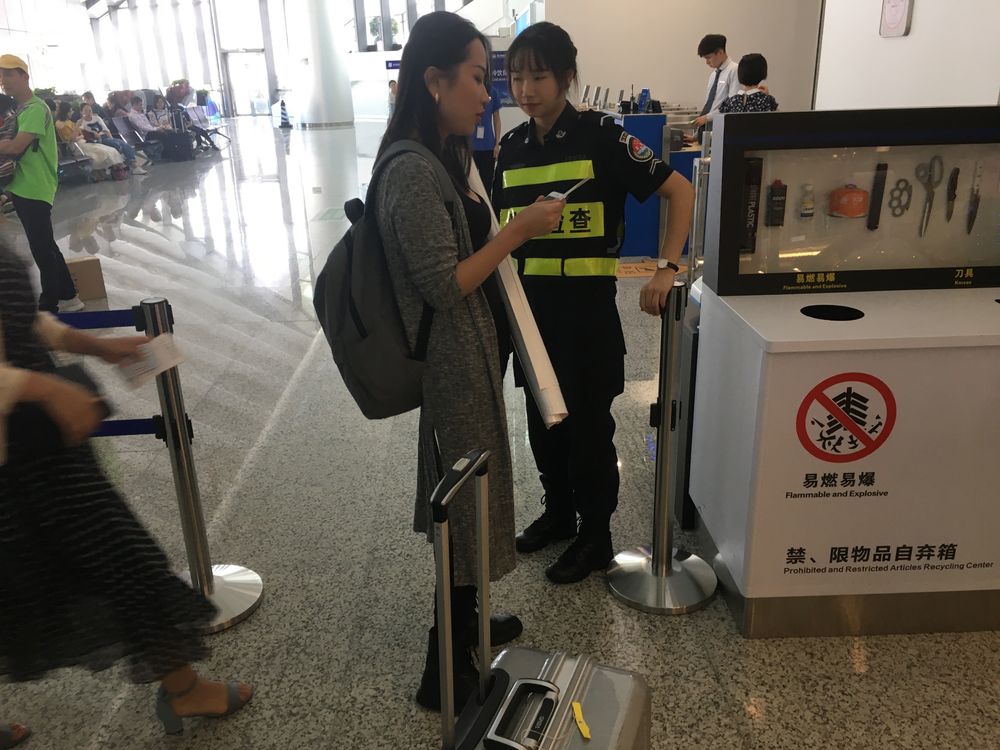 We we travelling to Zhuhai (near Macau) which would involve a one hour bus journey and a ferry ride - not too bad. Here's tour manager Mia, sorting our tickets.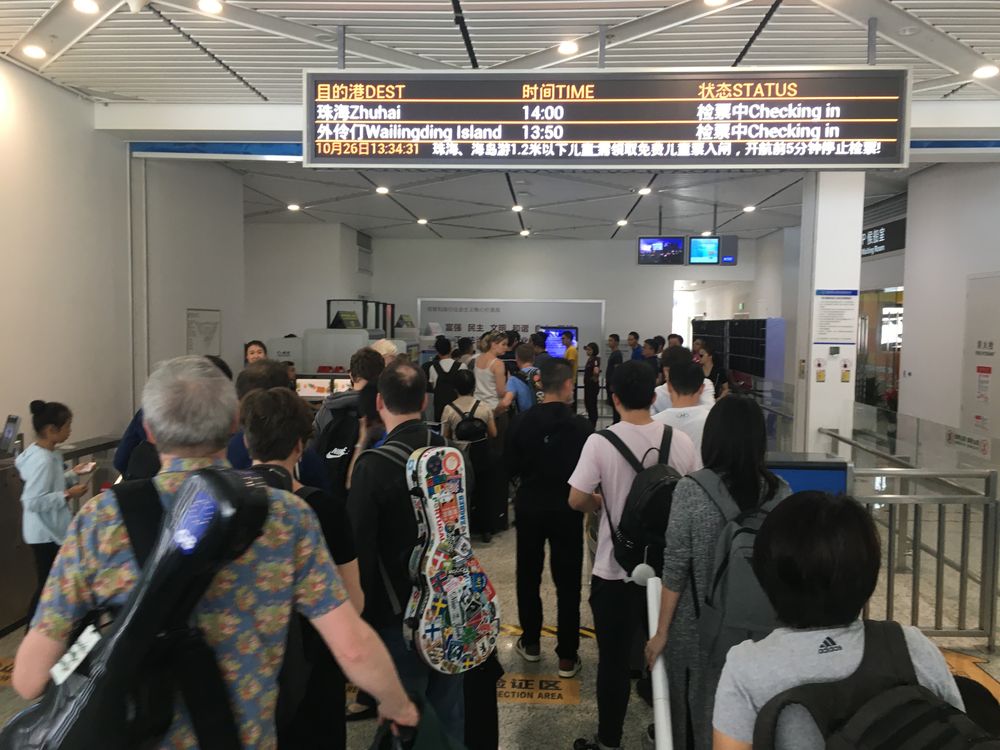 Boarding the ferry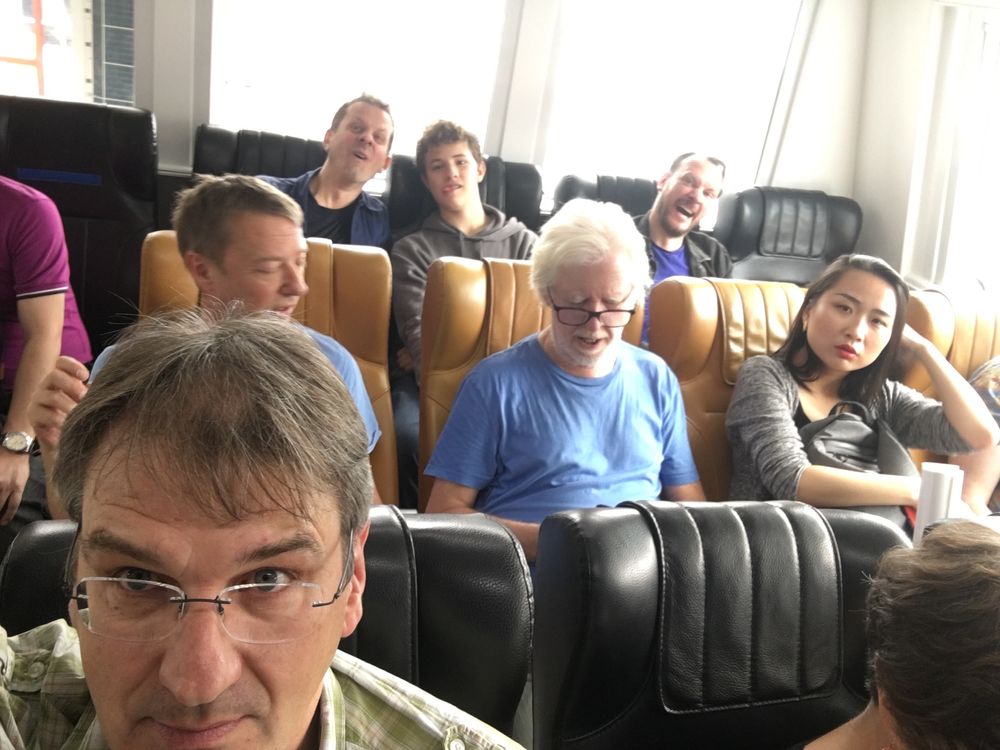 It wasn't a bad crossing - maybe an hour or so - the boat had stewards and stewardesses who came round offering packets of Chinese snacks - squid and sweetened tomato. Each tomato had the sugar equivalent of a can of coke on it - very buzzy!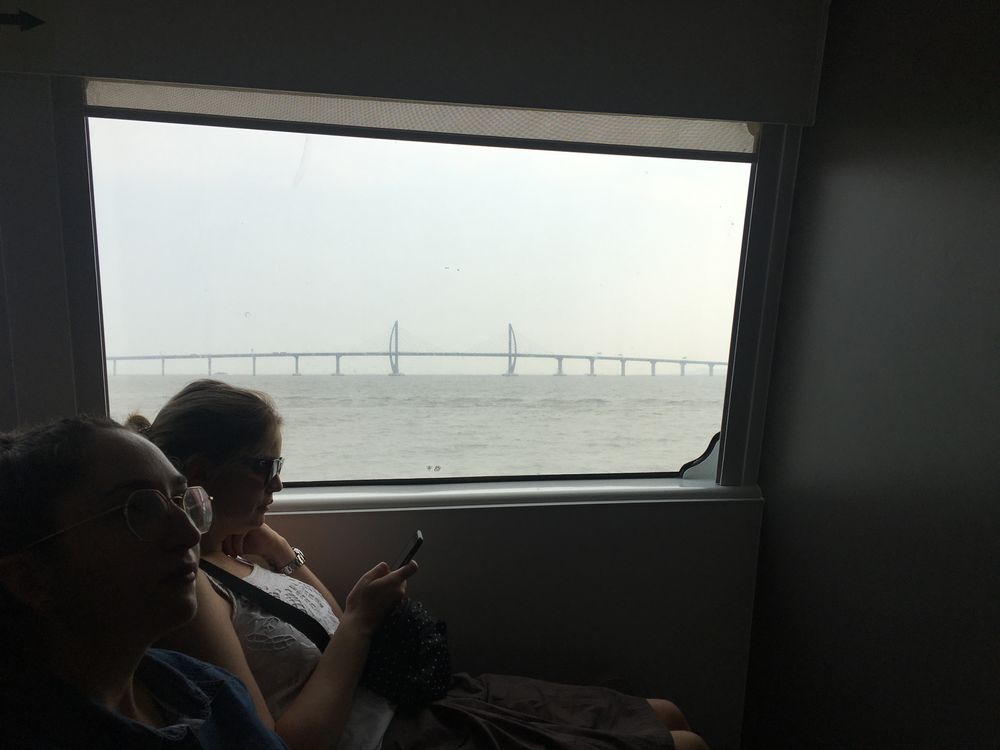 There is an enormous bridge that connects Hong Kong-Zhuhai-Macau - its 55 kilometres long and according to Wikipedia, the longest open-sea fixed link in the world - its certainly impressive.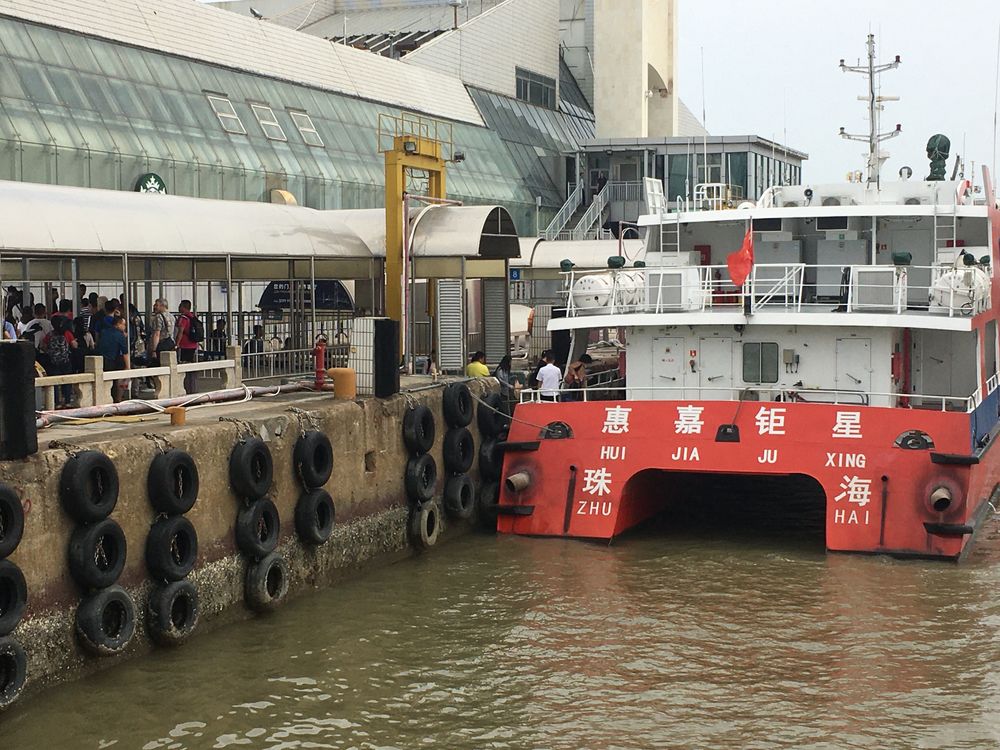 Arrival in Zhuhai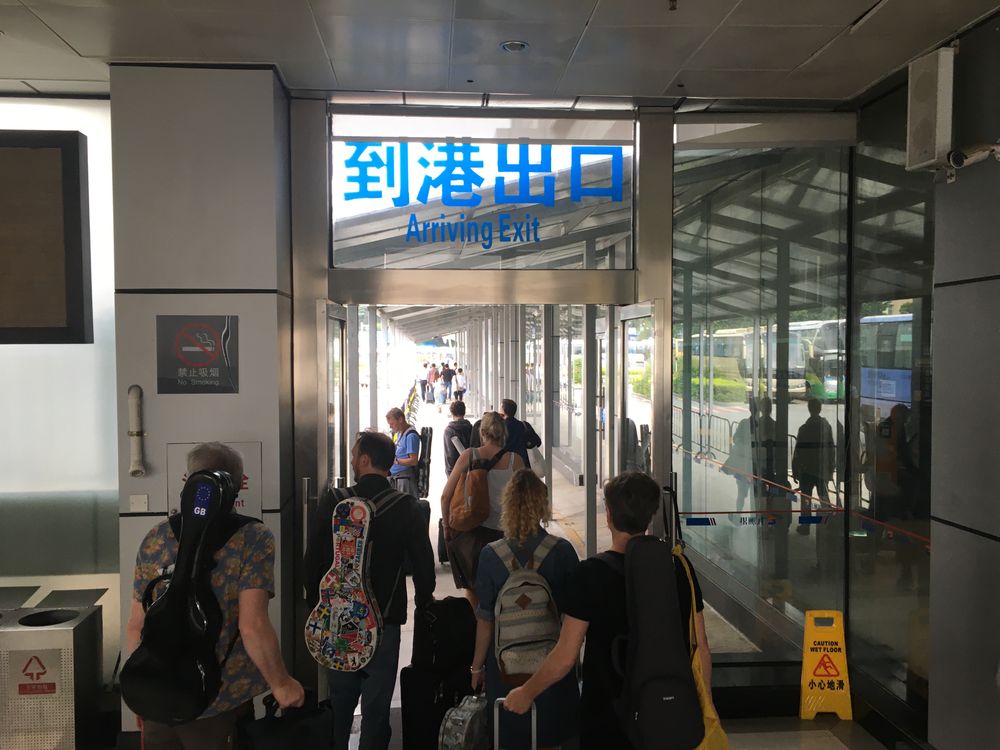 Chinese 'English' signs are always a bit strange - here we are disembarking the boat at the ARRIVING EXIT (above) - it has its own linguistic logic I suppose.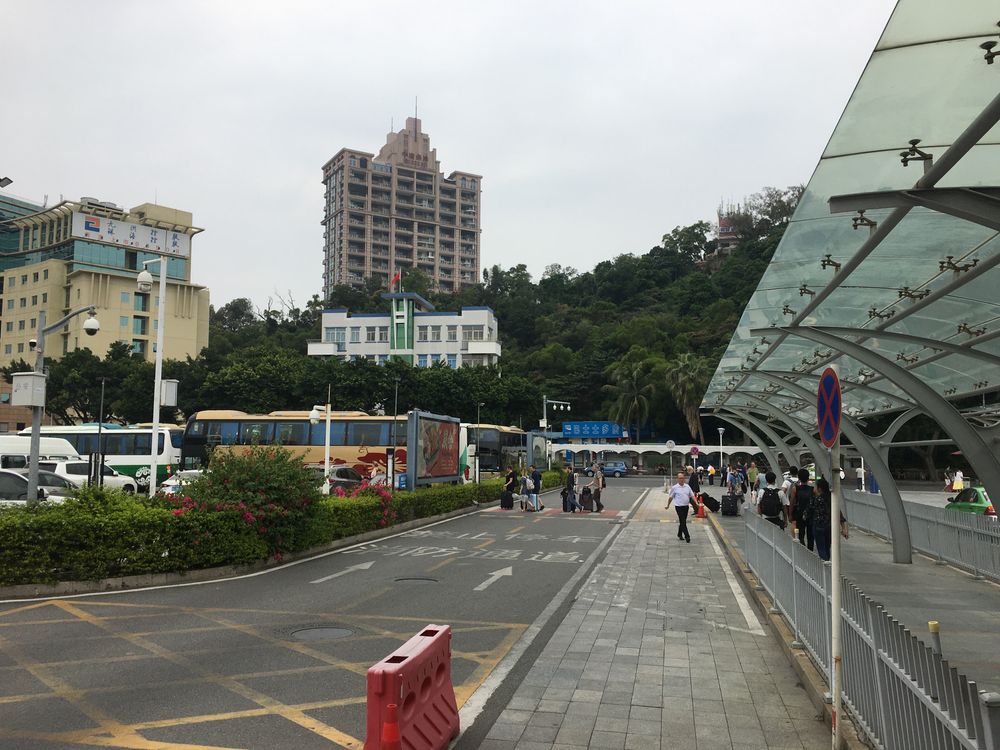 More 'arriving' and walking to the bus.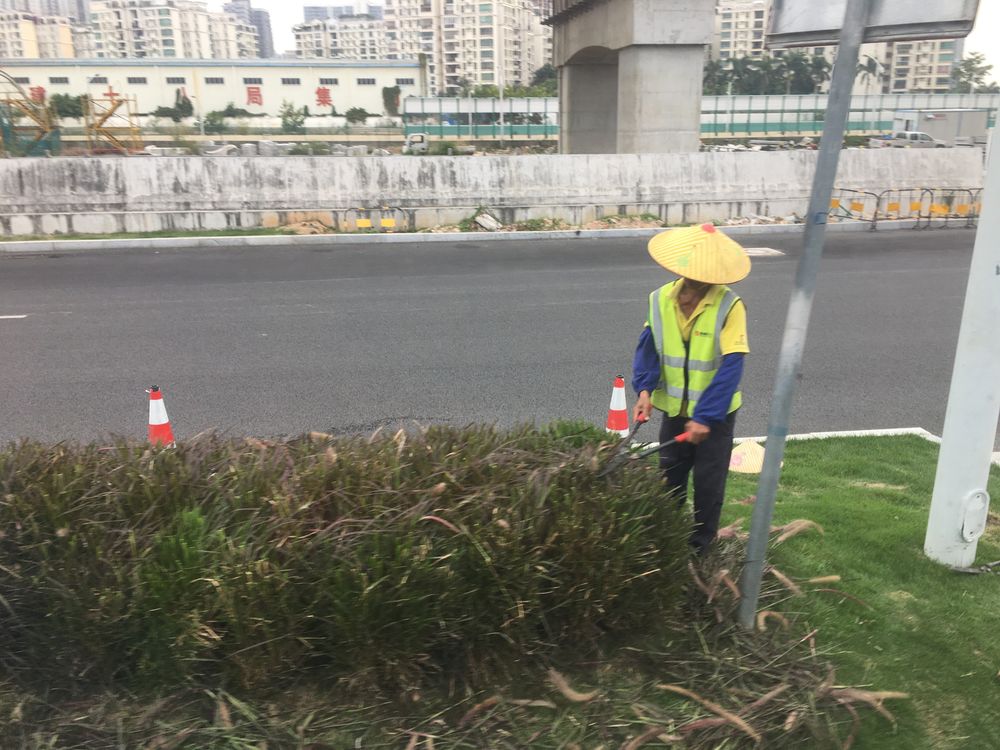 Municipal gardener wearing a traditional hat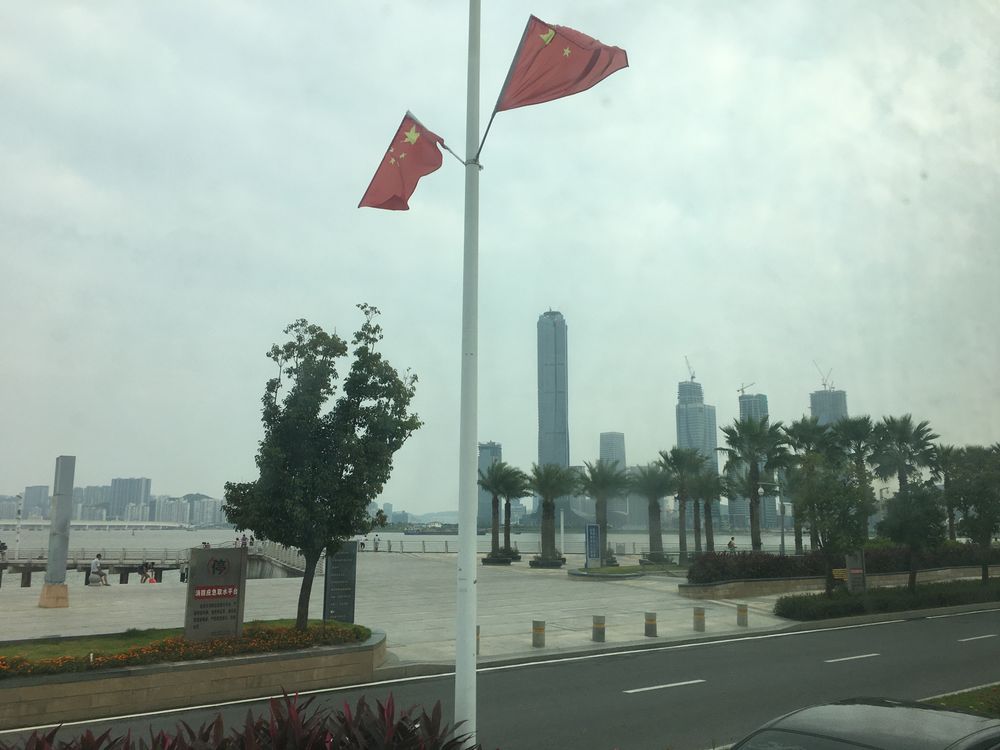 The harbour at Zhuhai 
We arrived at our hotel which is about ten miles from the centre of town and with a furious amount of construction going on all around - right next door there is a huge construction site where another hotel is being built (so lots of noise - nice!).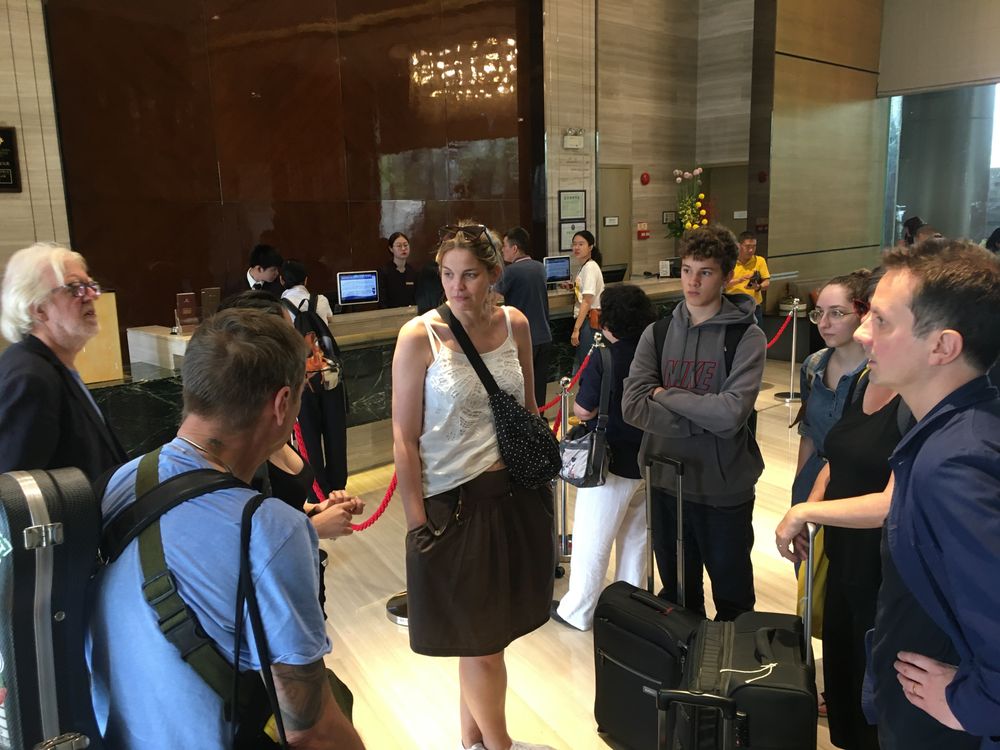 At reception, we all picked up our room cards and lugged our suitcases up to our rooms, only to find the cards didn't work, so we all had to lug them back down to the lobby (one of the occasional frustrations of hotel life)  I'm on the 17th floor in a kind of split level apartment (I think we all are). I sometimes wonder, in these giant buildings what would happen if there was a bad fire - I'd be toast (this is tour paranoia creeping in again - another sign I'm settling in).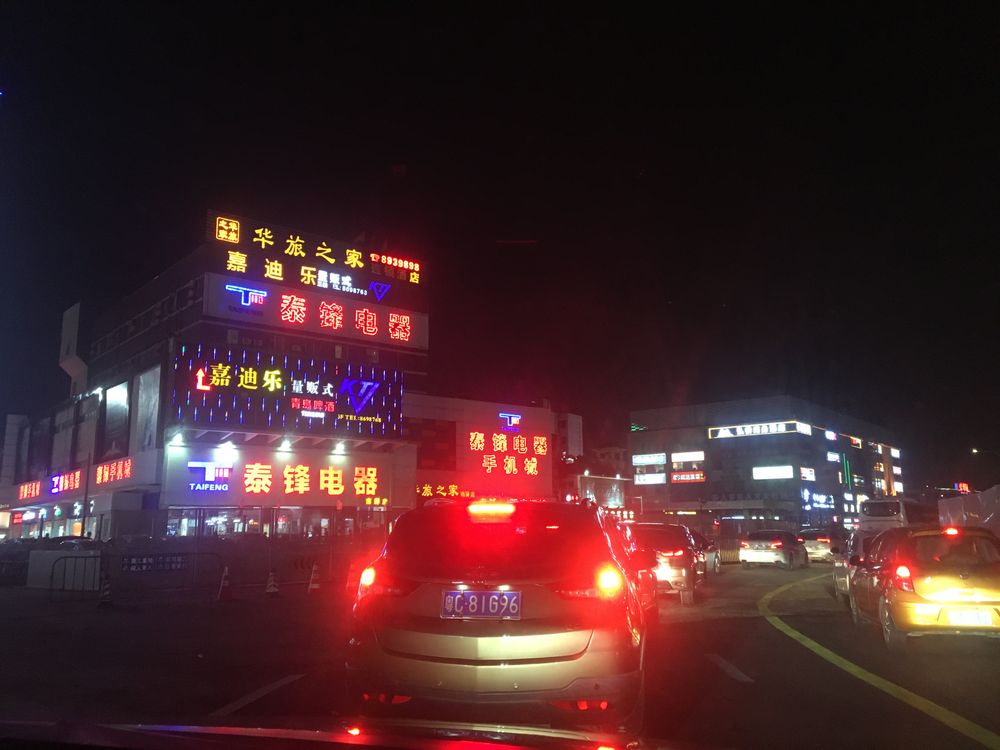 Since the hotel was not near any shops, the band decided to go into the centre for food, so we all piled into taxis to make the journey in at 6 o'clock. Traffic is pretty bad here and the centre was pretty jammed, so it took a while to get there.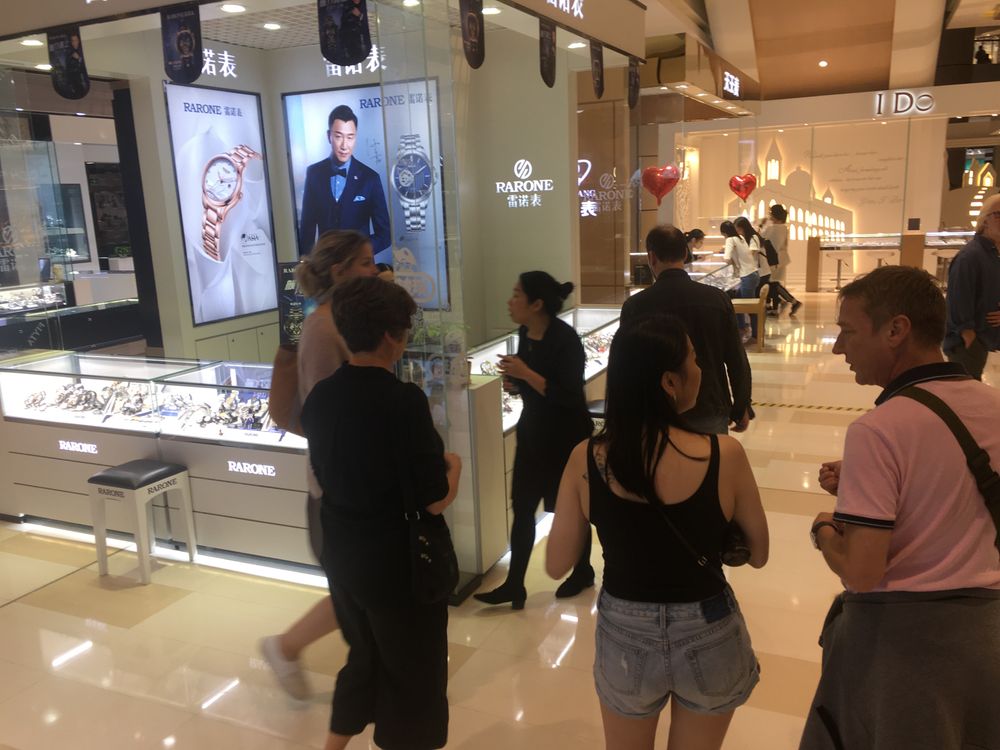 We went to the local mall which is where most of the restaurants were located, this was a curiously depressing experience, insofar as it didn't seem any different from malls in the west, except most of the branding was Chinese. So the Chinese have discovered consumerism, and the indescribable happiness that buying stuff and throwing it away brings. I'm probably a bit hypocritical here, as at the ferry terminal in Shenzen, I had bought a commemorative plate with a picture of Mao Tse Tung on it, to add to my collection of communist kitsch, to the incredulity of Mia and some of my colleagues - successfully knocking the price down in the process - truly a running dog of bourgeois imperialism (woof! woof!)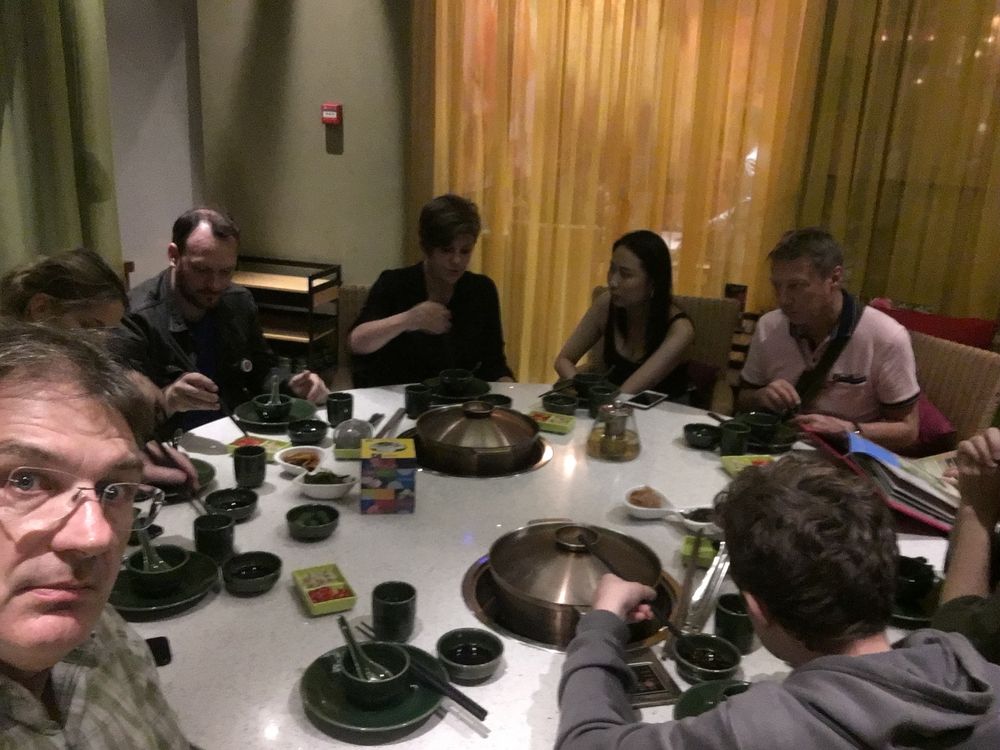 Who dosen't like Chinese food? We decided to go for a 'hot pot' where you eat communally and so we could split the food between the vegetarians in the band and the carnivores. I was happy to eat anything, not having had lunch - two big urns of boiling water were placed on the table. The waiter then came over and dumped a whole pile of raw chicken in the water and a sand timer on top. The deal was, that when the chicken was ready, you then spooned the broth into your plate, and afterwards ate the chicken.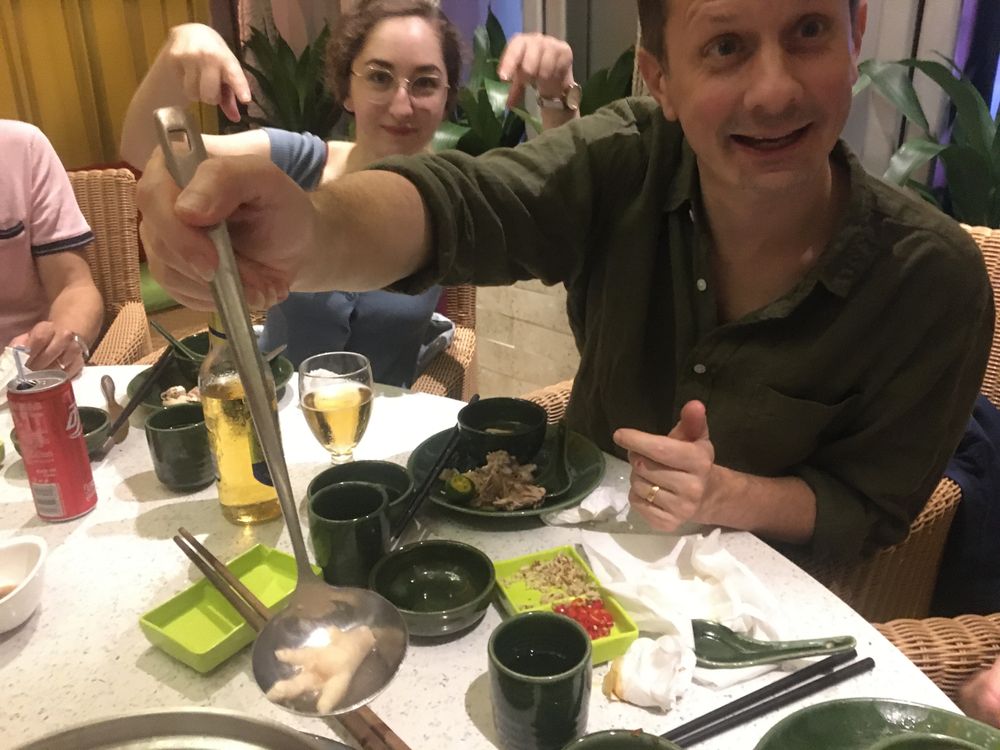 I'm not a big fan of chicken skin, especially when its boiled (roast chicken is a family staple back home - with crispy skin) but I managed to get several pieces down as I was hungry. There was also a tiny bowl of rice, thank God. Will, as usual, enthusiastically dolled out seconds, including, what looked like a chickens arsehole into his sons bowl. The waiter added more stuff to the boiled confection, pork balls and beef, which we ate reluctantly. I think Laura is enjoying the tour, she's pretty quiet as we all must be a bit intimidating, but she did well at the concert in Shenzen.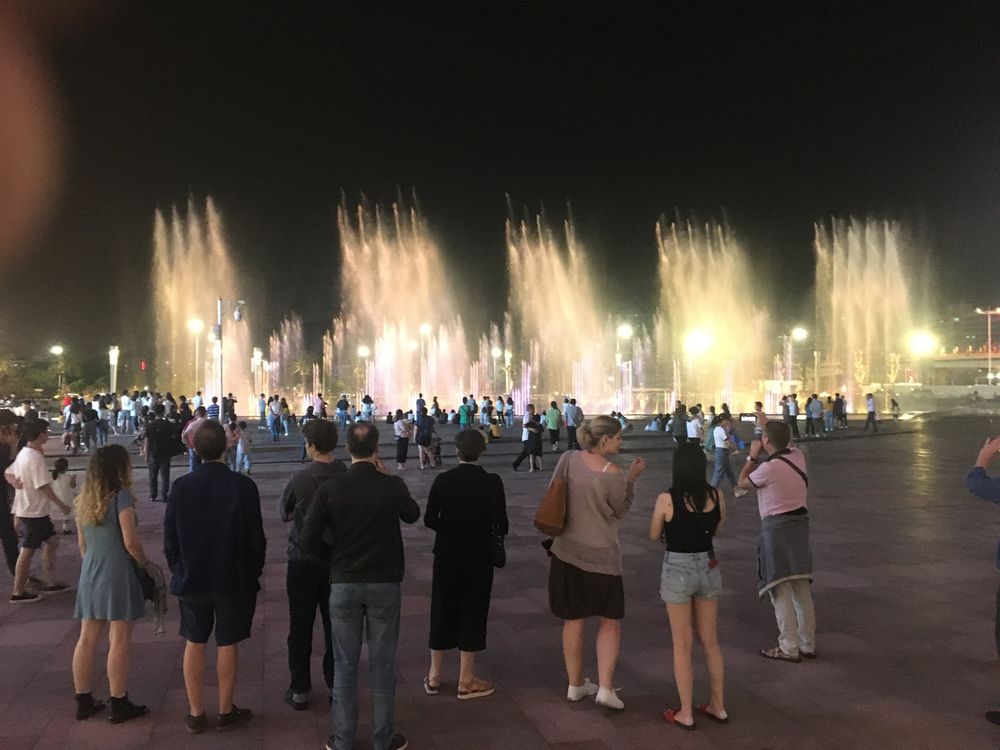 After we'd finished we burped our way out of the mall and saw a display on the fountains outside accompanied by classical music, before heading off to a rooftop bar nearby. The weather is mild in the evening and Mia, when I asked her said the season is autumn.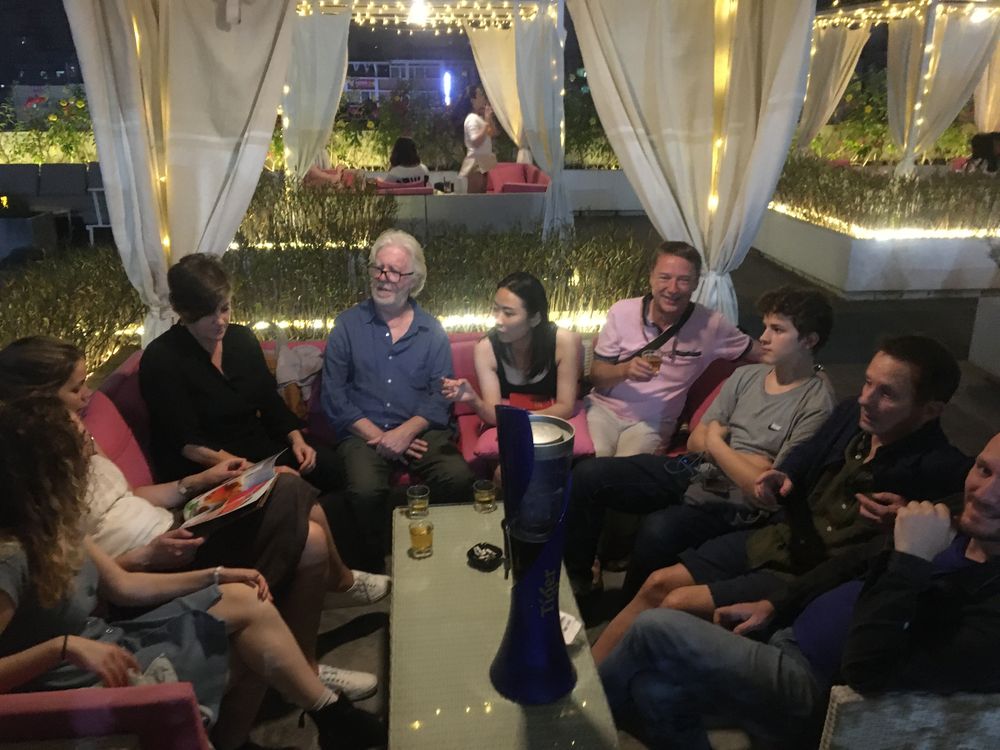 The rooftop bar - that is not a samovar on the table but a 'pail' of beer.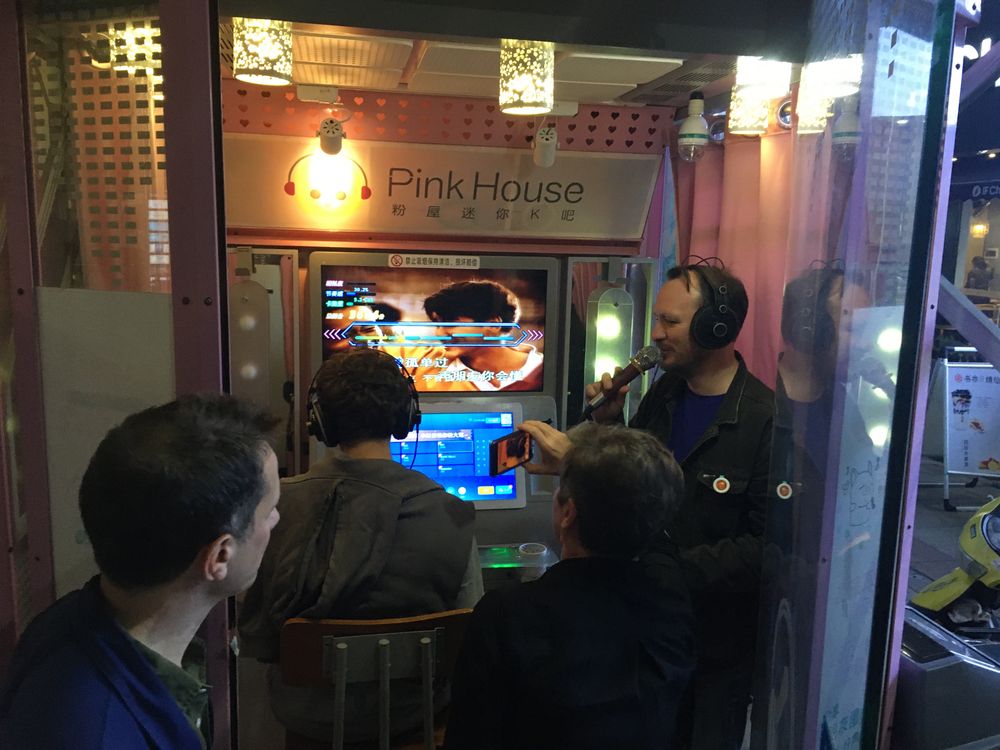 It took an age to leave and find a taxi - Wills son, Sid had found a karaoke booth and we collected our change together to make a video. Then it was taxi, traffic jam, hotel, bed and oblivion - concert tomorrow.