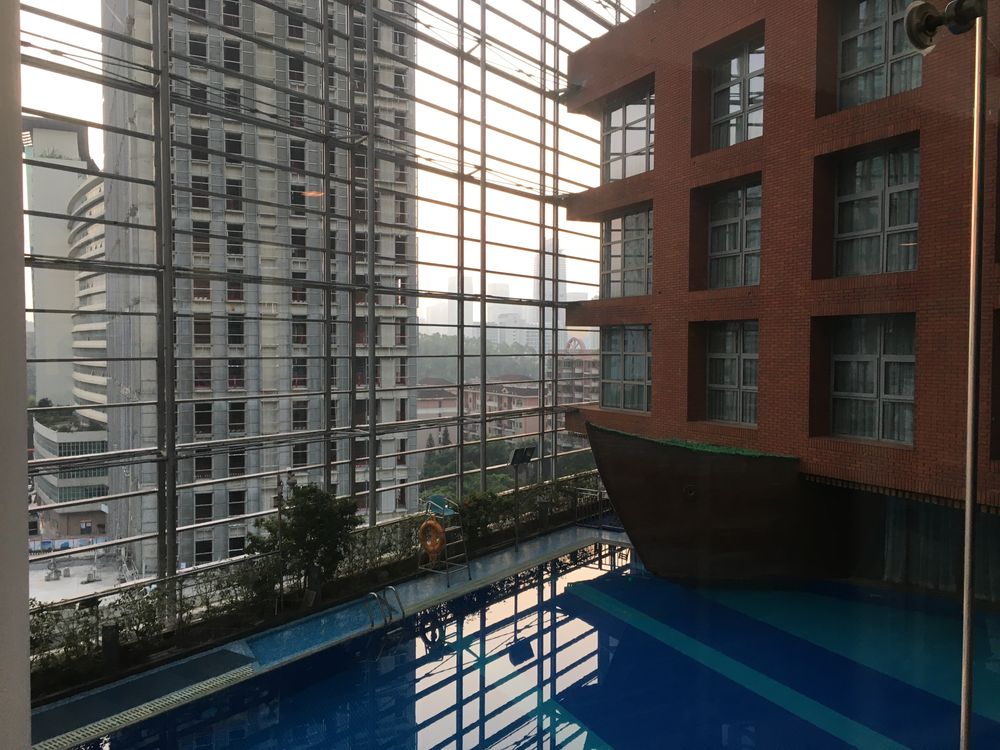 The expensive VPN software that I (and others) had bought to circumnavigate Chinese internet restrictions has turned out to be completely useless, but we can all still access most social media sites through 4G on our phones - Google search is limited. I can still also read western newspapers on my phone news apps. Surprisingly, I still managed to gain access to my website on the hotel wifi, with the assumption that its monitored (or maybe I'm not that important). Whatever - Ill be able to update it and its always a pleasure to waste the valuable time of government bureaucrats, so game on Campers!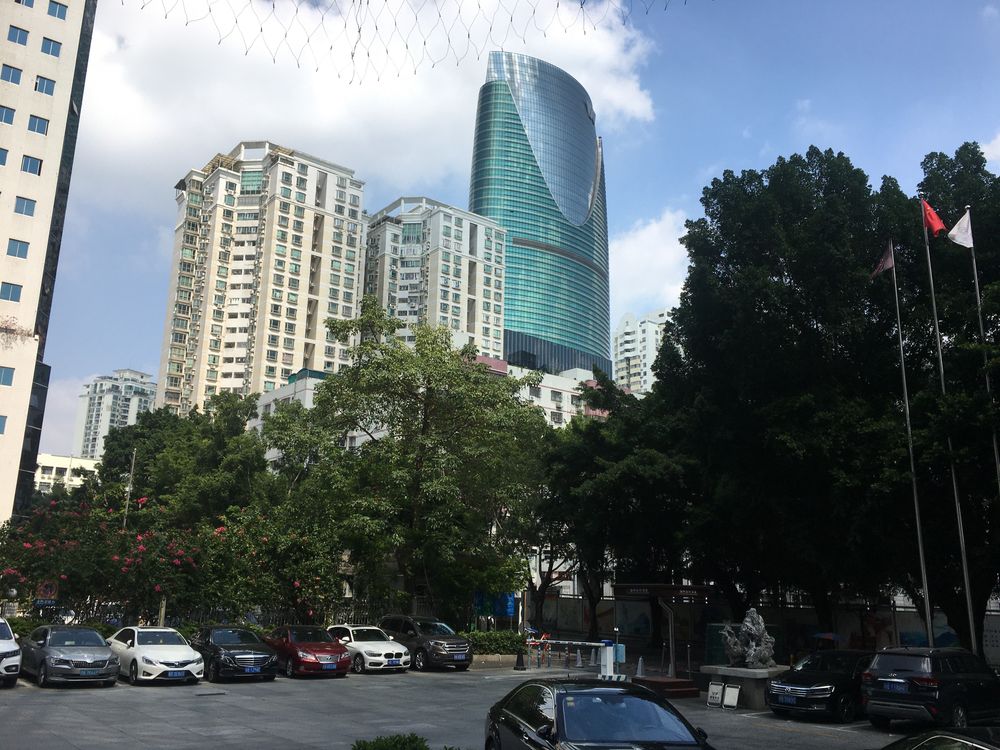 The weather is warm, and in the morning before breakfast I got up and went for a walk. I've gotten used, as an english speaking person to hotel receptionists, waiters, taxi drivers all being able to speak some sort of rudimentary english, wherever we are in the world, but here very few people do (why on earth should they).  I was conscious as I walked around of being stared at in a curious, but not unfriendly way - this is a big city after all; everybody walks around glued to their mobiles, frequently while crossing the road.  Nobody has yet asked me 'whats the weather like up there' or 'do you play basketball' - and if they do, maybe I'll learn the Mandarin for 'do you play miniature golf'. The hotel we are in is comfortable and full of Chinese businessmen and women - I havent seen any other Westerners. There is a lot of building going on - come to think of it there's a lot of building going on everywhere.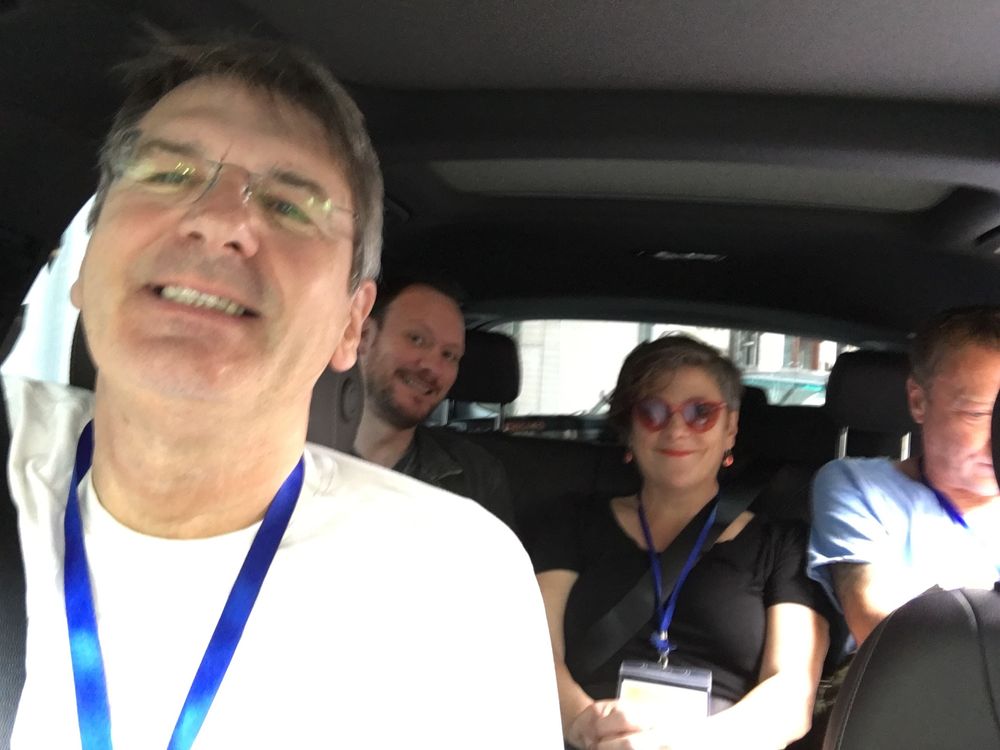 So I loafed around trying to catch up on sleep and at midday we left for the theatre in taxis, where we had various things to do, people to meet before the show. One of the major problems about travelling long distances to play is that, however well you've slept, when you hear the announcement "Ladies and Gentlemen - the Ukulele Orchestra of Great Britain" as you walk out - thats when the wave of jet lag inevitably hits you - thankfully I haven't yet fallen asleep onstage...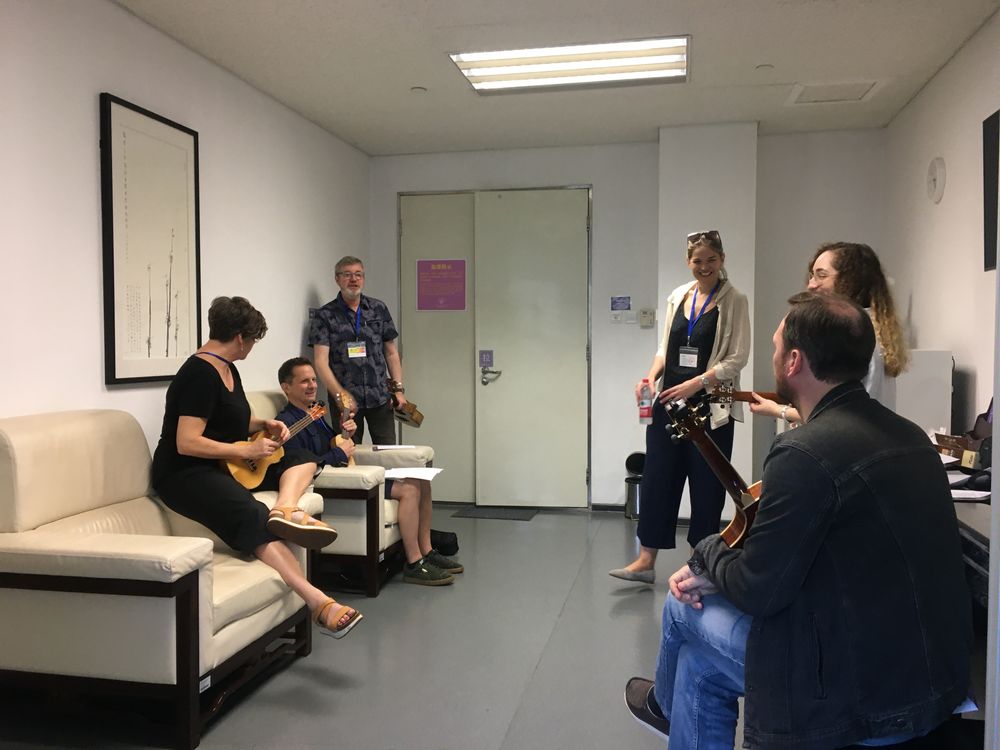 The theatre was as modern and comfortable and we were told the running order of the day - our concert here had been sponsored by some local ukulele association (and shop) and we had agreed to perform with a bunch of kids, who would play before we went on and then come back on at the end. However, several other people were trying to muscle in on the action, including the old guy we'd met at the reception the previous evening, the self styled 'first person to play the ukulele in China' old geezer, who wanted to come on in the middle of our show with four of his buddies to do some tunes. Since our set had already been censored (our promoter Ying had had to present the numbers we were going to play to the city authorities - Psycho Killer and Smells like Teen Spirit had already been given the thumbs down and we'd replaced them with various Chinese numbers, mostly sung by Will) - that wasn't an option and presumably he was told to back off.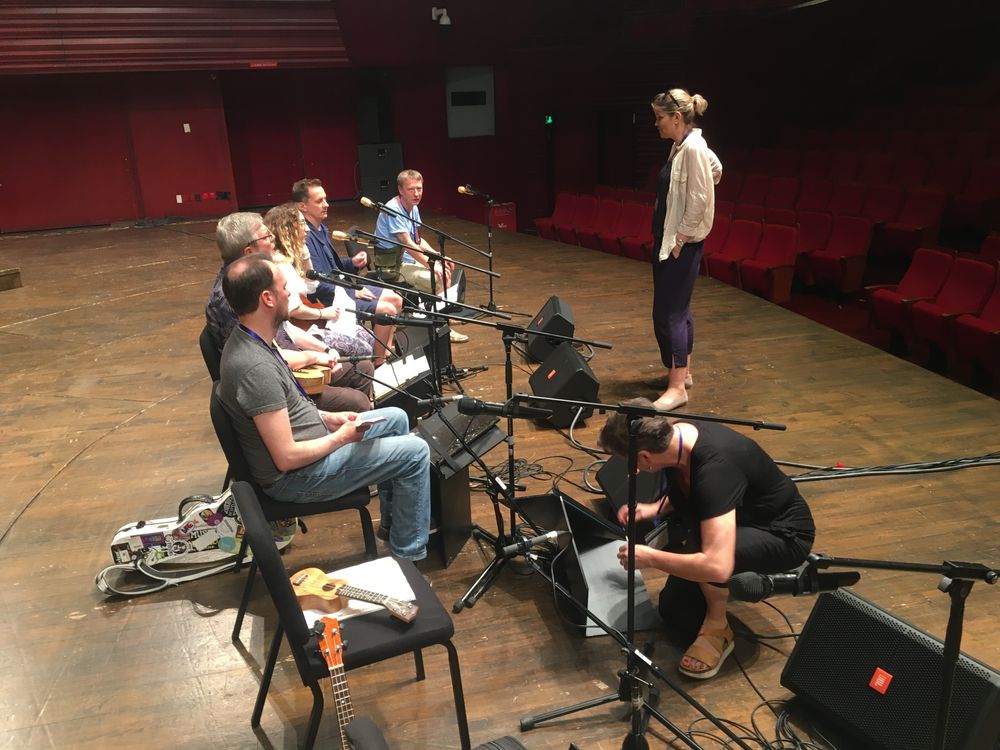 It was all getting very complicated, and when Ying found out that someone had brought in a film director to direct the kids and who wanted to move our equipment on stage to get a better view, there ensued a furious argument, with Ying yelling at the guy and his crew right in front of us.  I'll say one thing for her - she really was in our corner.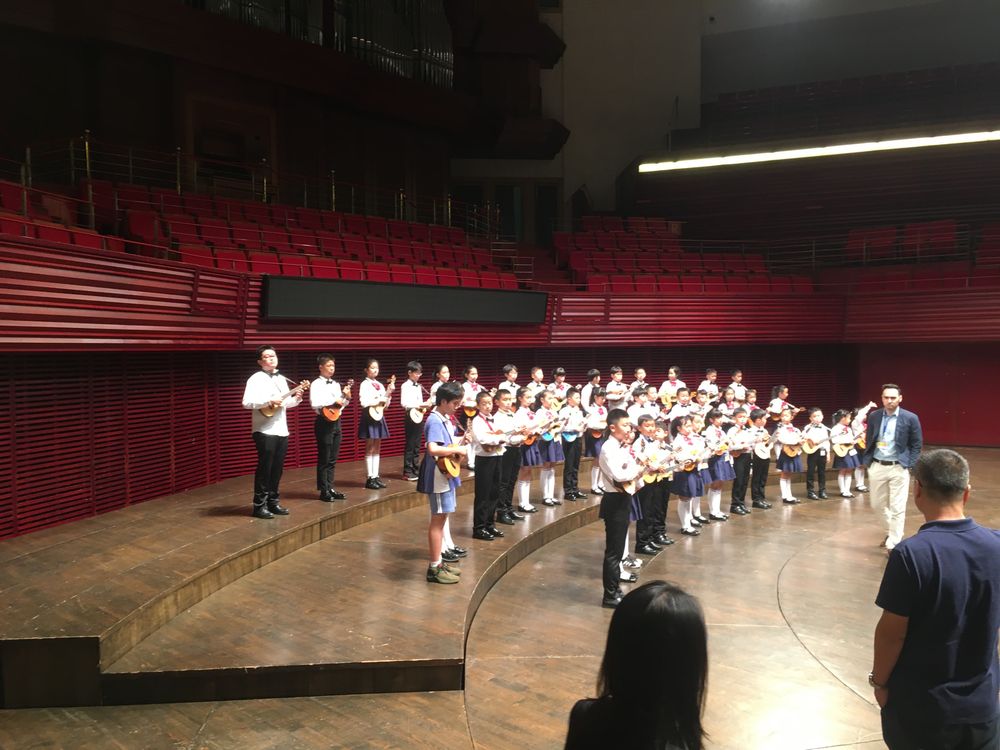 We watched the kids rehearse beforehand - they played and sung a lovely version of 'Fly me to the Moon' - their teacher is a great cat called George Eames (white trousers, hands in pockets) - he's an Irishman and a ukulele virtuoso, whose videos I have watched on youtube.  He lives out here and speaks Mandarin and is yet another person earning his living from teaching and playing the ukulele - I liked him a lot.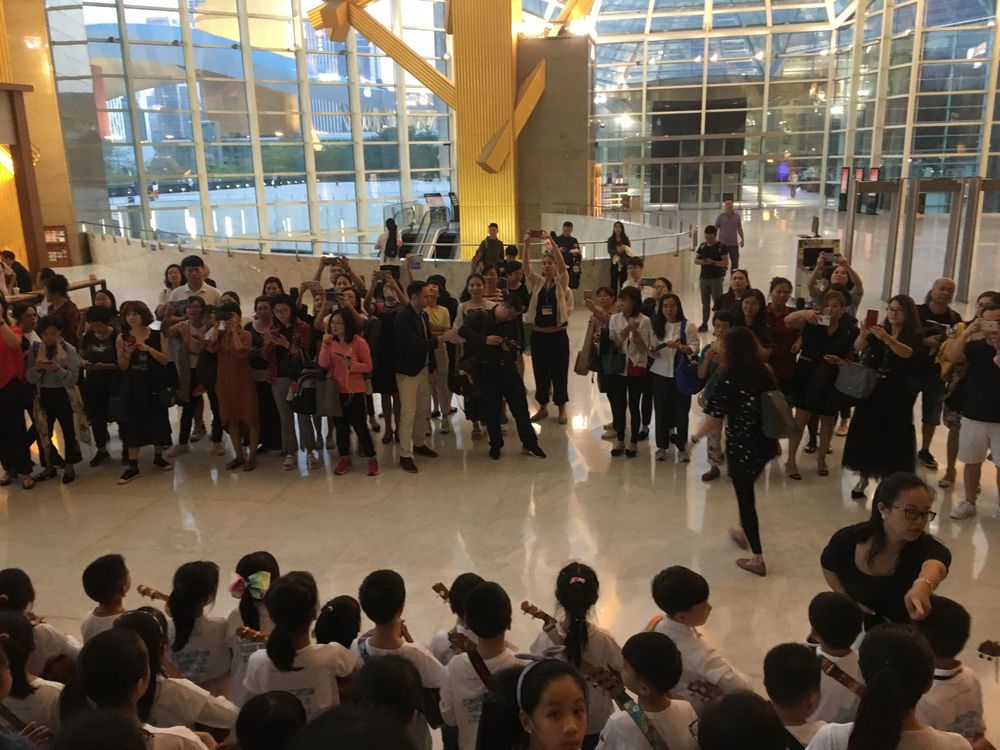 So right after we'd finished that rehearsal, it was time to go off and do a photo call with another bunch of kids in a different part of the building, we stood at the back while the parents yelled at their kids to smile etc - my face hurt afterwards from holding the stupid cheesy grin for such along time.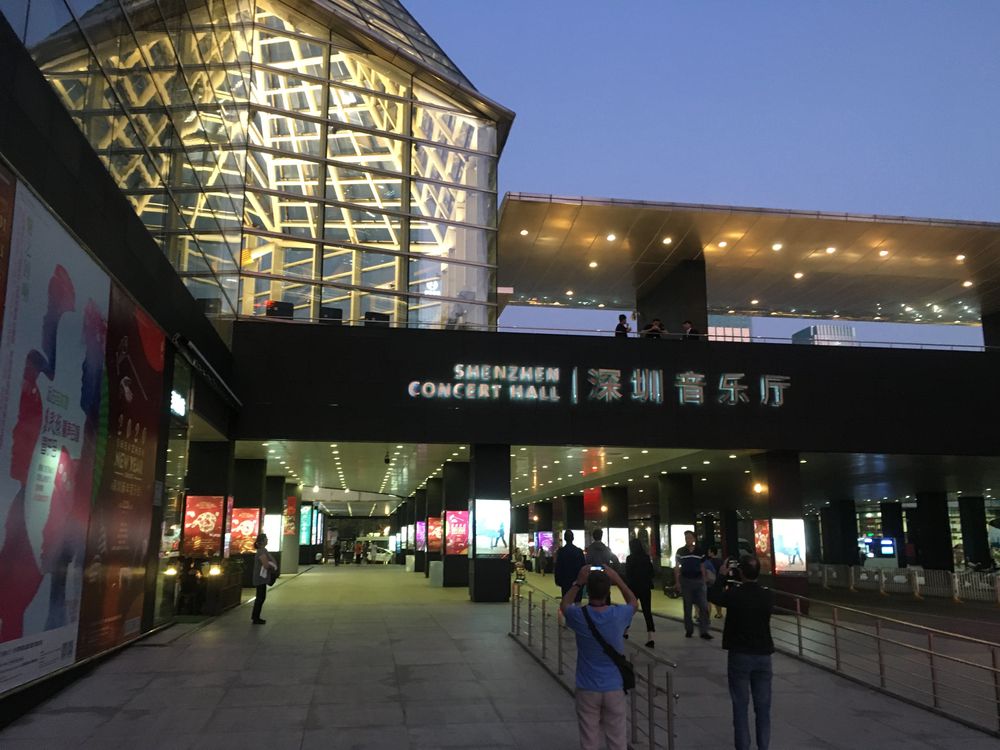 After that finished, we went of with our chaperone Mia to get something to eat. Mia is a fun person to be with - she's lived in the UK and the US and is going through a divorce and is (apparently) in remission from cancer! She has an insouciant 'bad girl' vibe and smokes a lot and has a world weary cynicism and a good sense of humour - she works for Ying.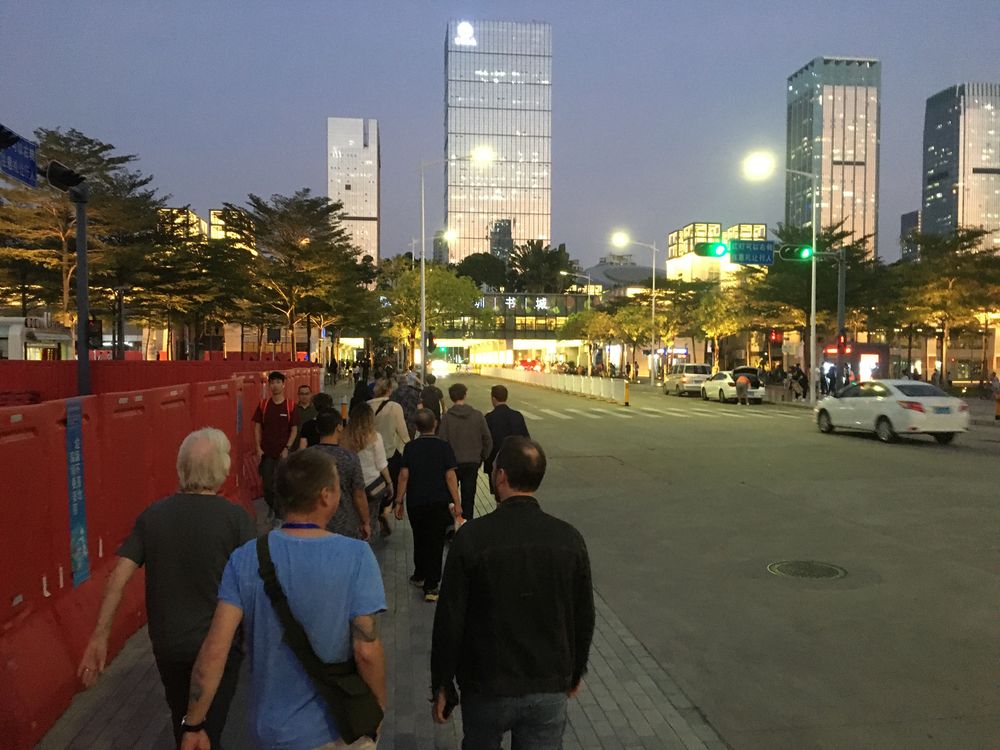 She told us we were going to eat some 'junk', as there wasn't really time for anything else (the food on this tour btw has been excellent) - then took us off to the local Kentucky Fried Chicken. She was right, it was junk, but it was fast.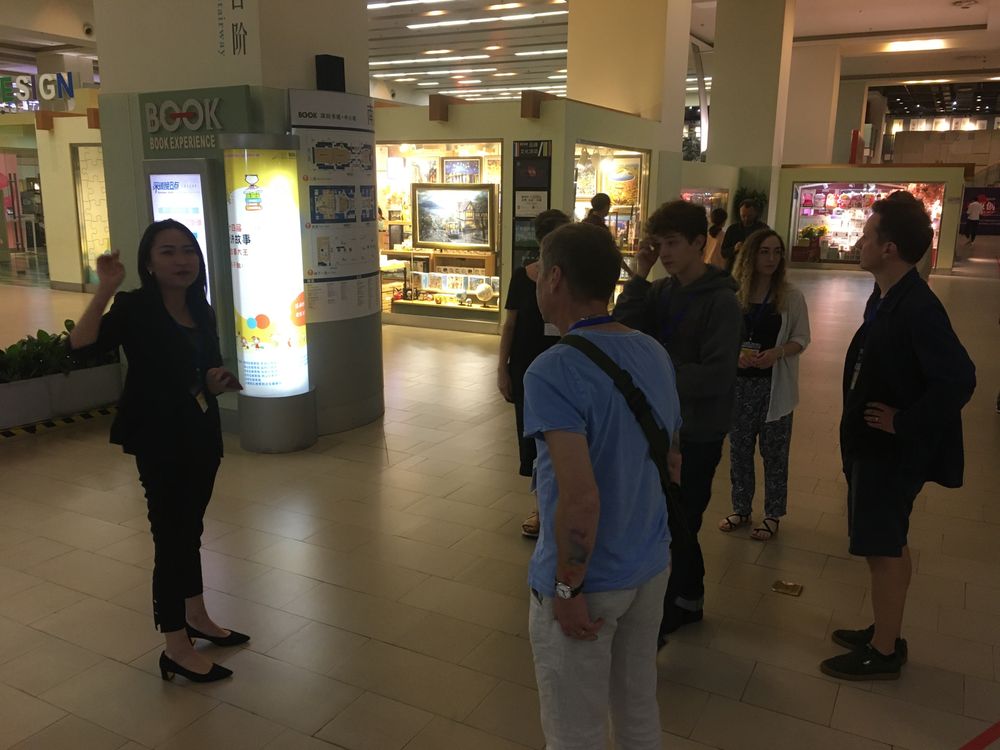 Mia (left) in the mall in Shenzen.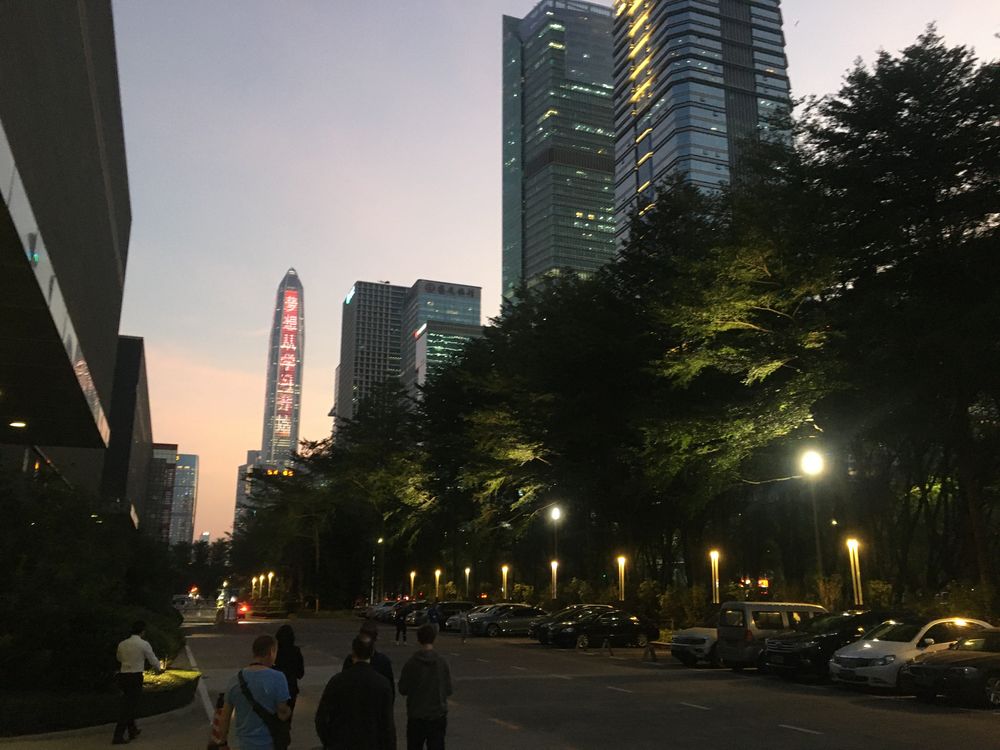 Shenzen is pretty spectacular at night - the buildings are all lit up with fantastic graphics which must cost a fortune in energy bills.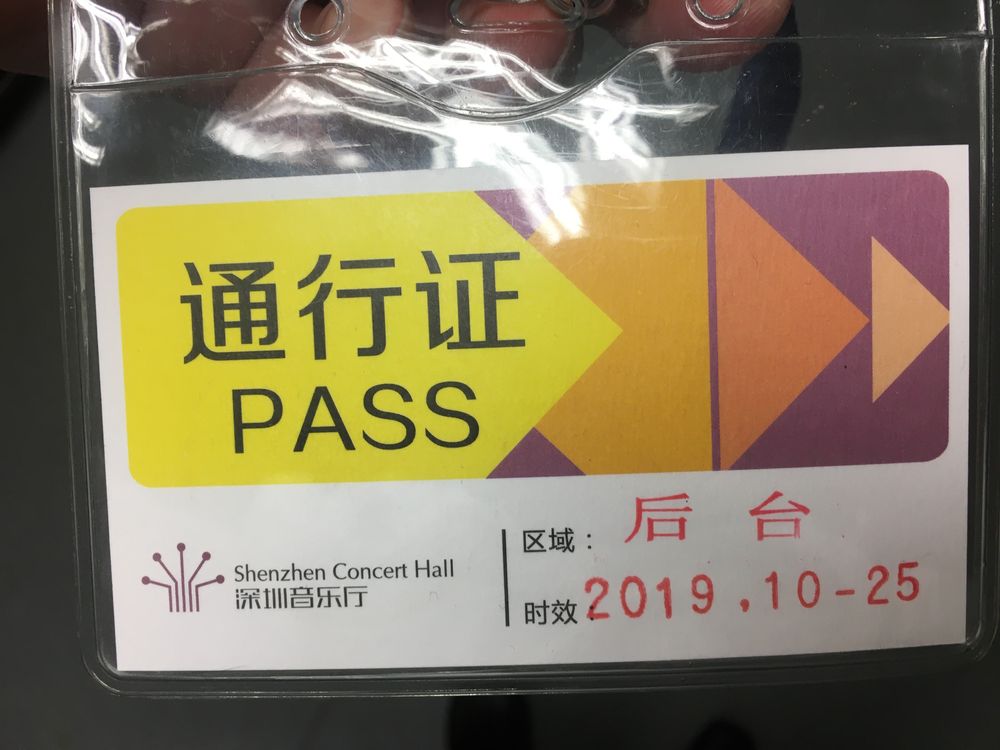 My pass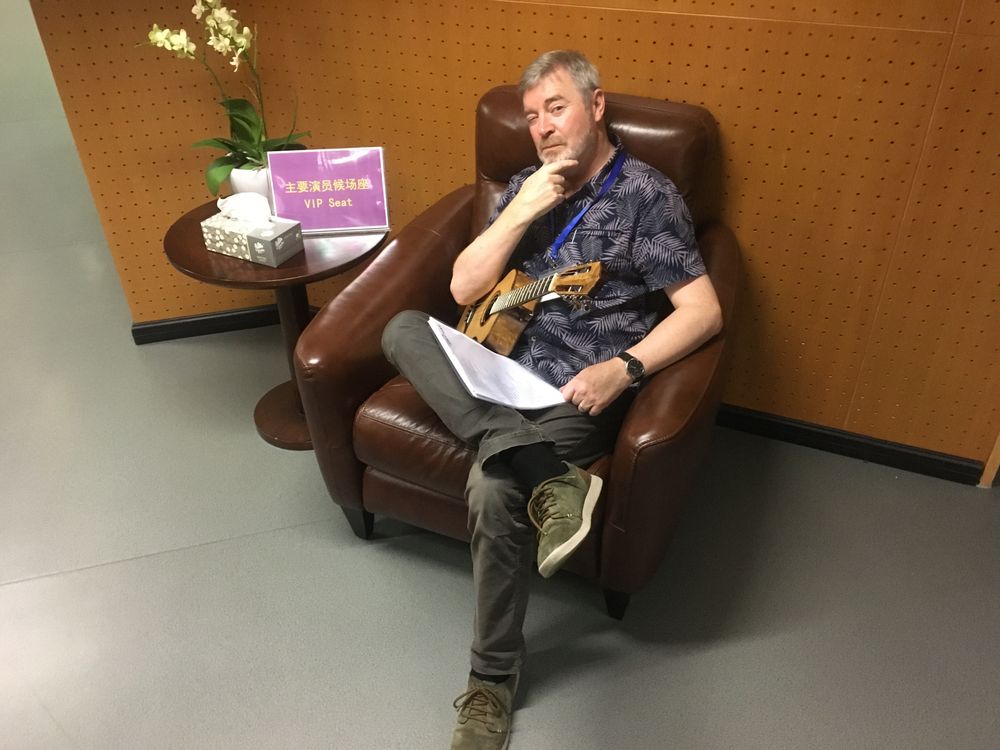 We saw this VIP sign next to the chair - Rich can always be relied on to step up to the plate when it comes to a stupid photo (if I haven't got there first!)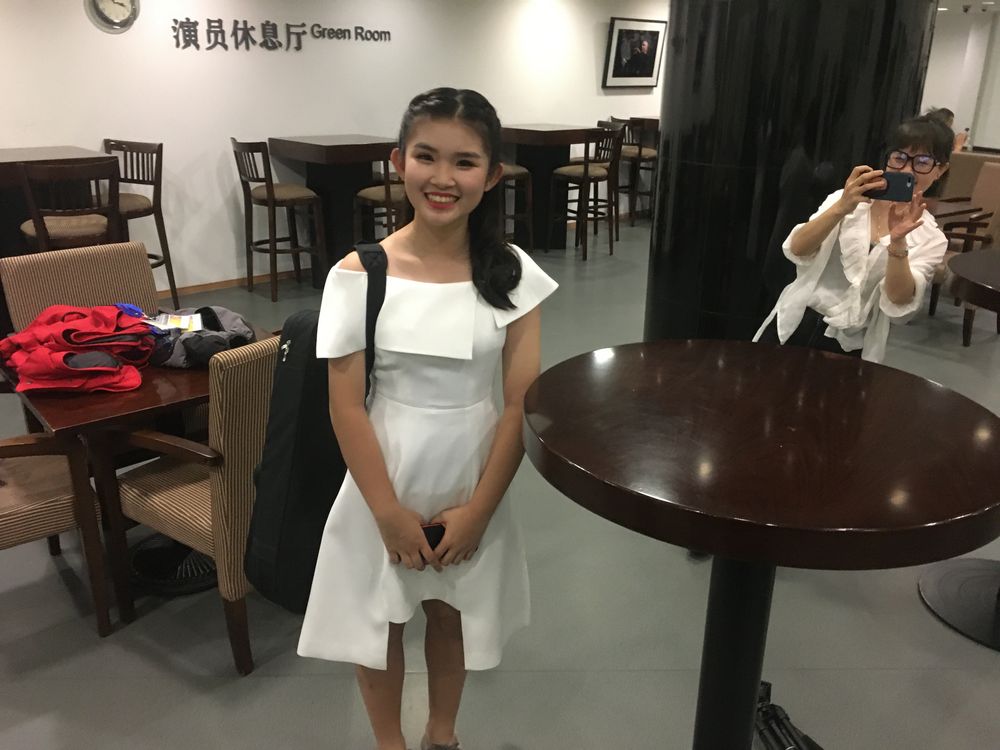 So by the time it came for the show, we were all pretty wired, with all the new stuff we had to play (Chinese numbers, Laura's songs, which we hadn't played onstage before, and covering several holes in the show left by band members Dave and Hester, who weren't doing the tour). All in all we did a damn fine job and the audience responded well at our attempts to introduce numbers (and sing) in Mandarin. The numbers we were singing were flashed up on a large electronic sign behind and in front of us - which was a bit strange. Our bits with the kids went over well (we played Beethoven's Ode to Joy) and at the end, this beautiful girl came on with her ukulele, and with us and the kids, played (what I thought at the time) was a revolutionary song about the 70th anniversary of Mao's ascent, but was promoter Ying told be later, just a song about the love of the homeland.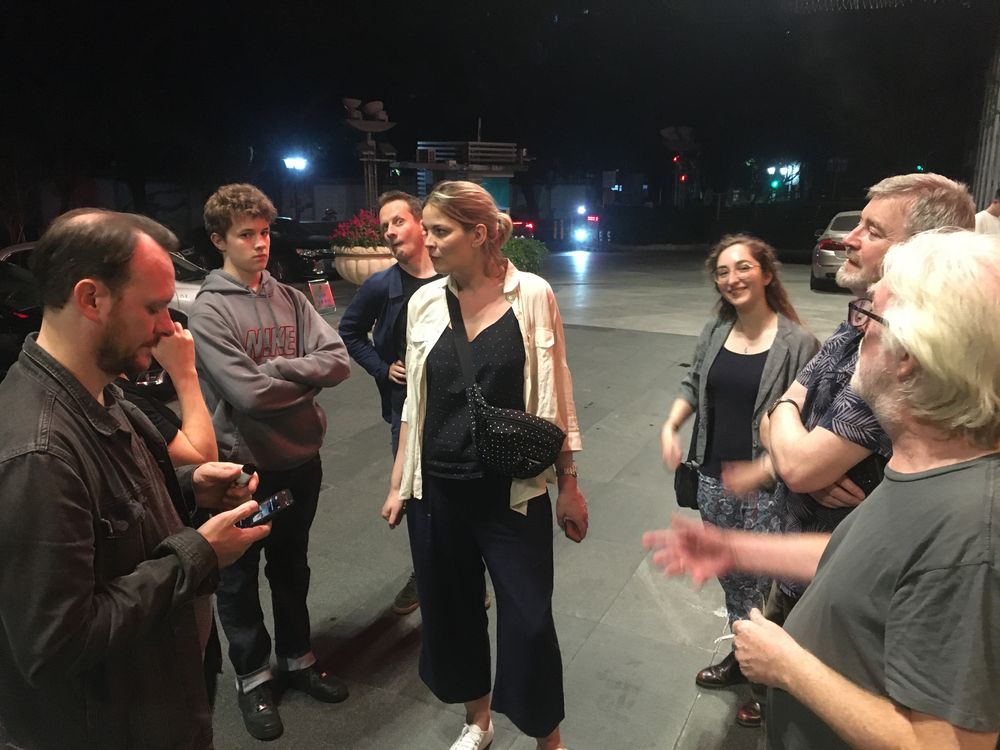 So after we'd finished and packed up (and signed 50 certificates for the kids!) it was time to unwind. Jonty, who can sniff out a bar anywhere, had discovered a nice little place where they served craft beer and lots of the clientele spoke english, so we went there with Ying and Mia.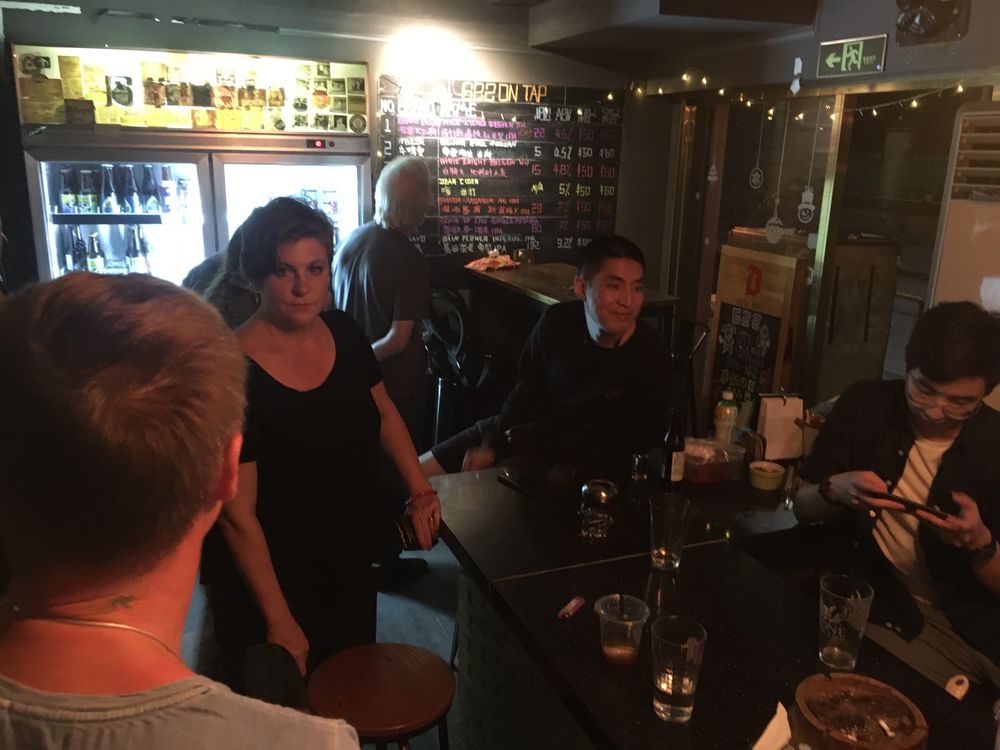 We walked in to cries of Jonty! Jonty! and all the customers faces lit up like a bunch of drunks at Christmas - it was fun, I had several beers and a good chat with Ying, she has a place in London and loves Scotland and is going to try and get us gigs in Japan next year. Then it was back to the hotel, bed and oblivion. More tomorrow Campers (maybe).