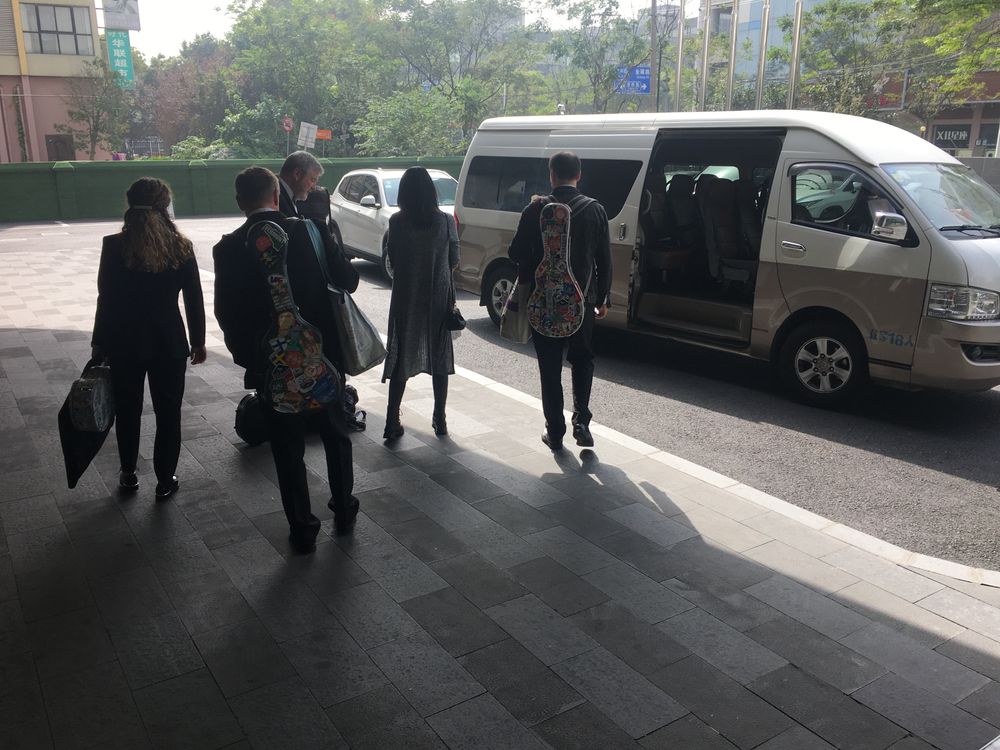 Traffic here in Shanghai is completely mad, with plenty of accidents.  Our taxi into town last night, dropped us off adjacent to the cycle lane so that when we exited the vehicle, we had to quickly open the door, jump out and dodge the oncoming bikes and motorcycles to the drivers general indifference. Leisa said that in the other band members cab back to the hotel, the driver actually fell asleep at a red light - it changed to green and they had to prod the guy awake to move off. It's a lot cooler here than in Shenzen or Zhuhai thank goodness. While the tiny bit of China we've experienced so far seems very western: hotels, malls, restaurants etc - I'm beginning to notice that almost no one here has piercings or tattoos, which have become almost mainstream in the west.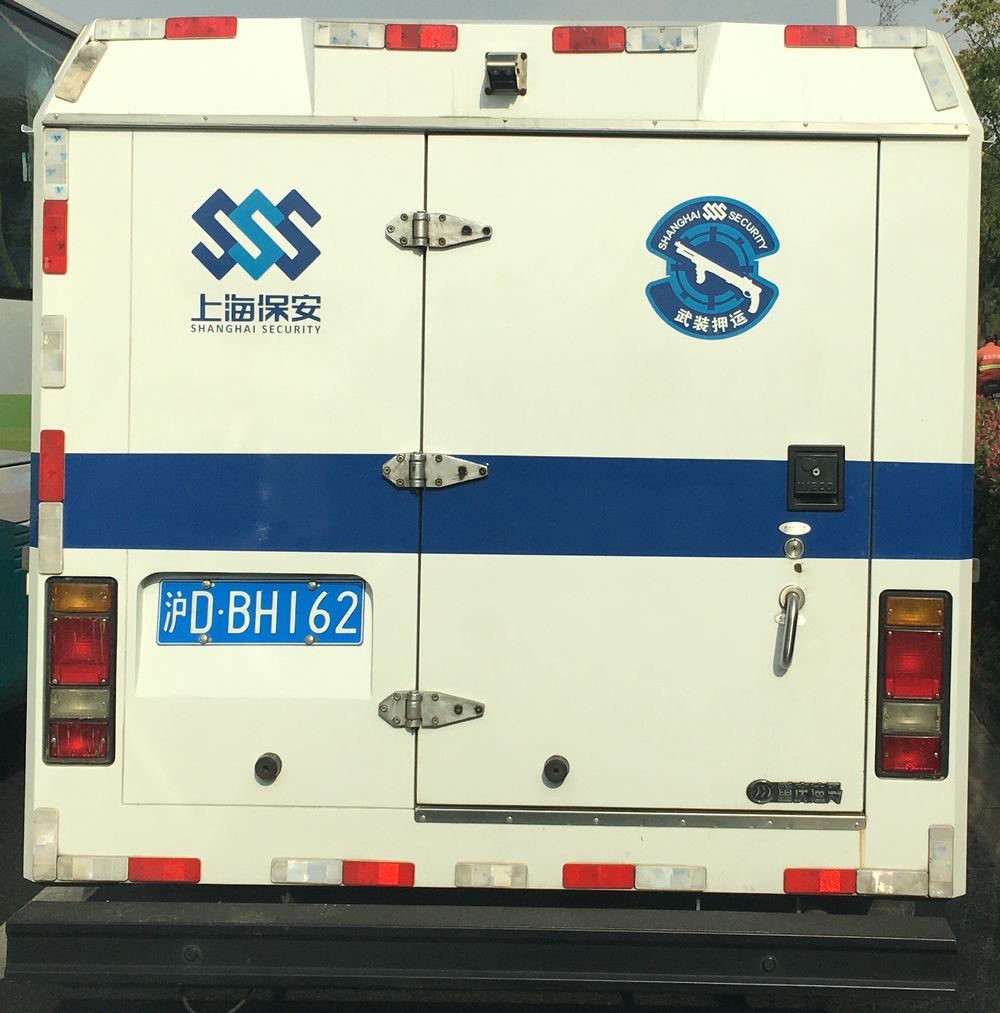 For the second most populous city in China Shanghai is pretty safe - Will asked Mia if this was because it was community minded, or that the government will kick the criminals arses if they transgress, and she said: 'the second one'.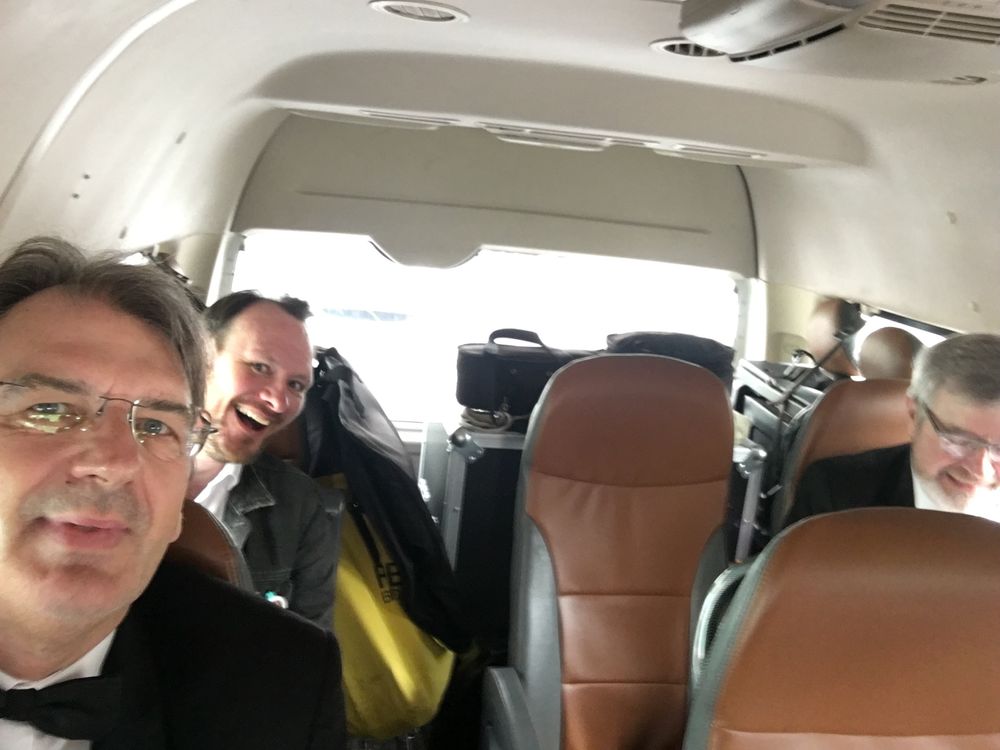 So today was promo day for our gig tomorrow, we were told this would involve 'busking' a few tunes in the Shanghai Tower. Of course this was nonsense as China dosen't have buskers in the subway (or anyhwere else to the best of my knowledge). But it was in the tower, which until it got superseded by a building in Dubai, was the tallest building in the world. We got taken by bus to the venue in the mid morning.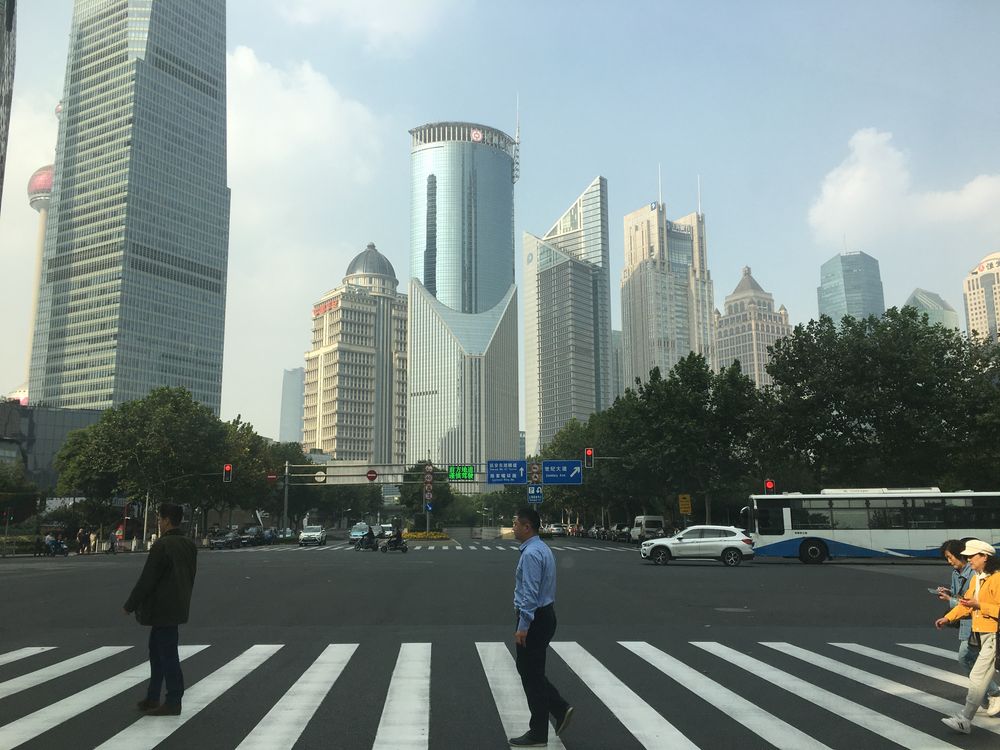 Street scene Shanghai - there's an awful lot of smog here, oldsters might remember the great smogs in LA during the '70s before it got cleaned up - well, its sort of like that.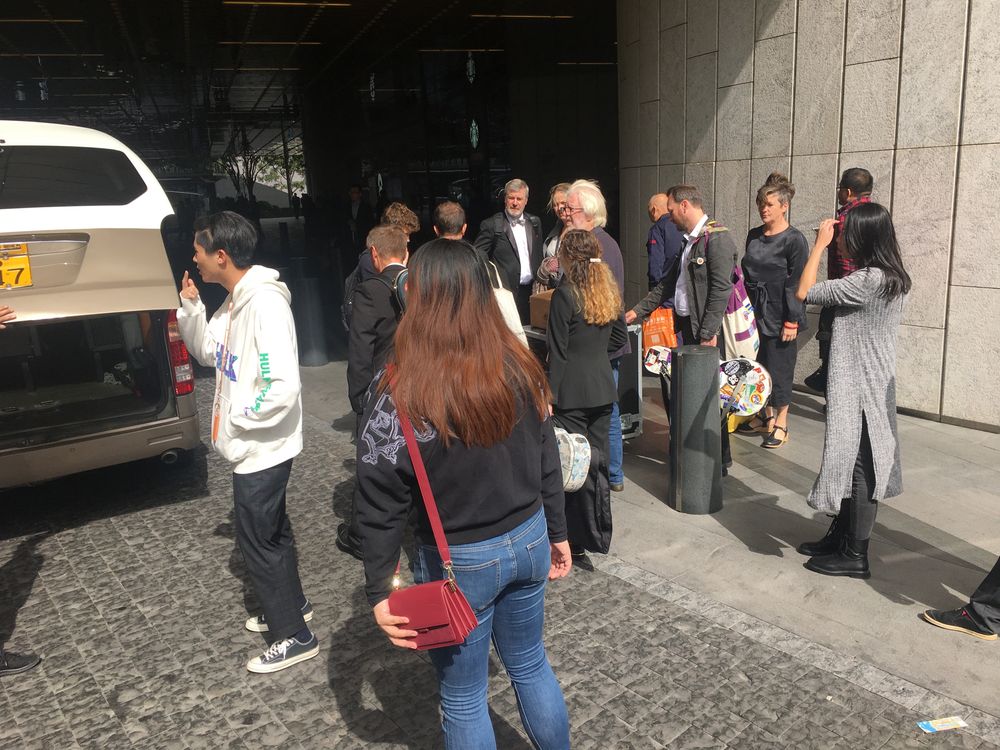 Arrival at the tower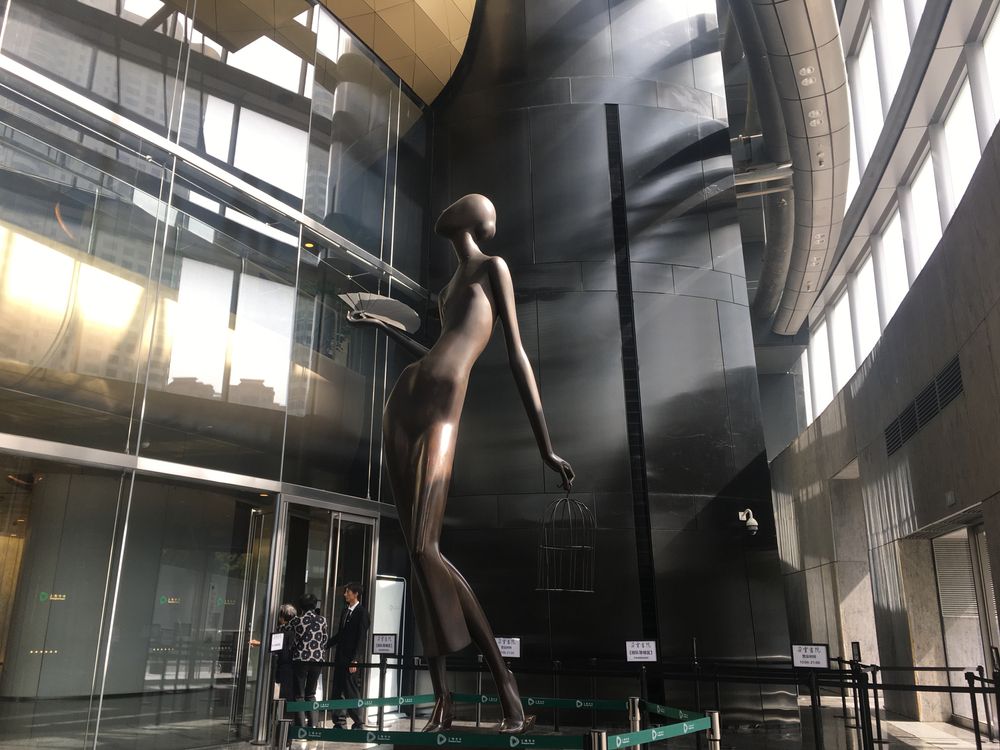 There lobby of the Tower was beautiful and had some cool sculptures.

We were shown the playing area in the basement, near the food court, where workers in the offices in the tower (mostly banks) would hopefully come and listen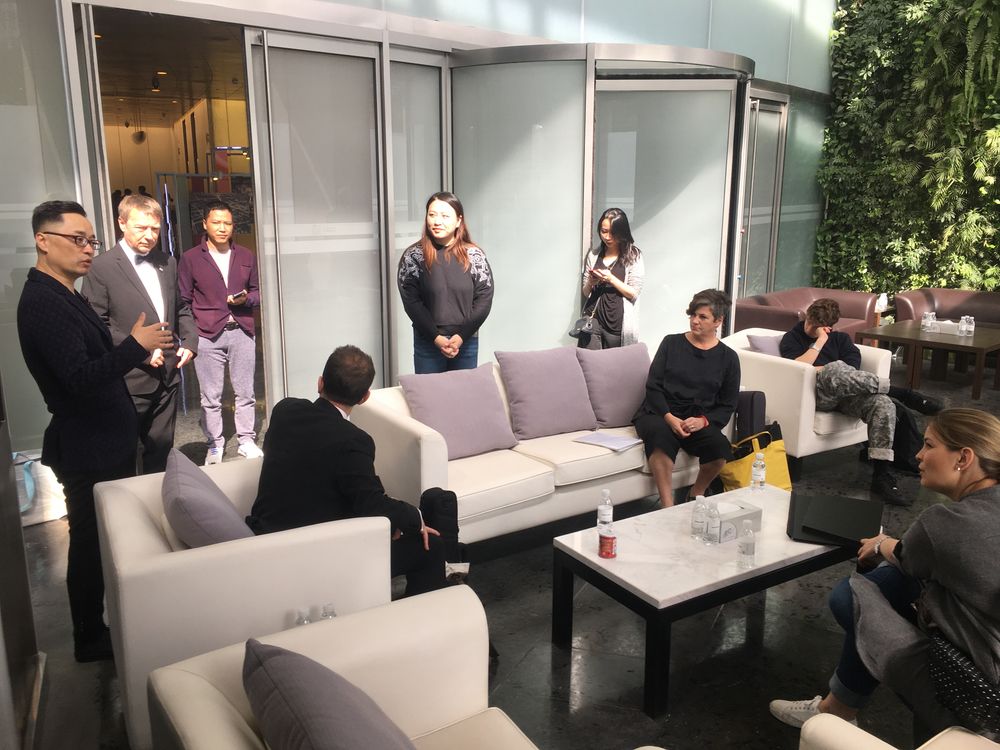 The event was to be hosted by Zhang Ming (left) who calls himself David, popular host of Love Radio here in Shanghai. He was crisp, confident and camp as Christmas - we all liked him straightaway.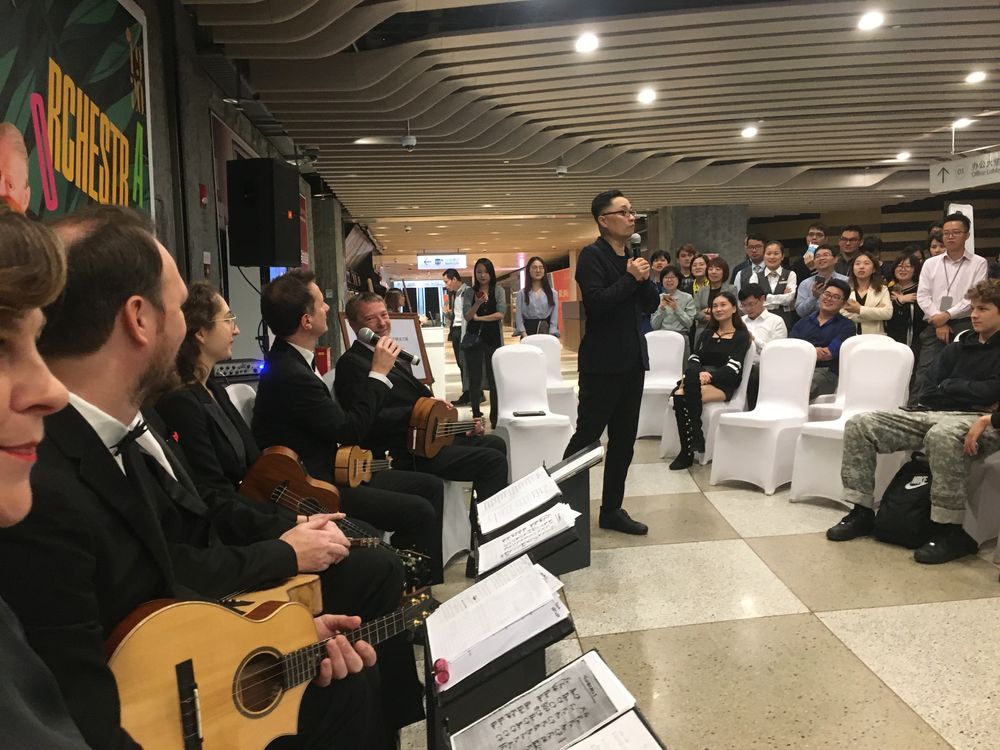 David turned out to be an excellent host, moving smoothly between english and mandarin, and explaining why we were playing, where we'd played etc. He also did little interviews with band members, it went over really well.  All in all, about 300/400 people stopped by to listen, and we faced a forrest of mobile phones - we played four songs, two of them Chinese ones. David was fascinated how we'd learned the two songs in Chinese, that we've been playing over here in our show, to much appreciation.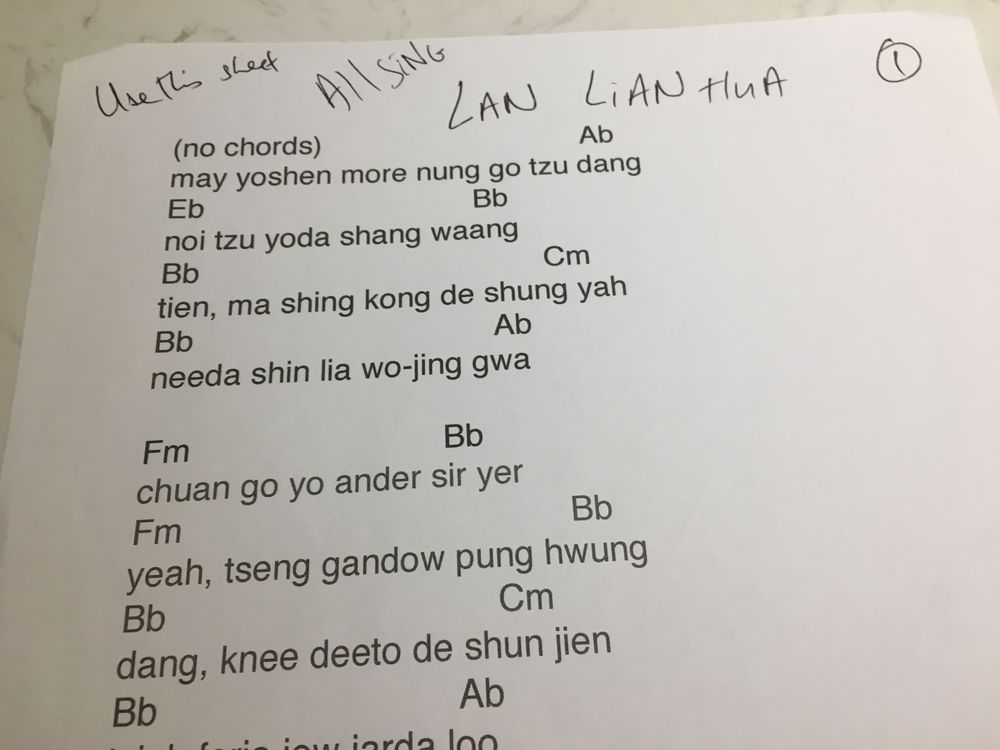 The answer is - a lot of listening by Will and Richie to the track in question (I would post the link, but it's on youtube which we can't access here) who then produced a phonetic rendering in English for band members to sing.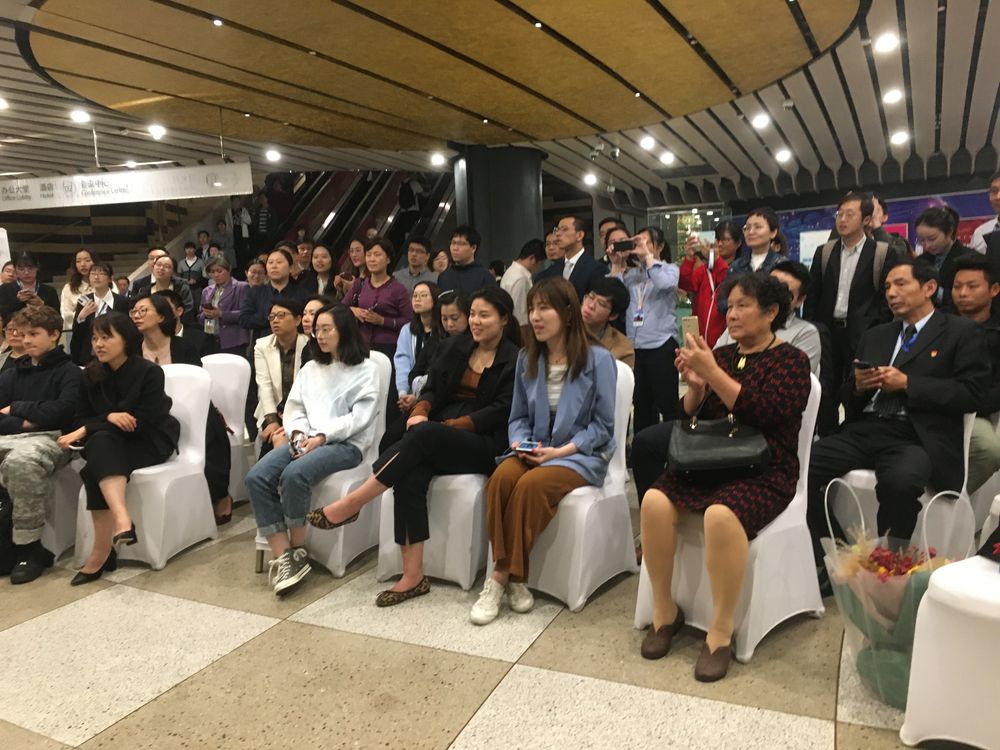 The audience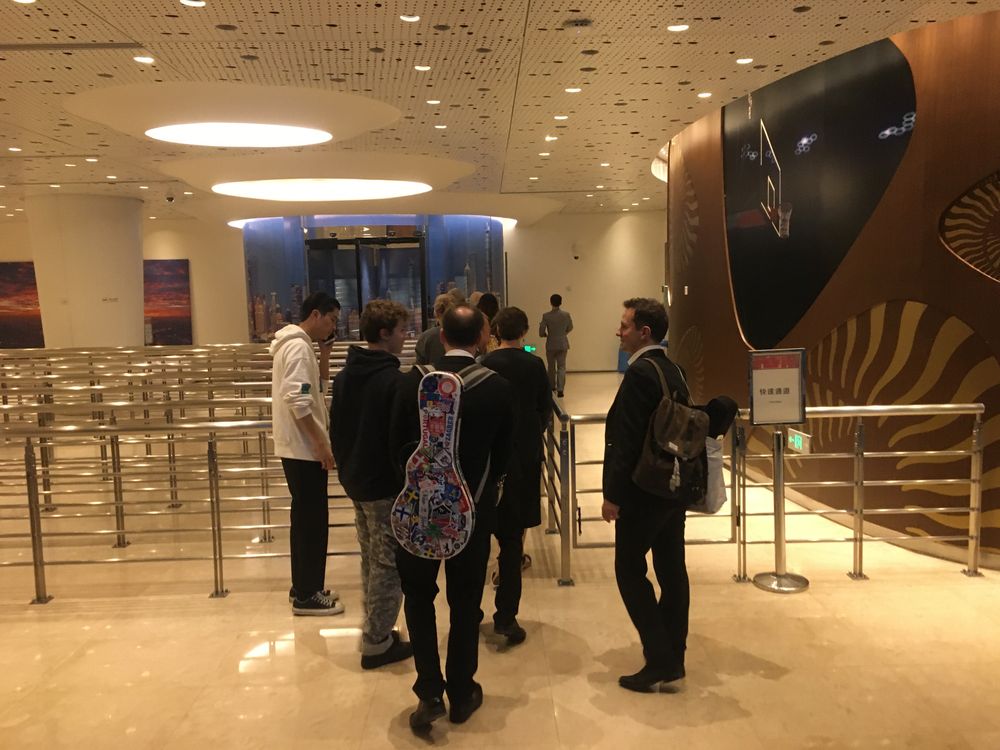 After the appearance was finished and we'd said goodbye to David, we'd all been given free tickets to go up the tower.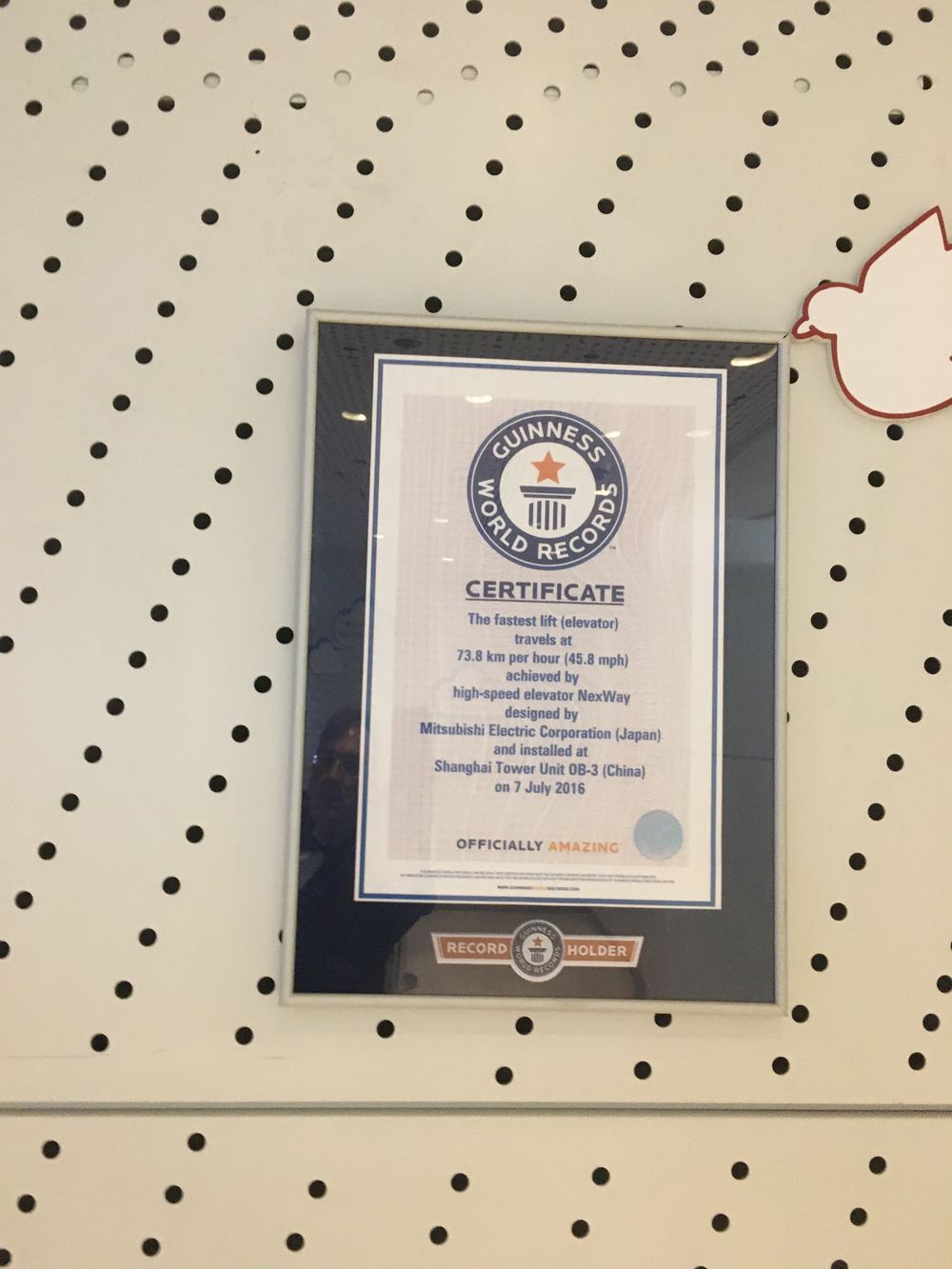 The fastest lift in the world - you could feel your ears pop as it went up!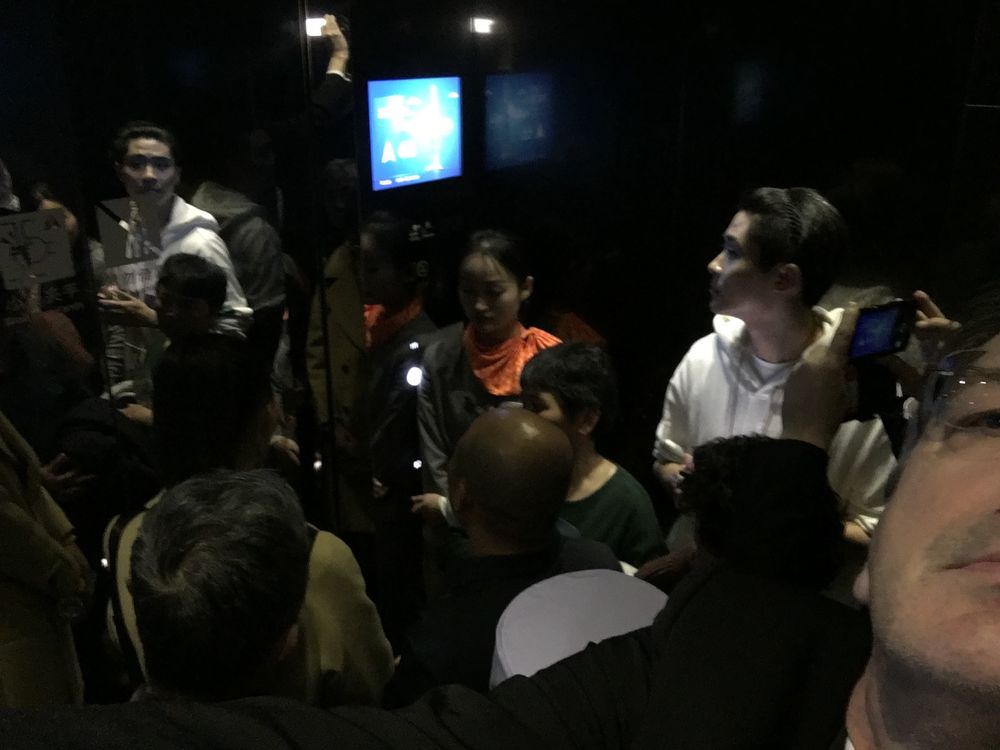 It took about 45 seconds to reach the top.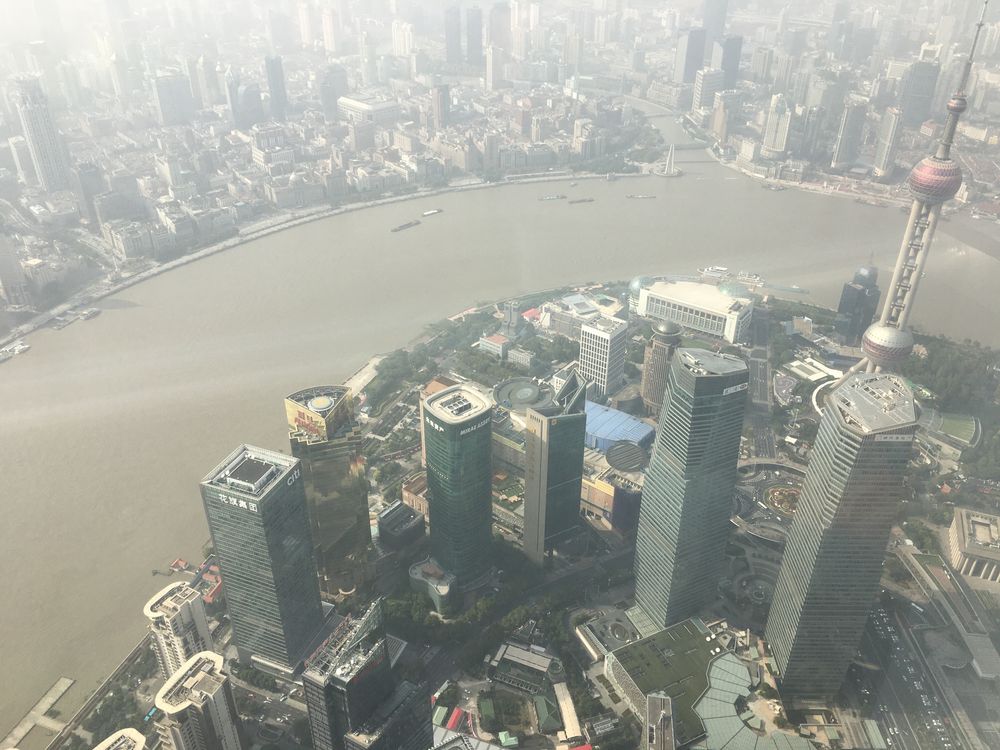 And my word - the view was stunning! Sadly the smog meant that you couldn't see to the horizon, but it was still really impressive - we all walked round and took some band photos. Ben and I bought some postcards at the top, and like the road dog that I am, I felt it appropriate 'leave my scent' (ie have a pee) at the top of the highest building I'll probably ever go up in my life.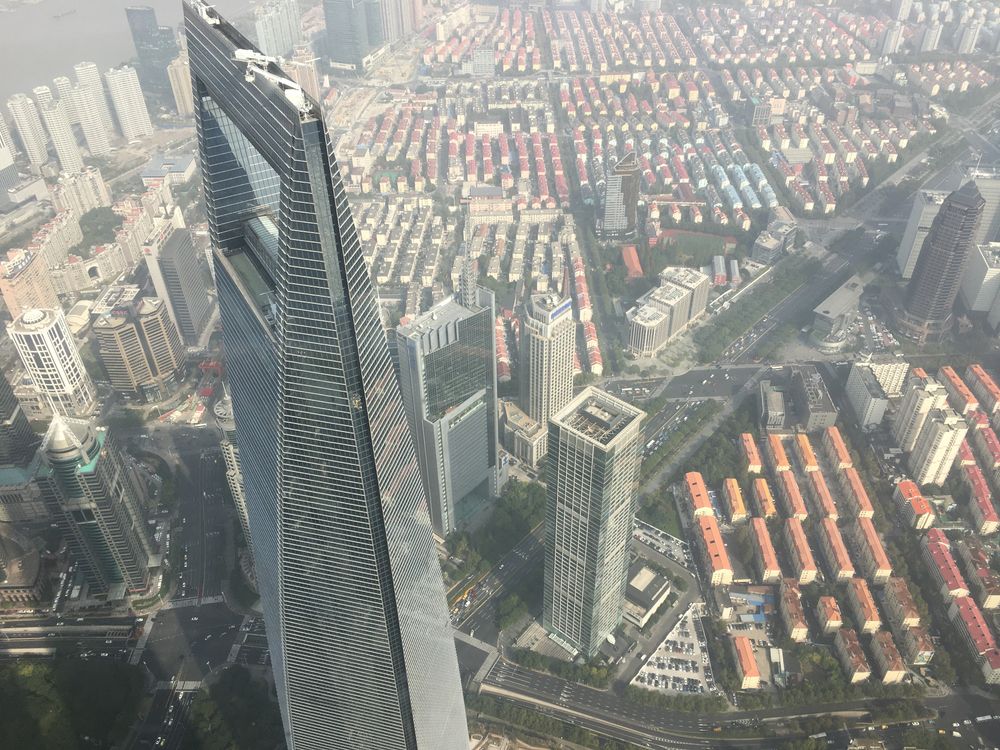 The view down from the other side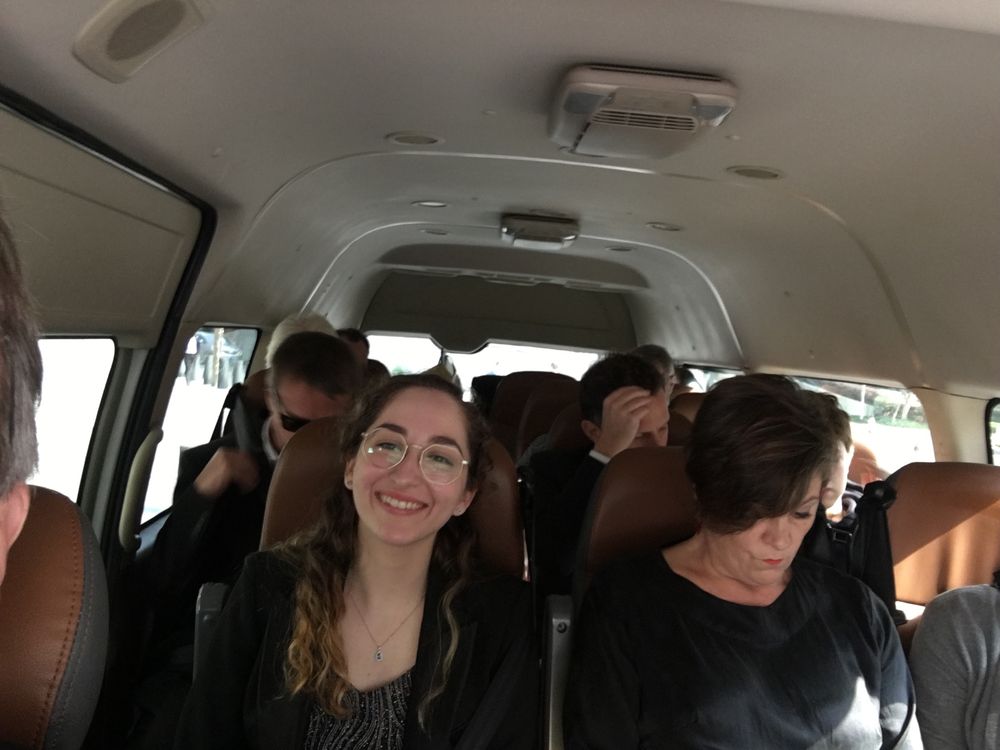 So job done and tower climbed, we headed back to the hotel. Most of the band went straight back into town to look around a market, but me, Doug and Rich elected to go back to the hotel for a couple of hours before heading back into town to meet up with the others and get something to eat later on.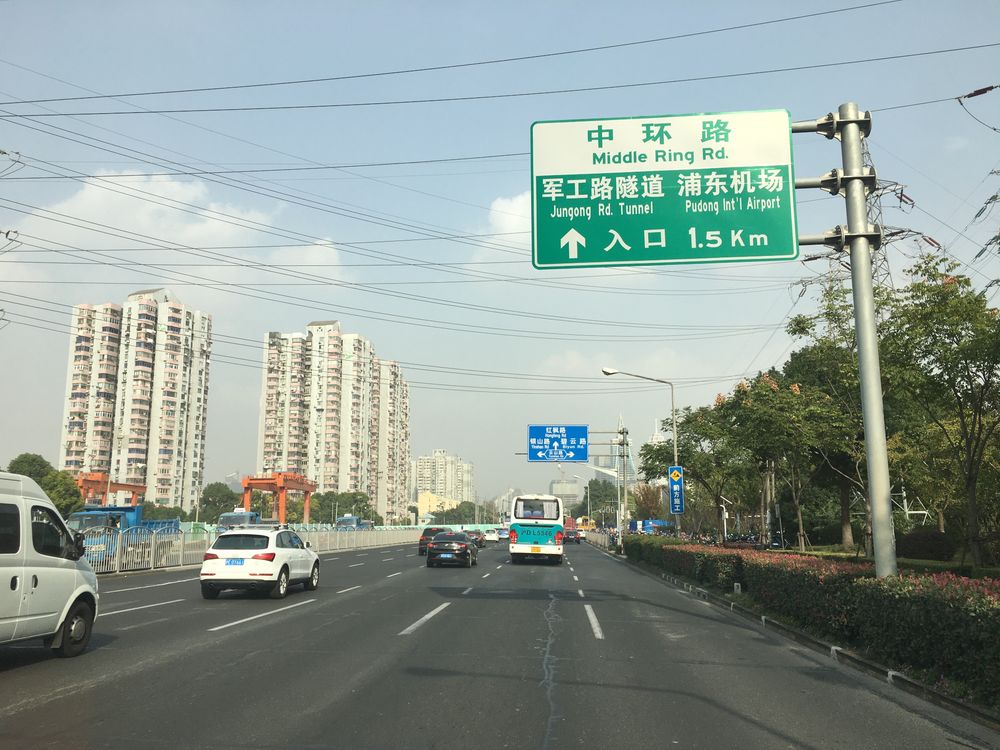 Heading back into town a couple of hours later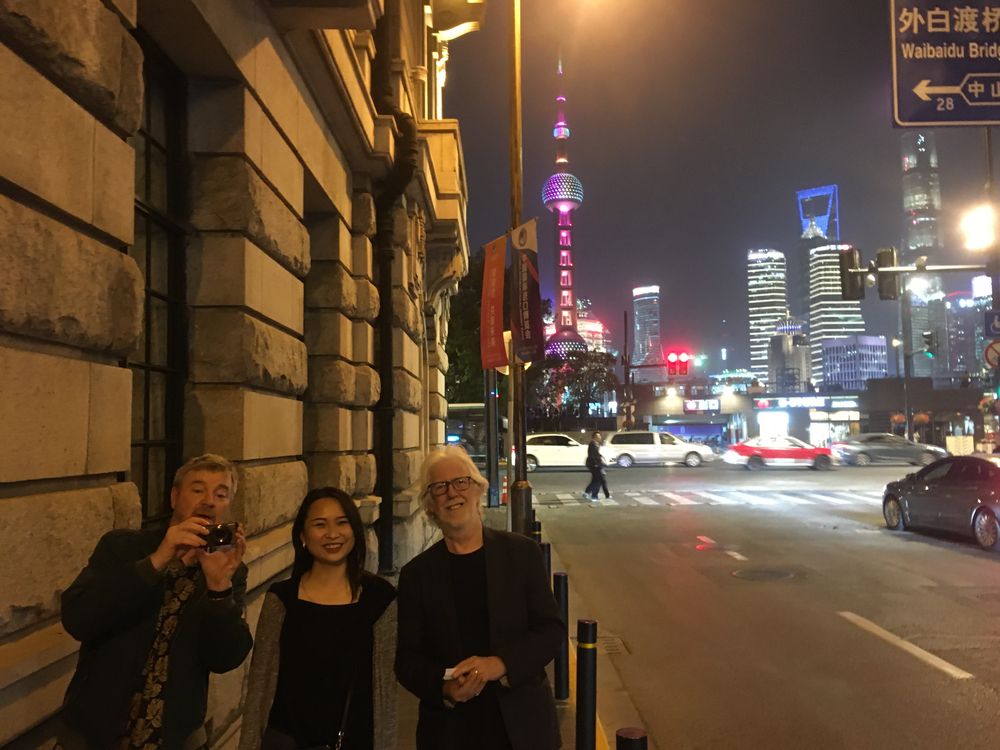 Took a taxi with Rich, Mia and Doug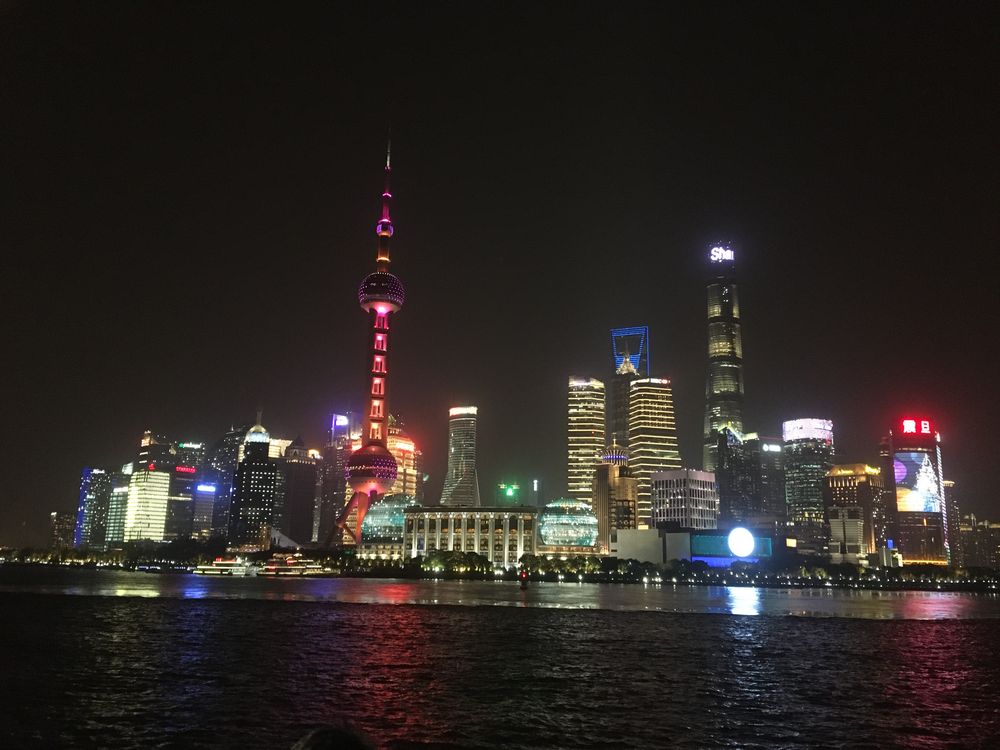 We emerged on the river opposite from the Shanghai Tower, which we'd played in and gone up in the morning - you can see it clearly to the right of the bulbous building in the middle (except its taller). It is a truly spectacular view and Shanghai is one of the great cities of the world. I've developed quite an affinity for it, my Mum once told me that my Scottish grandfather worked here for a while in the 1930's.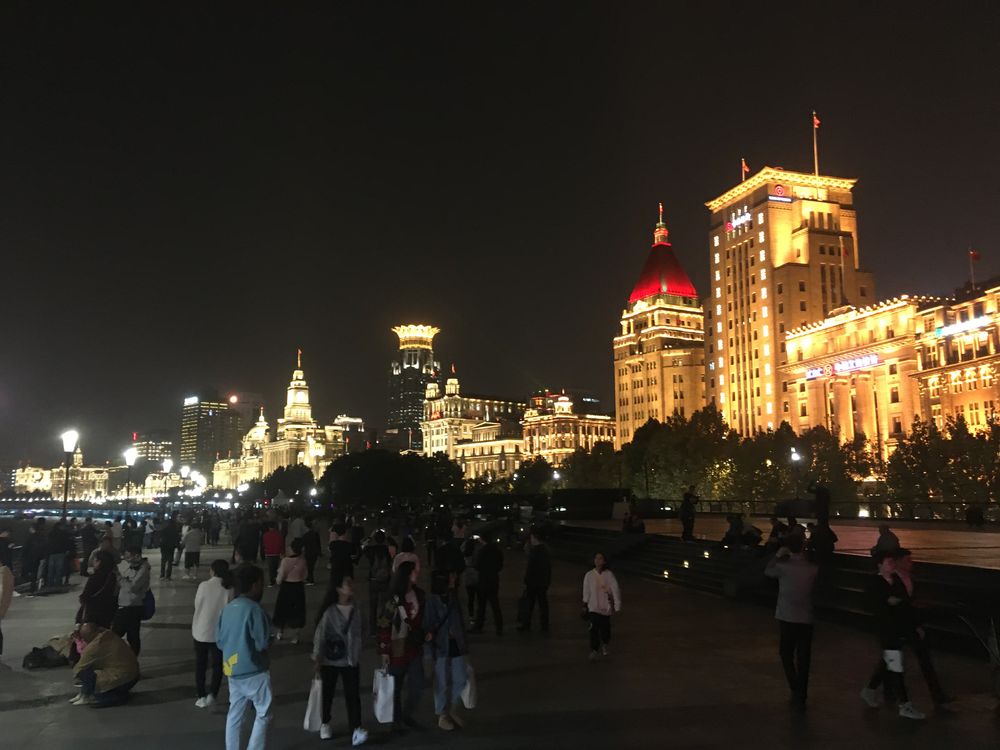 And on our side of the river were some lovely buildings too, presumably from the time of old Shanghai.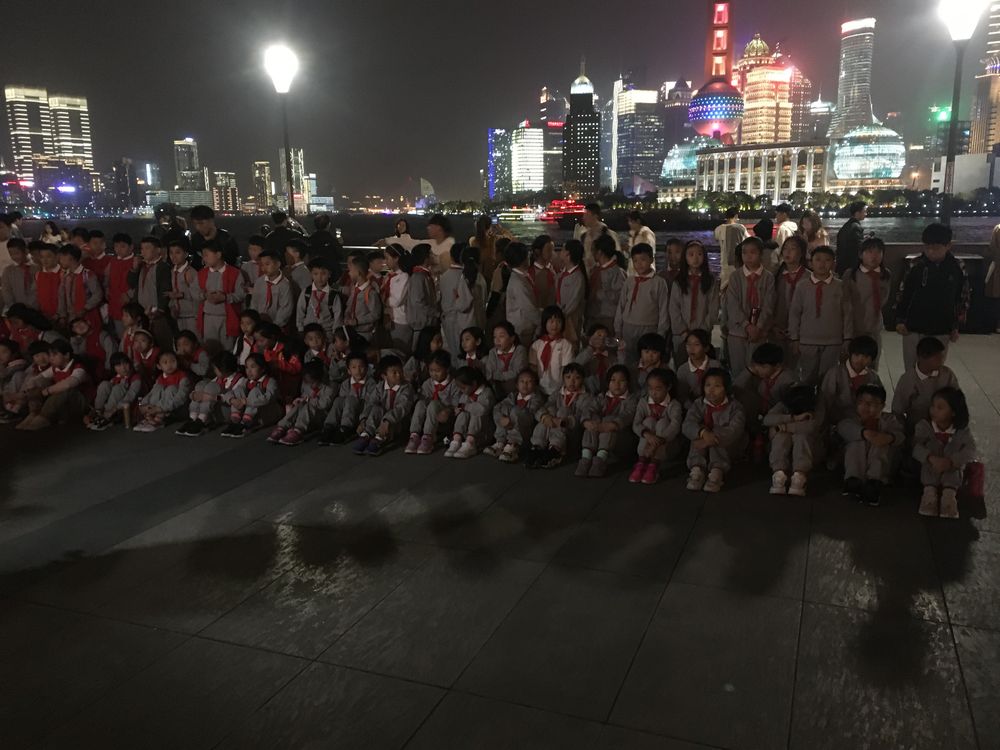 Bunch of school kids having their photo taken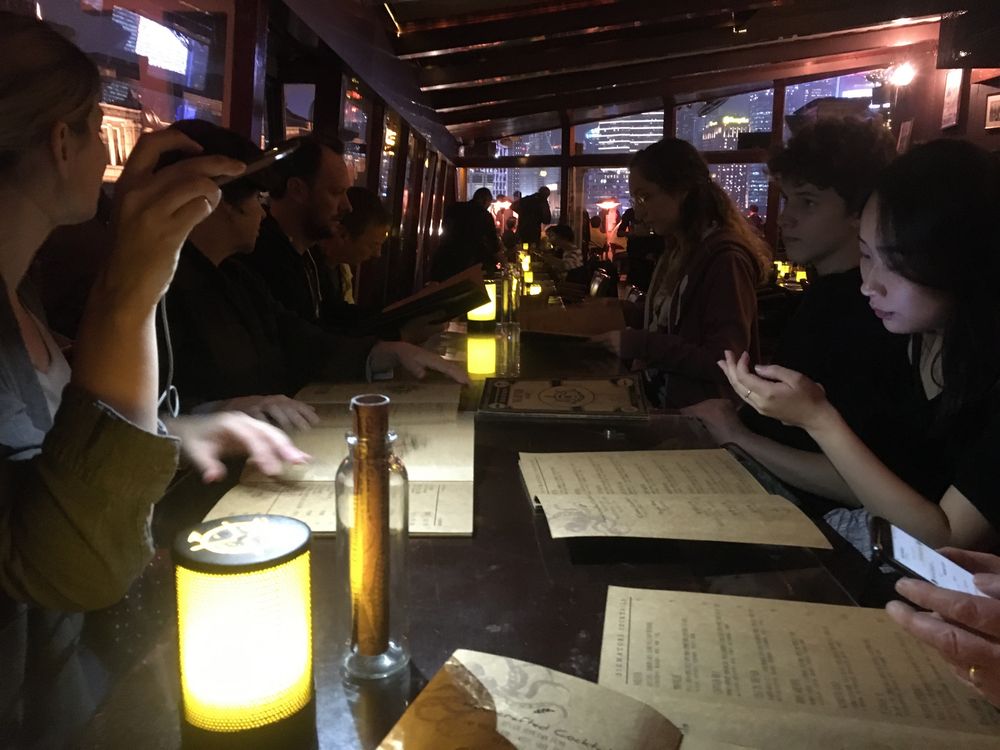 What with half of the band starving, having been walking their feet off all afternoon, we popped into a pizza restaurant for a beer and a bite to eat with a great view across to the other side. The Ukes are a good crew to tour with and band morale has been high, even though the tour has been a short one. I was worried after the chaos of Day 1 in Shenzen, that the whole tour would be like that, but its been much calmer these last few days.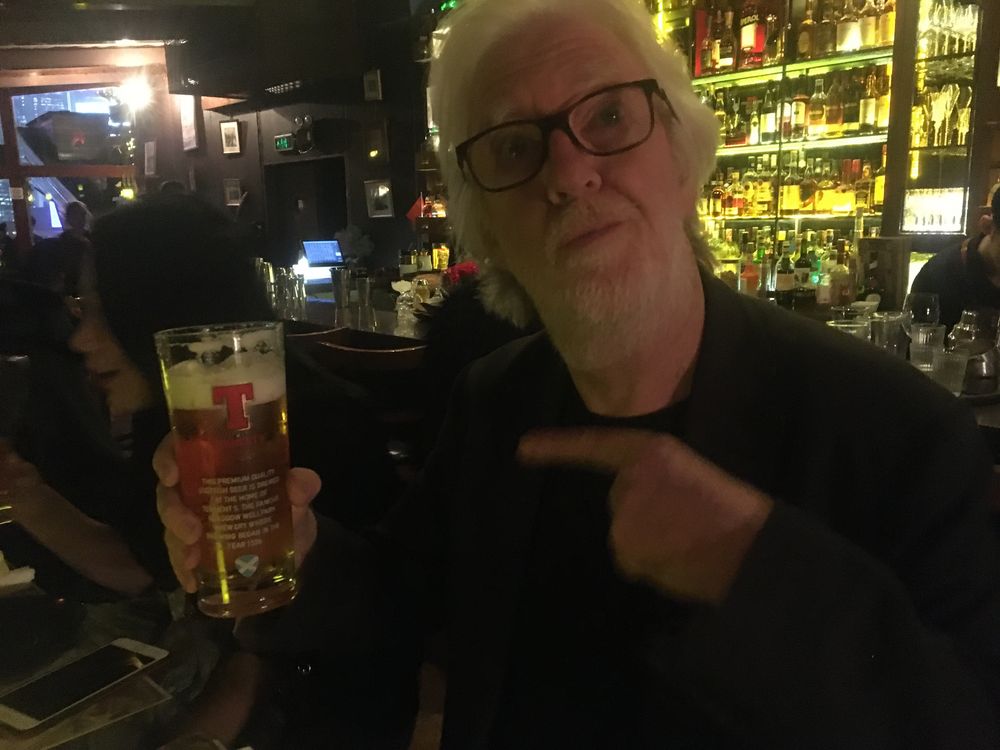 Doug, our sound engineer and a proud Scot holds a pint of Tennants (a Scottish beer) he rolled his eyes when he saw it on the beer menu, as its frowned upon in Scotland as being a cheap beer. But the version we both had turned out to taste excellent. Out on the balcony we met some young Russians travelling around the world and told them about our gig tomorrow, maybe they'll come? Doug had looked up on the Chinese internet (where there is an equivalent to WhatsApp, Youtube, Facebook etc) and typed UOGB into it only to find one reference to us - and that was from our last tour here! So I wrote down our web address and told them to check that out for the venue.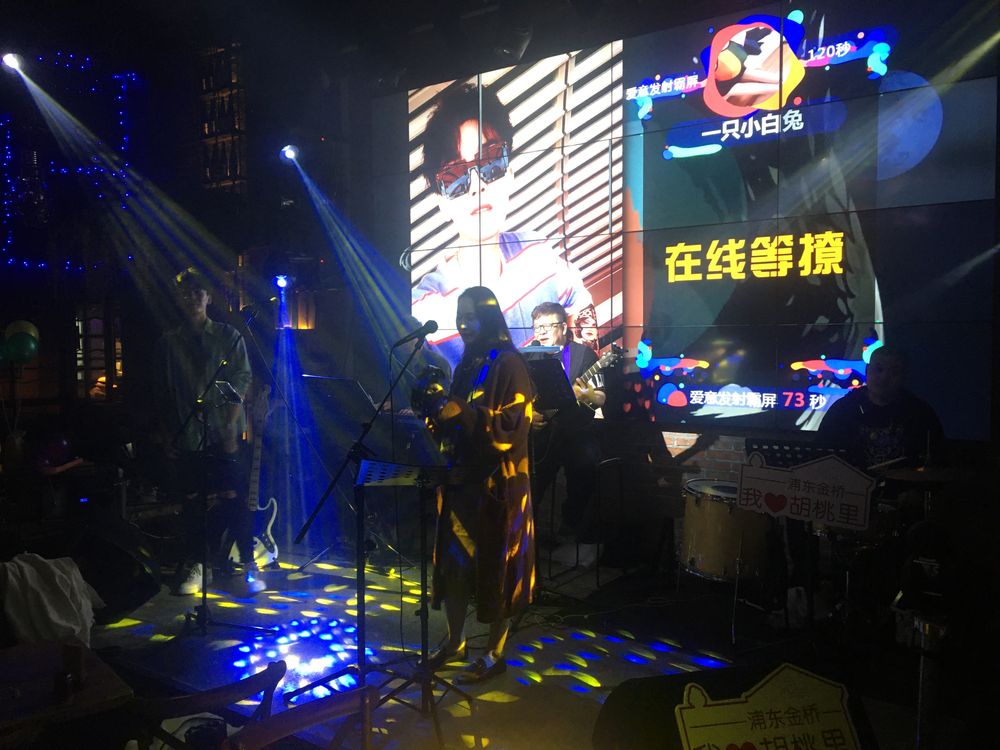 So we returned safely to the hotel in taxis and most of us went to our rooms to crash out (including me) however I couldn't sleep, so I wandered over to the cocktail bar round the corner, where Jonty, Mia, Doug and Jodi had gone, and had a Long Island Iced Tea and watched the covers band knock out Chinese (and some Western hits). Last gig of the tour tomorrow Campers.