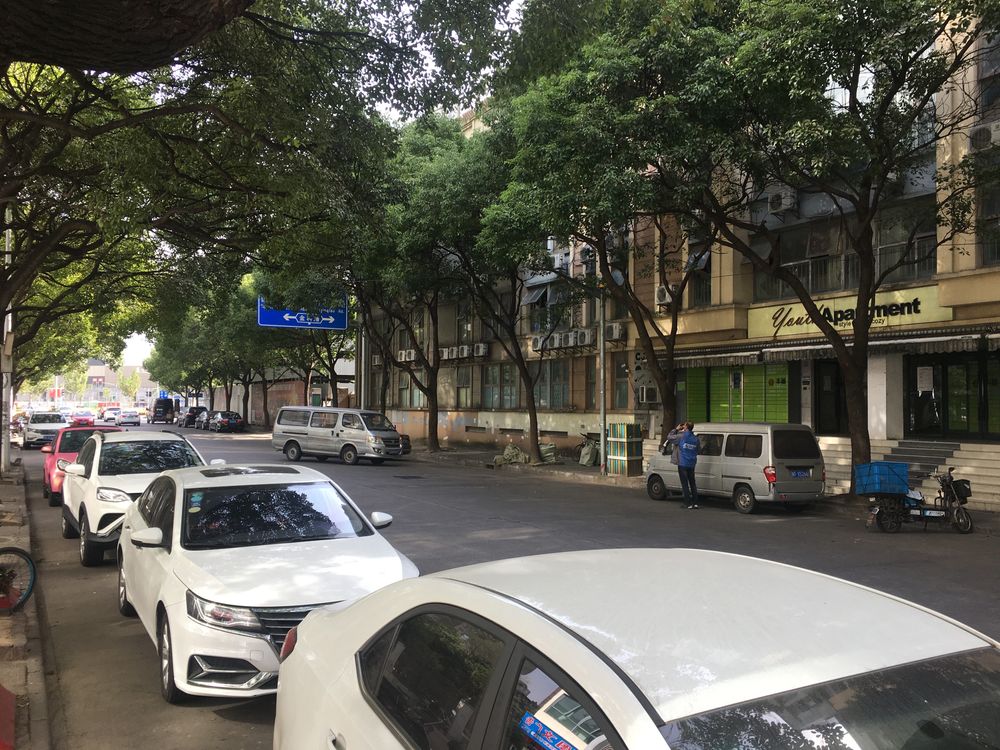 I found out today that absolutely no one drinks the tap water here in the hotel - even the Chinese, you're supposed to drink the bottled water they put in the rooms - but I've been glugging away from the tap profusely with no ill effects (so far).  Will advised boiling the kettle and using the sterilised water, should you run out; the kettle's been pretty busy lately, since I jammed up the toilet and despite flushing, had to ferry kettle loads of water from the sink to create enough pressure to get it to go down (but that's enough about me!). Our hotel is comfortable (it's a Howard Johnson - a chain I remember from the US in the 60's) and the food is good.  This is our 2nd day in it and we'll spend tonight here and then fly back to London tomorrow. Despite tea/coffee in the room, there is no spoon, so I used my comb, rather than phone down for one - this is called practical touring. Shanghai (or the bits of it I've seen) seems to have a lot of tree lined avenues, very pretty and redolent of certain parts of London. After going to the cocktail bar last night and having a Long Island Iced Tea, I slept extremely badly and spent the rest of the morning trying to catch up on sleep (without success).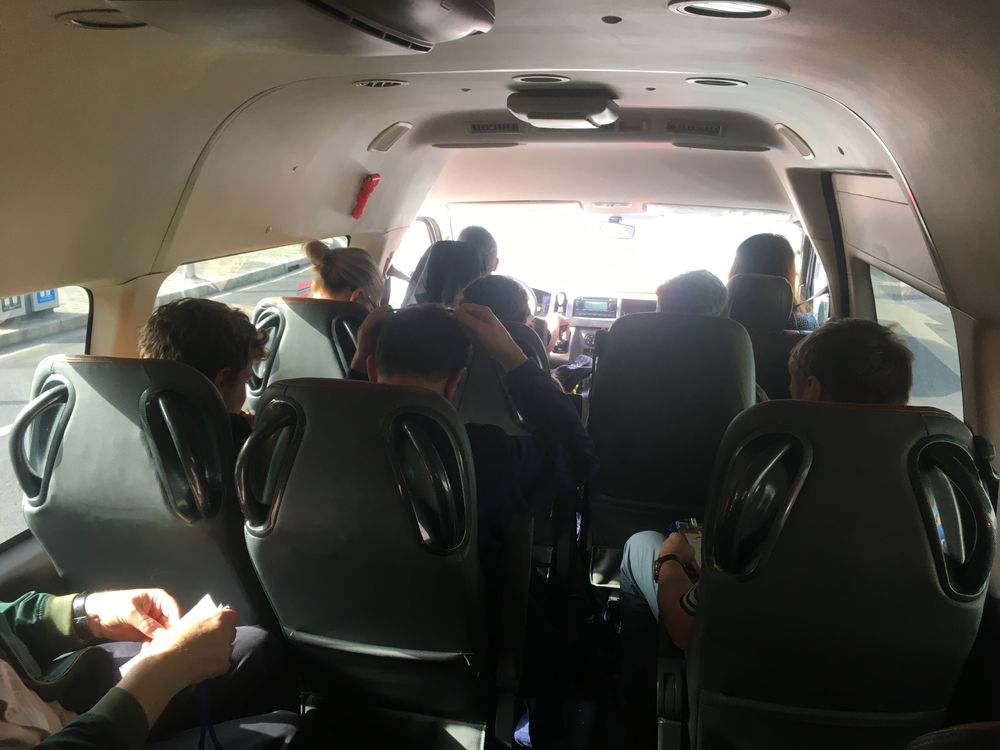 Early afternoon, its was time to go to the gig at the Shanghai Oriental Art Centre.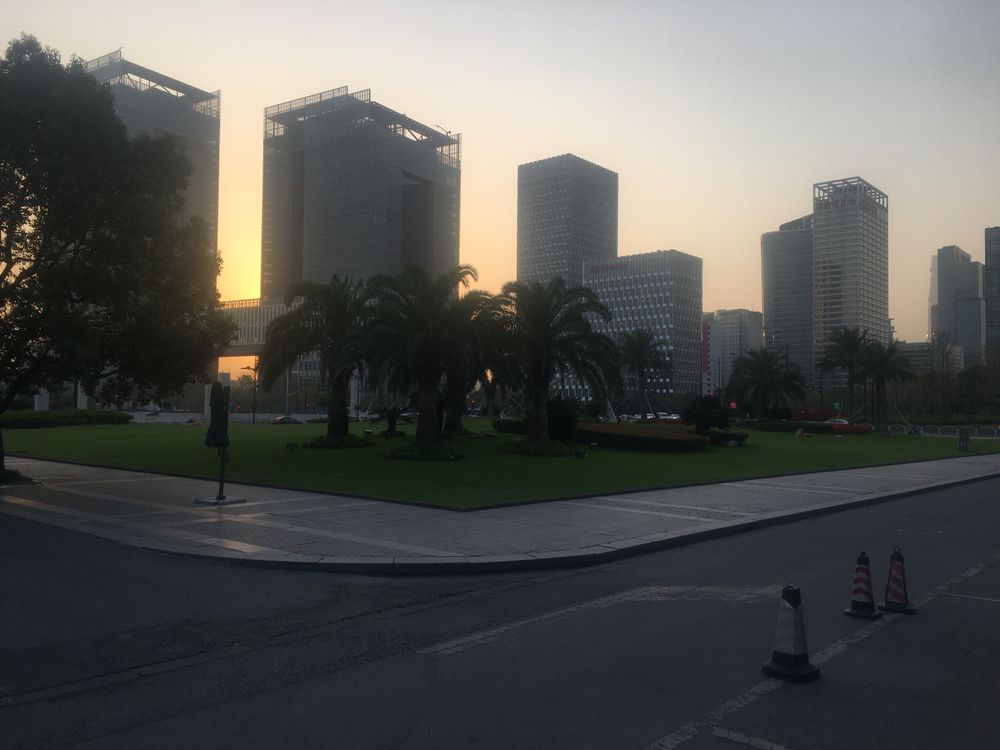 which was situated in the financial district of Shanghai.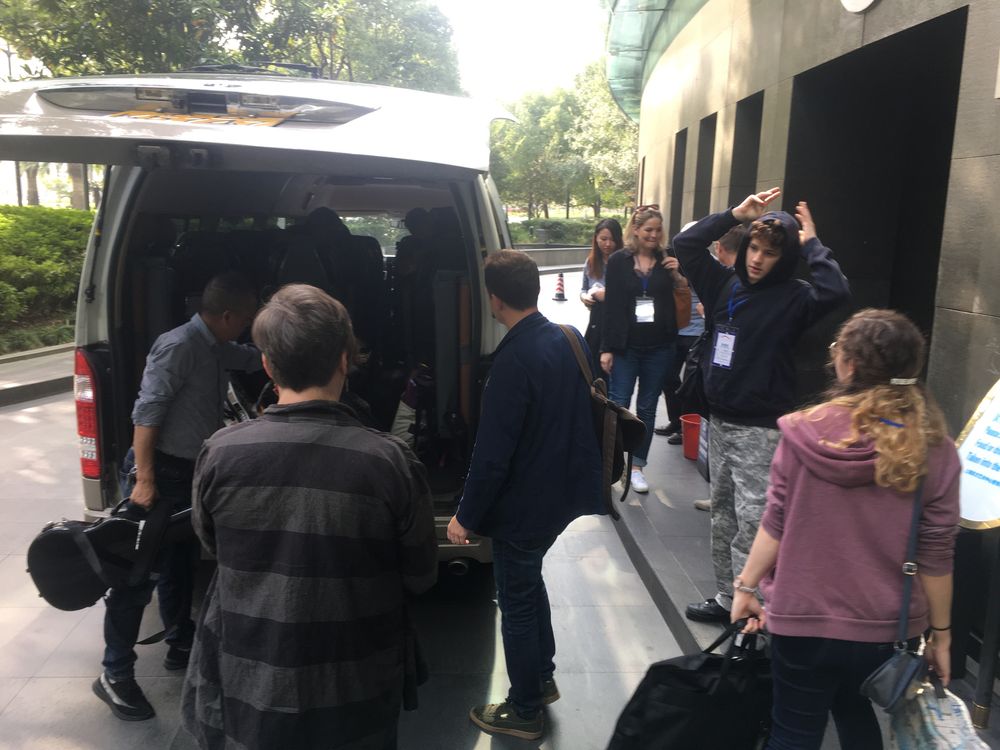 It's supposed to be a prestigious venue, mainly frequented by classical artists and it holds 1900 (including the seats behind the stage). We'd sold 800 tickets - not bad.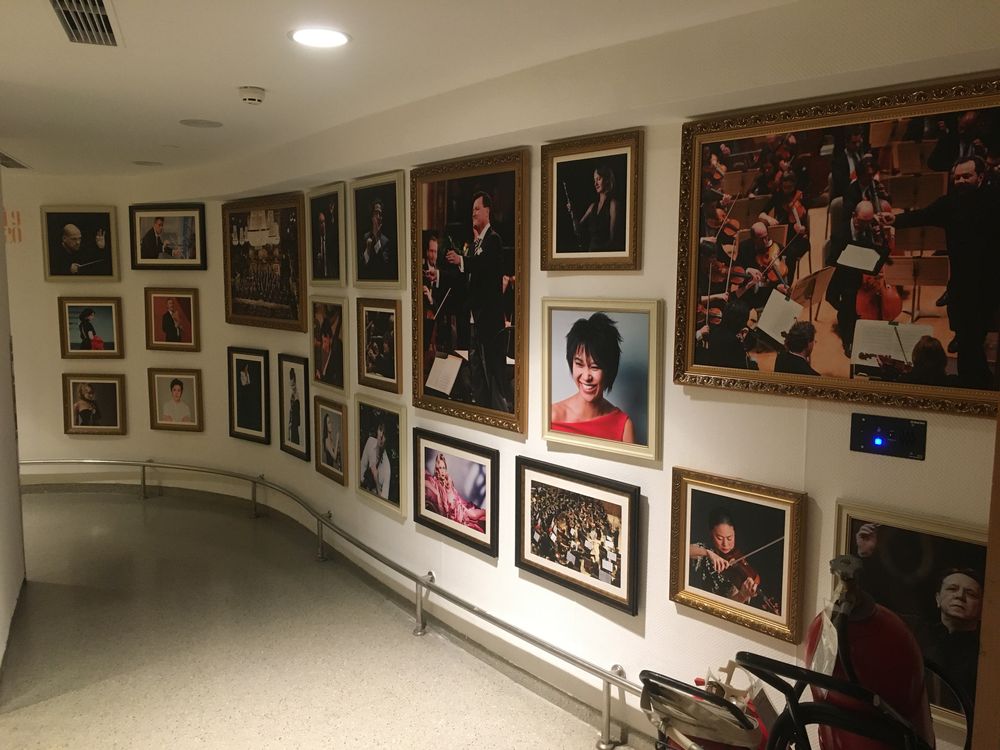 Classical Big Cheeses grace the walls of the foyer, in the usual poses of sultry sirens/sensitive young men/ageing wise maestros etc. etc.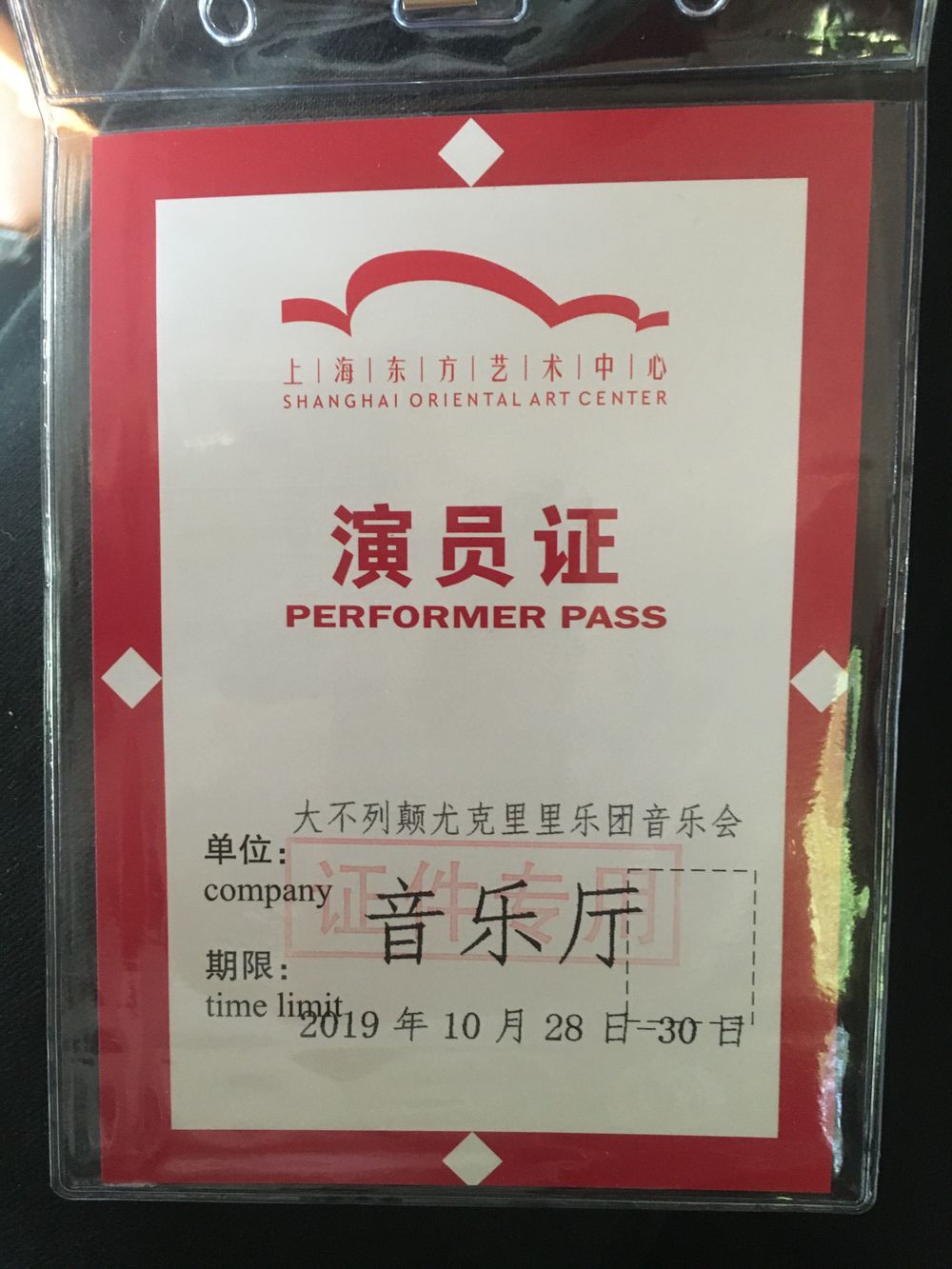 Here's my pass from the venue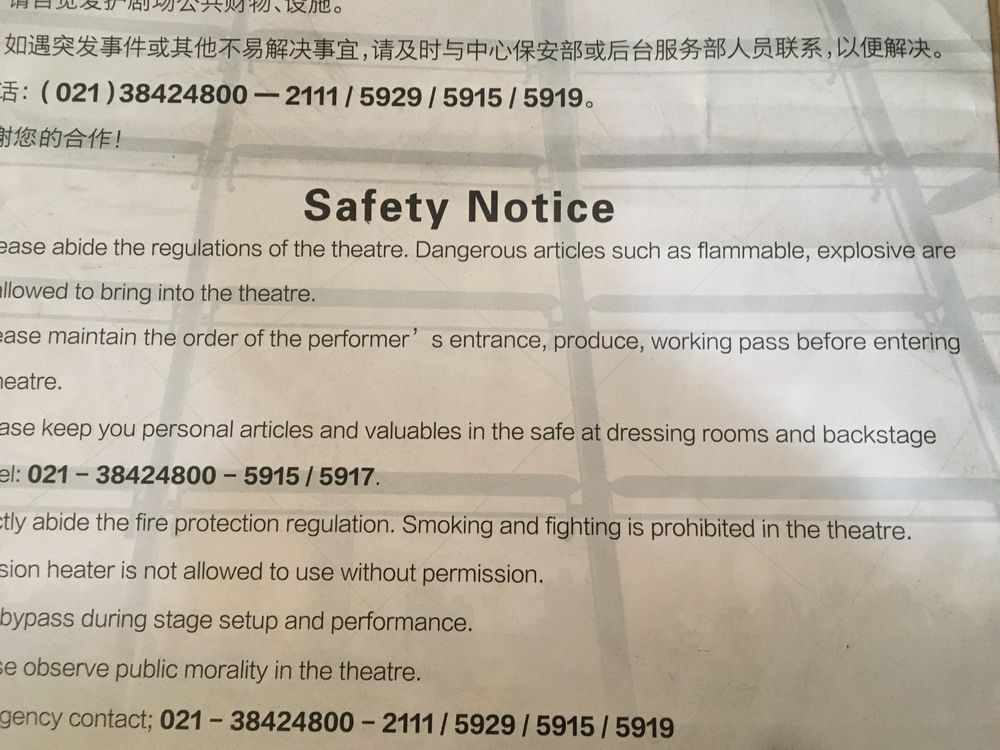 Noticed this excellent sign with instructions about appropriate behaviour in the hall. Back in London, there's nothing I like better, than attending concerts by 'difficult' composers - Stockhausen, Schoenberg etc, and, lounging back in my chair, torching up a cigarette and seeing if I can irritate a non smoker, and then getting into a punch up in the auditorium - but you can't do that here.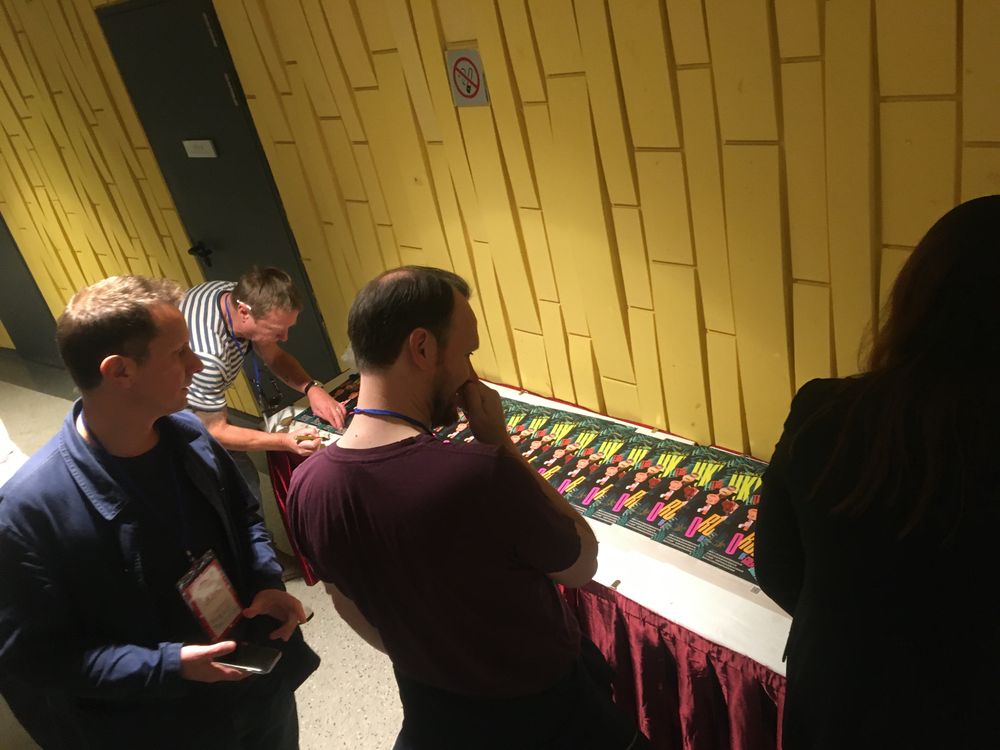 We had a bunch of posters to sign, abut fifty in all - we're quite practiced at it - laying them all out so you can walk down the line signing. I'm pretty lucky as my name only has five letters, Ben has the best signing name and Jonty is the longest and most pedantic, ALWAYS scrawling his name PLUS the bass clef sign - he even has a bass clef tattoo.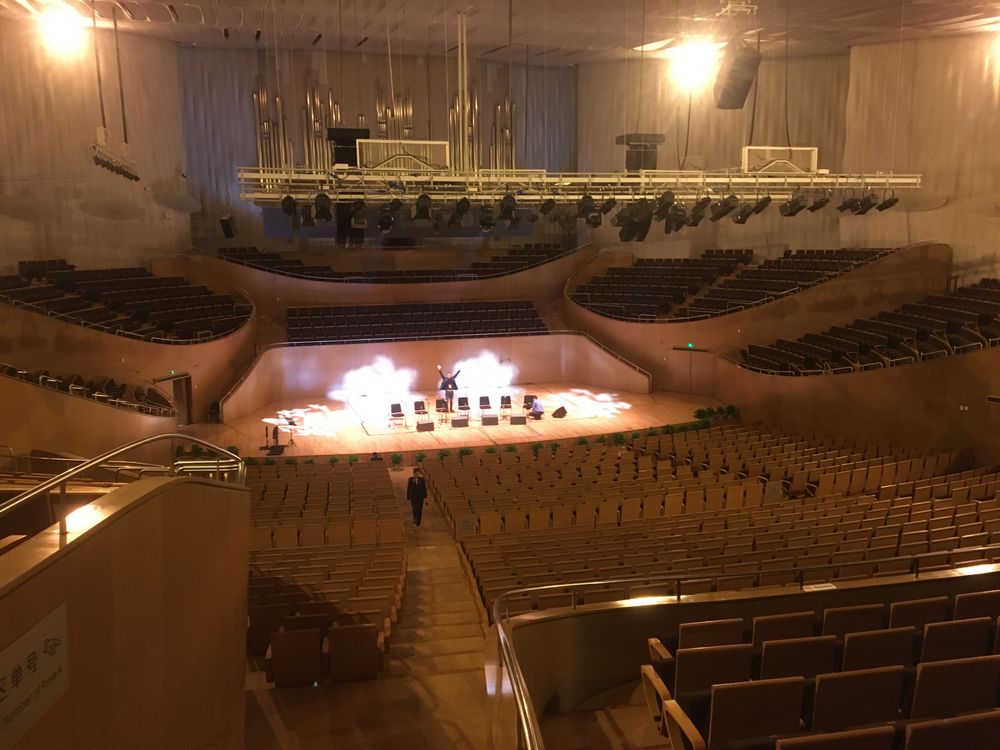 Here's the auditorium and Will spreads his arms. After tonight, he's travelling with his son to Beijing (taking the train) and flying back home a few days later.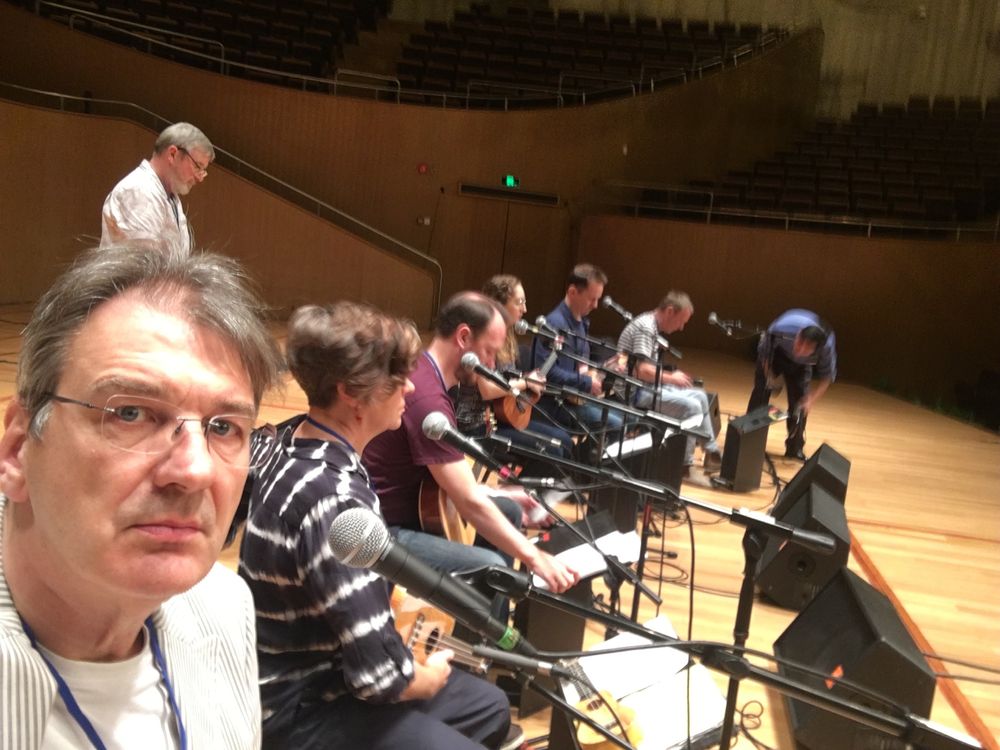 Sound checks are the same all over the world - BORING!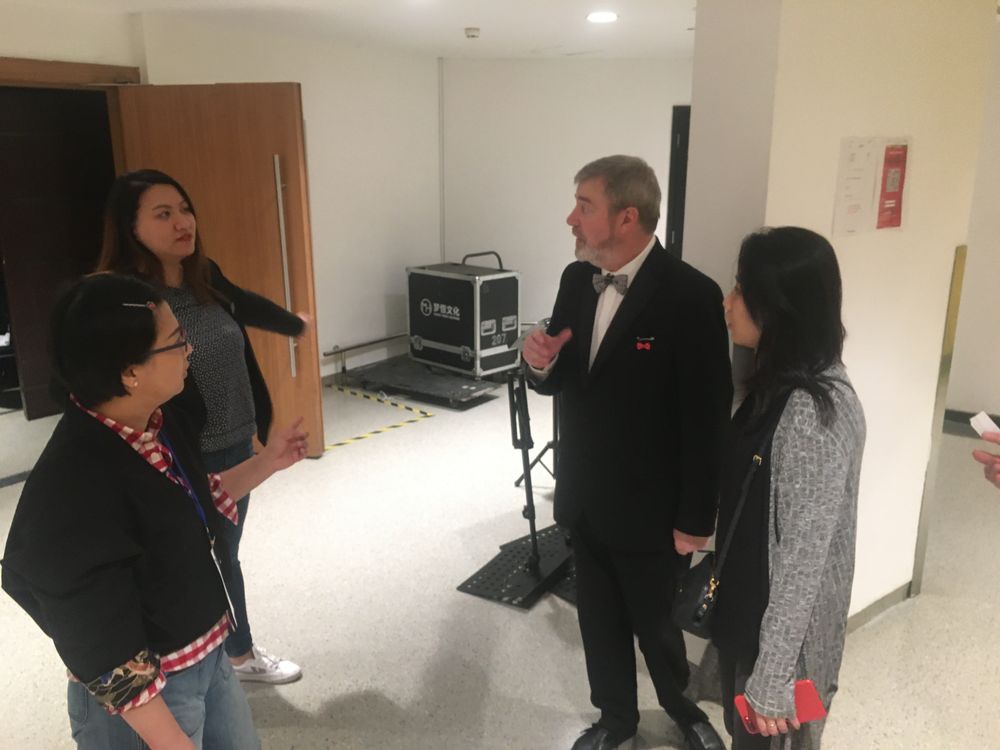 and Ying (our promoter) popped back to see us for our last concert - I think she's happy with the way its gone, I found out that many of the theatres we've played are government owned, hence the vetting of the songs in our set. Had we played 'private' venues, we wouldn't have had to go through all this rigmarole - but you never know whats 'private' and government controlled in China.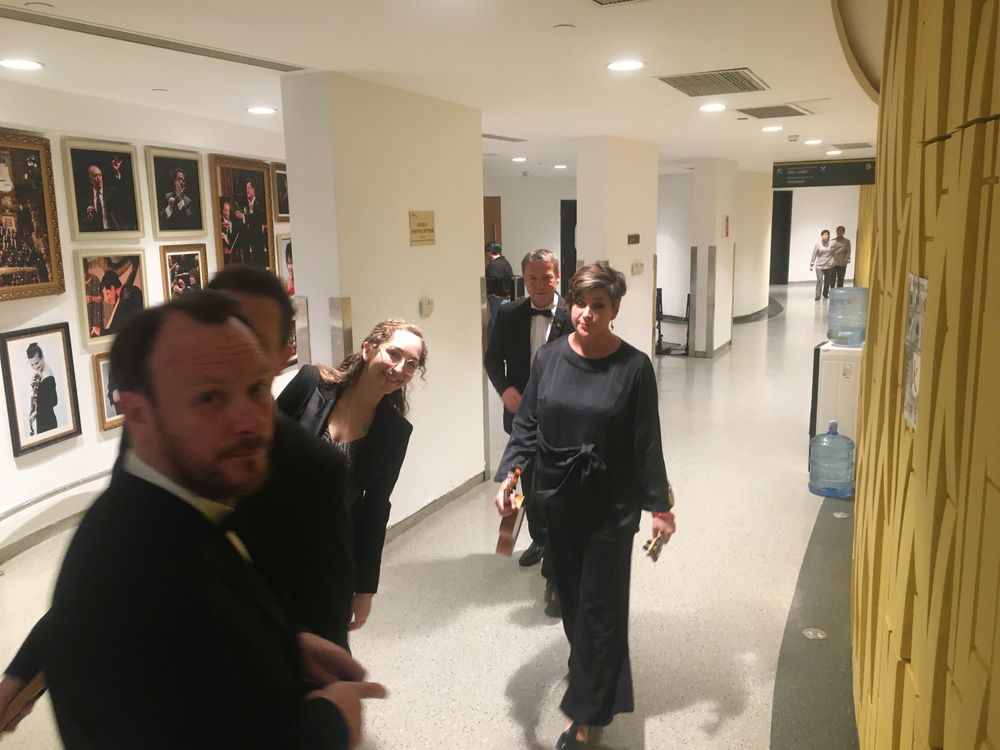 Here we are getting ready for the show. The gig went well, although it was not without its weird interludes. While we didn't have a board displaying the songs titles, like previous gigs, I did notice guys running around with small electronic placards (with Chinese text) - I thought he was someone who admitted the latecomers. I discovered at the interval, that the placard was instructing people not to clap. I have some sympathy with this, as I too don't quite get the conventions of the concert hall - there are places where you are supposed not to clap and vice versa (between movements etc).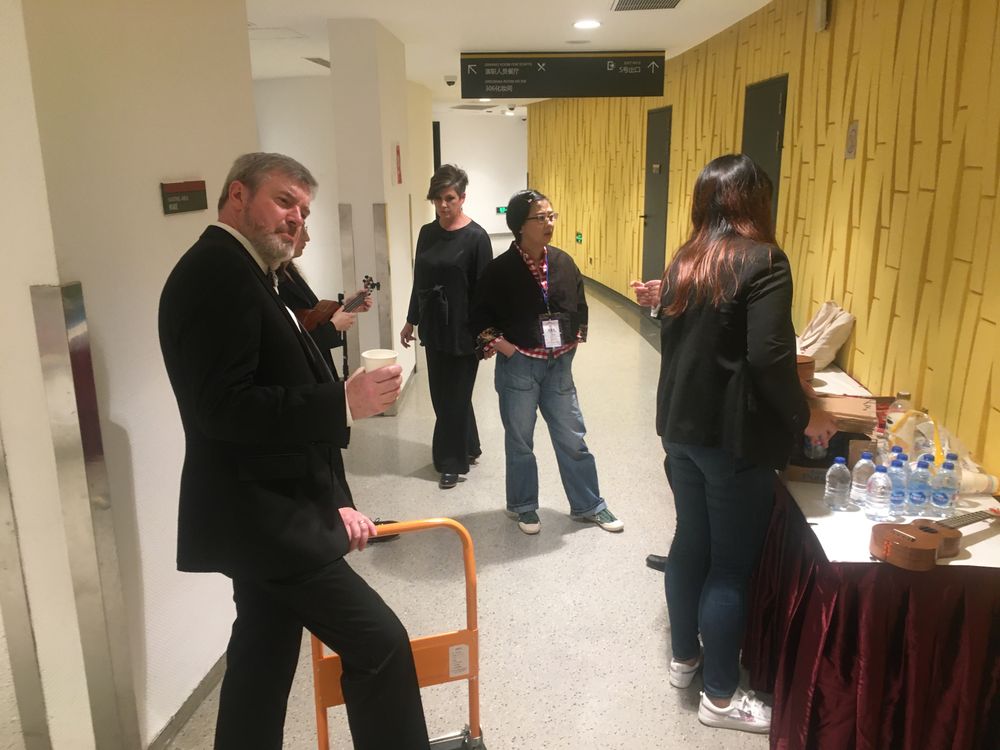 So we had to try and get our audience going: stomping their feet, clapping, whistling etc, while these guys (there were several of them) running around trying to stop them - very peculiar! Doug also had a very rough time as the tech crew weren't there, or at least people who knew how to work the in house equipment weren't there, I heard him talking directly to Ying afterwards saying: "next time I want to have the top guy sound guy in to help me" - it was't a linguistic problem - the in house 'crew' simply didn't have a clue how the equipment worked.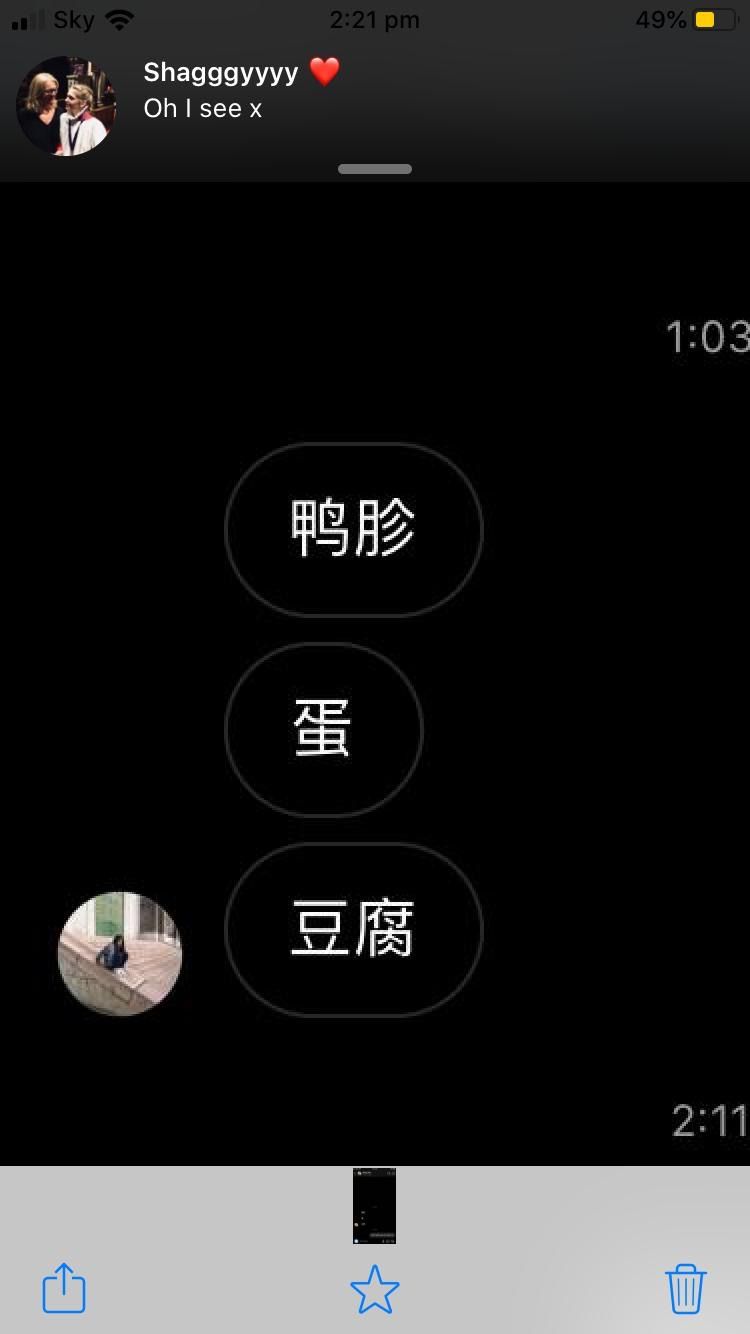 So we signed a few autographs and got back on the bus when I noticed an urgent WhatsApp message from my daughter Poppy on my phone. She had been talking to a Chinese schoolfriend who'd given her some treats a while ago, and told the friend that her dad was in China, and found out what the treats were called, and sent me the picture (with the name of the product in Chinese). So I popped into the grocery store round the corner from our hotel and showed the phone to the store owner, who picked out the stuff and I bought it.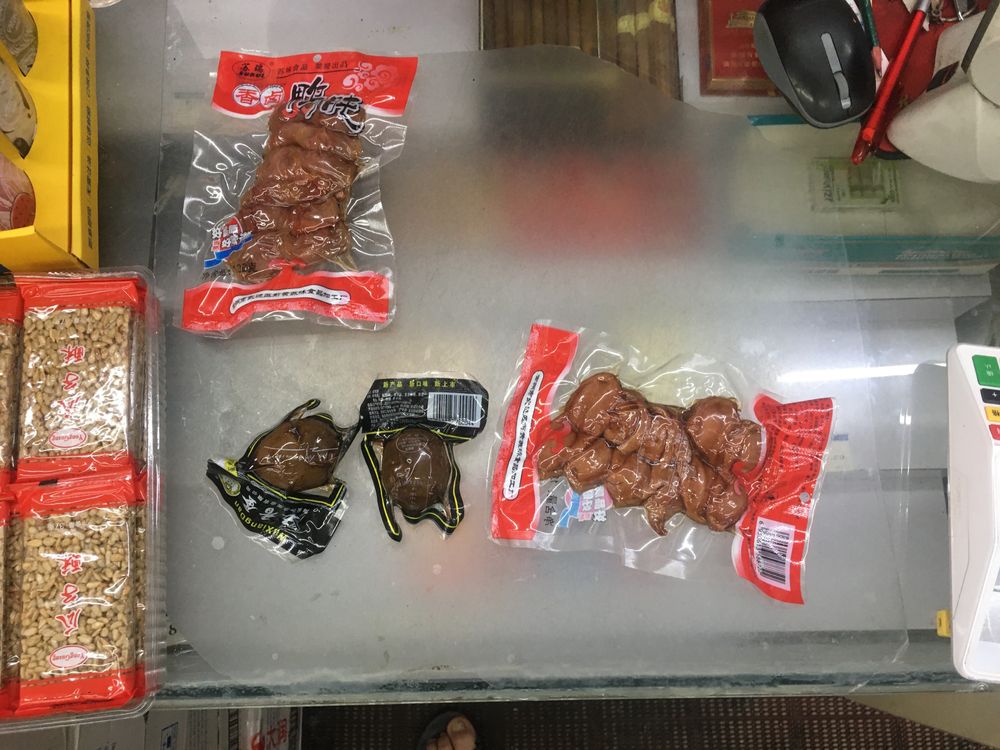 Then I sent her a picture of it to confirm it was right, and a little confused, wandered over to the bar round the corner that we'd been in last night to join the rest of the band in a wind down drink, after the tour. I showed my purchases to Mia and asked what they were? She said chicken gizzards! She also said she'd been on the phone to her Mum, who'd asked: "How's it going with the Rock'n'Roll Uncles? (because we're all so old). I told her she should have said 'Mom! I'm pregnant!' - she's been a good chaperone and good fun.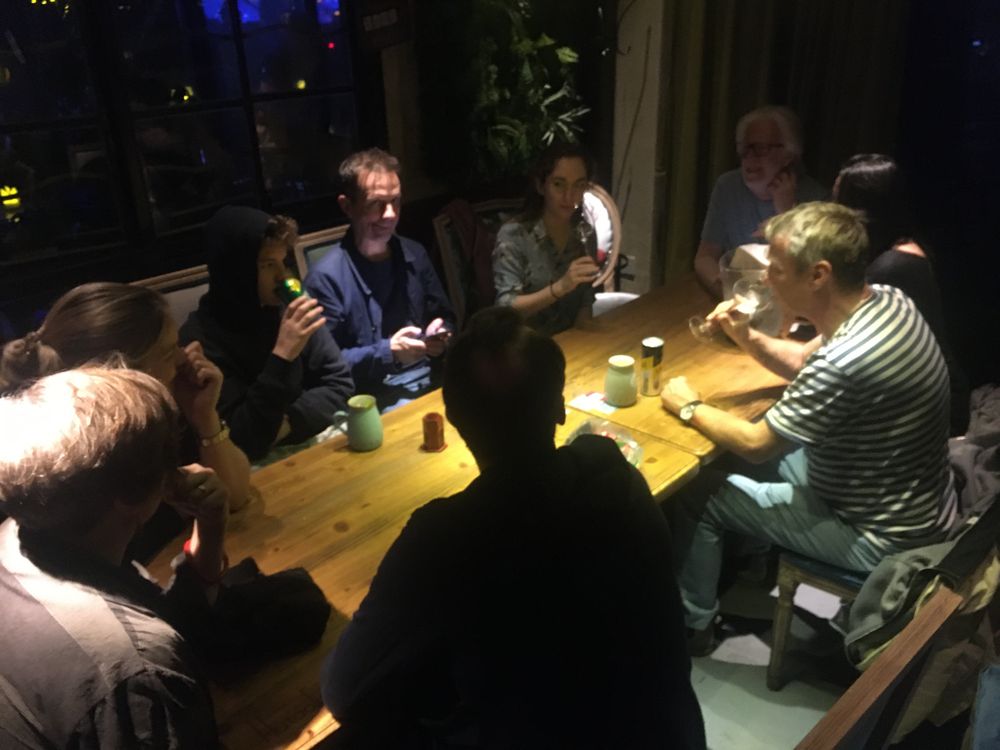 and here we are at the same bar with the same Chinese covers band (who tonight played a great version of Hank Williams 'Jambalaya'). I've enjoyed my time in China and to tell you the truth, the height thing wasn't even that big of a issue, unless I made it so, standing up at onstage etc - I'd like to come back here sometime. 
So thats it Campers, tomorrow we fly back to London. Shanghai was probably my favourite place of the tour. I've met a famous tennis player, taken a leak at the top of the second highest building in the world and will bring home some Chinese tea for the family (what else?). I've also got my commemorative plate of the Great Leader Mao Tse Tung to watch over and guide me in my future endeavours. Thank you to Ying, Mia and all the people who helped make this tour a success, and thank you too Campers for reading this blog.
So I will leave you with the words of the great Chinese singer 许巍 - 蓝莲花 whose song we have been singing at our shows to much appreciation from our Chinese audiences: "Roots erda ching che gow yearn, shn kaija yungboo dowling lan lian huaaah" - I still don't know what it means.